Reviews for Willow Springs Winery
Awards
1 User photo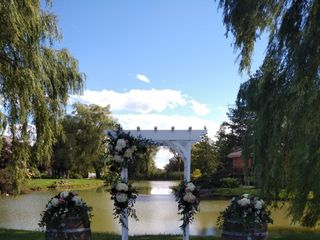 Bianca N. · Married on 24/10/2020

We didn't end up using the venue because of COVID - but HIGHLY recommend.

So, unfortunately, because of COVID, we couldn't use the space at Willow Springs Winery. But despite this, I feel as though I should write a review. I changed my date 3-4 times and Willow Springs (Michael) was always so quick to respond to my emails and to accommodate all my requests. At the end, we realized it wouldn't work (we ended up having a quick ceremony in my in-laws backyard) but that didn't stop Michael and his team from making an impression on us. We gave them a deposit, $1500...once we said we couldn't get married there, they gave us $1500 worth in WINE as a thank you. Are you kidding me? Could this venue be any better? They could have given us nothing but instead they really went above and beyond. It says a lot about a company and how they treat those that don't even do business with them. Super impressed.

Sent on 04/01/2021

Justin C. · Married on 26/09/2020

Excellent service

Michael was very knowledgeable not only on his wine but also professional and made us feel very comfortable during the tasting. They have a huge vineyard that you can walk afterwards and an intimate room where you can have a wine tasting with family or friends of around 10. Definitely a place I would come back to and enjoy for a spring or summer afternoon. Ice wine was also quite delicious. Will make a great after meal treat.👌

Sent on 12/10/2020

Willow Springs Winery's reply:

Thank-you so much for your review - it means a lot to us and please feel free to come back anytime for a wine tasting or wine by the glass. We look forward to hosting your event in the future! Cheers!

Arthur T. · Married on 05/09/2020

Beautiful Wedding Venue

Willow Springs Winery has been a special place for my wife and I for the past year. We first reached out in August 2019 to inquire about holding our wedding there for late 2020. We made a visit and decided to book with them. Michael and Wilson were our main points of contact and they have always made us feel confident and reassured us of any concerns.

Due to COVID-19, our plans were thrown into uncertainty. Michael was always maintaining email or text message contact and providing constant updates regarding wedding planning. He made us feel prioritized even though he had many other couples to deal with. We were given options to postpone to a date next year or continue as planned. We were offered to hold a small gathering as low as 10 people without penalty for not meeting minimum attendance, if we so choose. Basically, Michael made sure we felt no worry about however we wanted our wedding day to go.

We ended up holding an outdoor wedding with 50 guests by the willow trees, and an indoor reception in the winemakers pavilion. Our guests loved the venue and the food. We couldn't have asked for a better planned day given the current situation. We will definitely be making visits in the future to celebrate our anniversary.

Sent on 18/09/2020

Lowell L. · Married on 29/08/2020

10/10 would recommend!!

Beautiful atmosphere & the most delicious wine I've ever tasted! Thank you to Moon & Michael who were very friendly and knowledgeable, can't wait to come back!

Sent on 29/08/2020

Julia F. · Married on 15/08/2020

Beyond perfection

Willow Springs Winery was our dream venue, it was absolutely breathtaking! Michael was incredible and made sure my vision came to life. He was extremely helpful, always answered my questions and went above & beyond! I cannot say anything bad about our experience at Willow. Not to mention the venue was breathtaking in itself.

Perfect day!!

Sent on 07/09/2020

Willow Springs Winery's reply:

Thank-you so much for your review, Julia and we are so glad to hear that you and your guests had a great experience at our winery! All the best to you and Ross in this new journey in your life and please come back to our winery anytime for a glass of wine - we will reserve our 2015 Cabernet-Merlot for you! Cheers!

Linda G. · Married on 07/09/2019

As an Officiant - it was lovely

The venue is beautiful, the location is lovely. All the staff were very attentive and professional. Our ceremony was perfect, and so was the celebrating after.

Sent on 07/09/2019

Lauren S. · Married on 23/02/2019

Fanatstic experience, Wilson was amazing

Wilson was outstanding with his knowledge, pairing and tastings, also modest but blew us away with his recommendations. It was nice weekend to take my sister who was visiting from out of town and both of us were very please with our experience. Can't wait to come back in the summer

Sent on 23/02/2019

Felicia J. · Married on 08/07/2017

Willow springs winery was the 100% right choice for us!! The customer service we received from Michael, Gwen and brelyn(I think that's the spelling) they were the kindest, most accommodating people I have ever had the pleasure of dealing with. I can not compliment them enough!! They exceeded my expectations, eased any concerns we had. The food was amazing, the venue is stunning!! It was truly the best day of my life. Thank you so much willow springs winery. You are seriously the best and you will always have a special place in my heart.

Sent on 12/07/2017

Michelle · Married on 14/05/2016

I would strongly encourage you to select another vendor if considering Willow Springs Winery for your wedding. While the location was beautiful the experience was terrible. The event co-ordinator was so disorganized and attempted to add in costs that were not originally agreed upon. Everything had to be double checked and the process was significantly more stressful than it needed to be.

Sent on 08/07/2016

Willow Springs Winery's reply:

We are incredibly sorry to receive this review. We take full responsibility for the accounting error and since the date of this wedding are under new event management. We sincerely hope the mistakes that were felt did not diminish your memories of your special day.

Please refer to the reviews on our Facebook page which reiterate our belief that this was an anomaly.