13 reviews
Quality of service

5 out of 5 rating

Response time

5 out of 5 rating

Professionalism

5 out of 5 rating

Value

5 out of 5 rating

Flexibility

5 out of 5 rating
2 User photos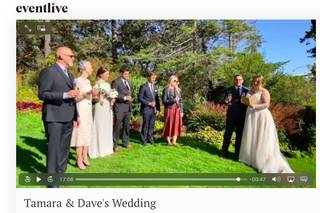 Nate A.

Married on 20/08/2022

Michael is everything you want in a videographer!

We were not going to make a video at first but when many of our family and friends weren't able to make it to Victoria, it became an essential part of the wedding day. The livestream was something we wouldn't have thought of but it allowed dozens of friends and family in Manitoba, Ontario and even the UK to watch our ceremony in real time. Michael was extremely flexible about everything and very sensitive to the spiritual nature of our church ceremony. Most guests we talked to afterward said, "Oh, I didn't even notice that there was a videographer around!"
The final "highlights" video did take a little while to complete, but that was due to personal circumstances about which Michael was very honest and apologetic. Not to mention that the finished product was worth waiting a few weeks longer than expected!
The options of good videographers in around Victoria was a bit overwhelming at first but we are certainly glad we went with Michael. See for yourselves!

Michael Toru Video & Live-Streaming's reply:

Thank you so much for this kind review of my videography services Nate and Daisy! It was such a pleasure to be a part of your special day and get to create a beautiful wedding film that you and your family can watch for years to come.

Mike E.

Married on 13/08/2022

Friendly & Professional

We engaged Mike to video our wedding with under 2 months remaining before our big day. Not only was he able to accommodate the short notice, but he synced up perfectly with our photographer and we are so happy with how everything turned out. We would recommend Mike to anyone in a heartbeat!

Michael Toru Video & Live-Streaming's reply:

Thank you Mike! It really appreciated being a part of yours and Kayla's wedding day at Hatley Castle. Not only was the venue spectacular but everyone in attendance was kind, fun, and full of joy for the occasion! Sending blessings to you both for the years to come.

Brenna C.

Married on 22/05/2022

Excellent and warm!

I asked Michael about his videography packages just a couple of months in advance of our May 2022 wedding, as Covid and family urgencies started to arise. All I wanted (or was looking for) was someone to capture our ceremony live, so family afar could have the opportunity to partake. Michael not only offerred live streaming services, but confirmed that the our live-stream video could be edited into some more fantastic and include the momento of an online guest book. One of my favourite offerrings that I didn't forsee was 1) being able to share with family and friends who couldn't make the live stream time, but were able to tune in a few hours after, and 2) having the memory of my husband and I's small talk during the ceremony (he was mic'd up) forever available for my laughter pleasure. Many thanks to Michael for making our day so much more than we hoped for!
If anyone would like to see an example of Michael's work, I would be happy to share my wedding video. Please email Michael for my contact information, or visit my profile.

Michael Toru Video & Live-Streaming's reply:

Brenna thank you for this beautiful review! I have the biggest smile on right now my mouth is hurting haha. It was such a pleasure to be a part of your special day and I'm so glad we were able to connect you with your family and friends abroad. Also, so glad you cherish the in-between moments like the small talk with Iain...those are the priceless moments! Many blessings going forward 🙏🙌❤️

Are you interested?

Send a message

Jennifer

Married on 23/04/2022

Just WOW!!!!

I first learned of Michael when I reached out to other brides in a wedding Facebook group. I'd been searching for a videographer and sadly, I was looking for one on a short notice. In all honestly, I'd prioritized many other things because I only had only so much $. Like many others, I was also a "bride on a budget".. in attempt to make my wedding "Pintrest" and "#Instacute".

After months of planning though, I realized that I'd planned to the finest detail that I may not even see half of this stuff from a bride's point of view (i.e.: cocktail hour). Even if I did see everything, I thought... would I be able to remember what I wanted to in the years to come? I know I'd certainly want to.

They say a picture says a thousand words, but c'mon.. let's be real, there's no sound LOL.

Here's the thing: Michael was able to capture SO many special moments. They were so candid too. Some people watched the video after and asked how they didn't even notice him going around filming (He's like a fly on the wall, I swear--and he knows how to navigate around the other vendors like your photographer if you also get one).

He was able to capture genuine smiles, all the laughs, the hugs (and boy, there were hugs...lots of them having been one of the first weddings to occur during the tail-end of a pandemic), and of course, Michael was able to capture the people.

Imagine having everyone that was most important to you all in one place...sharing one of the most special day you'll ever experience. It was truly magical.

From Day 1 in getting to know Michael over the phone, I knew he would be a good fit. He is super professional, "cool, calm, and collected," and passionate about what he does. He truly helped me out by going above and beyond my expectations (picking up and dropping off rental equipment) and didn't even flinch or get upset when speeches ran a bit later than expected.

Now this is the part you all want to know--- yes, you can expect it. The vid was awesome! Not only did I get a lengthier version of the wedding, but I also got a creative, fun, high-quality cinematic highlight video to enjoy after with family and friends over wine :)

Michael is extraordinary... He's just a really good human being too.

(If you're reading this Michael ... from the bottom of my heart - Thank you!!!!)






Michael Toru Video & Live-Streaming's reply:

Wow Jenn I'm absolutely blown away by the time, energy, and love you put into this review of my services. It was such an honour to be a part of your special day and capture all of those candid moments like smiles, laughs, and hugs. There was so much love in the air for your wedding it was palpable and I'm so glad I was able to capture it on camera. Thank you again and many blessings going forward!

John

Married on 26/09/2021

Michael Toru - ready for anything!

Michael livestreamed our wedding and made a video keepsake for us (for great value!). He was great to work with throughout the planning process and was super flexible as we had to change course a few times due to COVID-19 restrictions. Michael also coordinated between all of the vendors which made our lives easier. His guidance through this time was definitely appreciated.

On the day of the wedding, everything went smoothly. Michael came prepared for the torrential downpour and the livestream was seamless and high quality for our international viewers who could not attend in person. Michael also worked very quickly to get us the recording for the next day so that we could watch the wedding with grandma in Scotland.

As a person, Michael was very positive, professional, and a delight to work with. Would highly recommend!

Michael Toru Video & Live-Streaming's reply:

John thank you for your kind words about my work! It was an absolute pleasure to be apart of yours and Katie's wedding day. Sending blessings for a beautiful life together!

Tamara A.

Married on 19/09/2021

Michael saved our livestream!!

We found Michael just a week before our wedding when our original videographer cancelled last minute... we wish we had found Michael from the start! Michael was an absolute joy to work with! We were in panic mode when we contacted him, he was so kind and understanding- he calmed us down and assured he could make sure our friends and family could watch our big day. He was in constant contact leading up to the day, explaining his process and giving us our link in plenty of time. Day of, Michael beat all of us down to our ceremony site, taking time and care to explore our site with an artistic eye to provide the most beautiful shots possible. All of our loved ones adored our livestream. Cell reception at our site wasn't the best so Michael had a beautifully edited final video up on our link less than 24hrs after our ceremony so everyone could relive the moment and fill in any blanks. We would work with Michael again anytime at all if we needed video services again, we highly recommend him to anyone at all needing these services!

Michael Toru Video & Live-Streaming's reply:

Tamara thank you so much for this heartfelt, thorough, and glowing review of my services it means so much! It was a pleasure to be apart of your special day. Sending you and Dave lots of love and blessings for a wonderful life together!

Emma H.

Married on 05/09/2021

Great Service and Great Price

Michael was amazing to work with. We had some issues with cell service at our location, so the livestream didn't work. He was quick to post the fully recorded version! Recommended!

Michael Toru Video & Live-Streaming's reply:

It was amazing to be apart of your special day Emma! Thank you for being so flexible when the livestream didn't work due to a weak data connection. I'm so glad we could get a quick edit the day after to your family and friends to watch!

Ross M.

Married on 13/08/2021

Amazing Service!

Michael was friendly, accommodating, and most importantly did an amazing job filming our wedding. He was also able to easily work around those last minute complications that can occur. We specifically wanted to mention how quick the turnaround was on our wedding video. He had a great quality video edited and ready for us as well as our friends and family earlier than all expectations. We would highly recommend Michael to anyone!

Michael Toru Video & Live-Streaming's reply:

It was such a pleasure to be part of your wedding in beautiful Tofino this summer! Many blessings to you and Queenie 🙏❤️

Christine S.

Married on 11/07/2021

Secret covid wedding reveal

Last fall we had a secret wedding alone due to covid. We hired Michael to be part of our secret reveal 9 months later. He streamed our fake wedding to our senior family members in our yard and live streamed to 200 people, this as a tricky format to stream both the video of our first wedding and the reactions from the people watching the surprise! Michael did an excellent job! He was funny, friendly, flexible and made a beautiful summary video of the entire day for us. Highly recommended hiring him to make sure all those special moments are captured and shared with those watching around the world.
Sincerely, The Smiths

Michael Toru Video & Live-Streaming's reply:

Thank you so much Christine! It was such a pleasure to be apart of unveiling your secret wedding to your family and friends. Sending you many wedding blessings 🙏❤️

Harry

Married on 26/06/2021

Superb wedding videographer

Mike is a great guy who is both friendly and professional. The quality of our wedding video was fantastic, especially when edited together to highlight the special moments. I would recommend him to anyone looking for a flexible videographer who provides excellent results.