Reviews for Pocketful Productions
Awards
33 User photos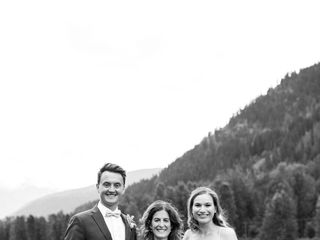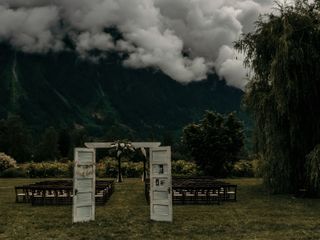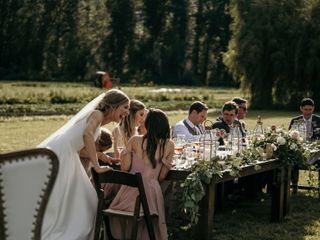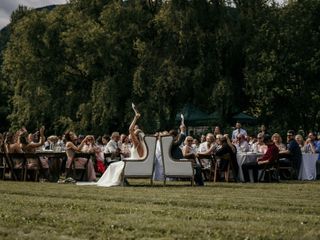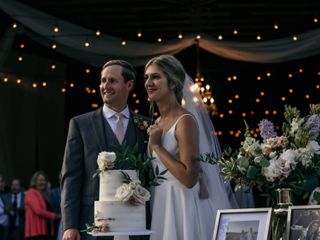 Theresa Lawson · Married on 07/07/2018

Amazing Experience!

We had the most amazing experience with Carlee from Pocketful productions! We were lucky enough to have her as our day of coordinator for our July 2018 wedding and she was worth her weight in gold! Carlee was so organized and easy to work with and she handled any day of curveball (rain!) perfectly. Carlee was easy going, went with the flow and had good ideas to help make our wedding day the best it could be. She coordinated with all our vendors to ensure everything ran smoothly day-of and helped everyone stick to the timeline so that the photographer could capture all our big moments. Carlee set up our décor beautifully and when we came to pick up our décor the next day, everything was neatly packed up ready to go. Thanks to Carlee, our wedding day was totally stress free and we were able to enjoy every minute of it! We would definitely recommend using Carlee and Pocketful Productions to all our friends and family. :)


Sent on 12/07/2018

Pocketful Productions's reply:

Thank you very much Theresa & Jeron for this amazing review and your kind words! It was a pleasure working with you and getting to know you! I am so glad you are happy with how everything turned out on your wedding day. Thank you again and I wish you love and all the best!

Cheers,

Carlee

Brittany Beaupre · Married on 30/06/2018

My wedding MVP

Carlee exceeded all expectations. I like to consider myself expert level organized and a total planner, but I would have been lost without Carlee's calm demeanor, knowledge of the sea to sky landscape and vendors, and passion for what she does. We always felt as if we were her only clients because of the time and detail of her replies. We went with the 'Day of Plus' package so she was with us via email and a site visit for the year leading up, then took over all of our final confirmations and planning a month out. This service was truly priceless. The day of our wedding the weather was a bit crazy and she kept me calm and talked with the venue to hold off setting up our rain plan until the last possible moment. Everything worked out beautifully - all thanks to Carlee. Her and her team even made a trip to McDonalds to pick up orders for 150 people at the end of the night! Then continued to tear down and pack everything up with organization and love. I could go on and on about the things that would not have happened without her. Carlee, we were abundantly grateful to have you help plan and execute the best day (and year leading up!) of our lives.
Wishing you nothing but the absolute best.
Thank you again,
Brittany & Spencer Lawson xo


Sent on 22/04/2019

Pocketful Productions's reply:

Brittany & Spencer, thank you so very much for this amazing review! Wow, I am speechless and a little teary eyed. It was a beautiful wedding and it was so lovely working with you and getting to know you! It was my pleasure and honour to help bring your special day to life. Thank you again and I wish you continued love and all the best!! Cheers, Carlee

Sheena · Married on 17/02/2018

The BEST wedding coordinator!

I'm so glad we chose Carlee to be our day-of coordinator for our wedding! We had a destination wedding at Nita Lake Lodge, so it was really helpful to have someone knowledgeable of the area and who had experience working with our venue to give us recommendations and advice throughout the planning process.

When it came to the day of, Carlee really went above and beyond our expectations to make everything go smoothly. I DIY-ed most of the flowers and decorations, and Carlee setup everything perfectly! Even when UPS had lost the garlands I had ordered, Carlee managed to put together decorations for us with our leftover flowers, and everything turned out beautifully.

Carlee's quick thinking and flexibility saved the day again when I realized I had forgotten to bring my bouquet to the venue! She made a bouquet for me out of one of our centerpieces, and we were able to continue on with the ceremony. Midway through the ceremony a snow plow started driving by right behind the altar! I didn't actually see this myself, but heard later how Carlee had immediately chased after the guy to make sure he didn't come back around and stayed out of our pictures.

Despite the unforeseen hiccups we had, thanks to Carlee's hard work behind the scenes we didn't have to stress about anything, and the day turned out exactly how we had imagined it to be and more. I really don't know what we would have done without her. If I had to do it all over again I would definitely choose Carlee as our wedding coordinator.

Sent on 08/02/2019

Pocketful Productions's reply:

Thank you so very much for this amazing review Sheena! Such kind words!! Thank you for inviting me to be a part of your special day - I'm glad you were able to enjoy it and that it was more than you imagined it would be. I wish you love and all the best!

Cheers,

Carlee

Bethany Ramirez · Married on 10/02/2018

Best decision we made!

We cannot say enough good things about Carlee & how amazing it was to work with her to make our wedding dreams at Nita Lake Lodge come true. As someone who has a hard time letting others help for fear of anything less than perfect I was nervous to have a planner, but I cannot stress how much faith & trust I had in Carlee after our meetings together. Each time I mentioned to another one of our vendors that Carlee was our coordinator they praised us for making such a great choice! My husband & I have since talked to several of our friends who are planning their weddings & each time he says that hiring Carlee was the best decision we made. The days leading up to the wedding she sent out emails to each vendor double & triple checking they will be there at the correct time & always clued us in if there was any clarification needed. It was important to us to have a relaxed & enjoyable time at our wedding, as I'm sure most people hope for. Though I've yet to see that happen for others, as the day of is usually spent with family & the bride & groom running around setting up & making sure all is where it should be. The morning of our wedding I got a visit from Carlee, where she gleefully checked in & collected our vendor thank yous to pass out later for us. Then she was back downstairs creating the most beautiful ceremony/reception space we ever could have imagined. We had a walkthrough the day before where she took notes about what we envisioned & if something was different the day of, it was only because she had thought of a better & more efficient way to do it. If we ever decide to renew our vows we will be calling you again Carlee, maybe then we can do a warm destination trip to Hawaii! We are so unbelievably grateful & really truly owe our beautiful wedding day to you & everyone else who helped put it on! Thank you!

Sent on 18/02/2018

Nicola Chambers · Married on 17/12/2017

Amazing, amazing, amazing.

I was planning our wedding via distance in only 3 months! Crazy, I know. But with Carlee's help our big day was not only a success, but an almost stress free day. She helped from everything from setting me up with great vendors, coordinating delivery/show up times, to confirming contracts and changes. The day of she helped organize the wedding party, bring me much needed beverages, my change of shoes, and all around took so much stress off my shoulders!

Sent on 22/02/2018

Pocketful Productions's reply:

Thank you for this fantastic review Nicola - much appreciated! It was truly an honour working with you to bring your Whistler winter wedding to life. Thank you for inviting me to be a part of it all. I wish you and Alexander all the best!

Cheers,

Carlee

Anna Hill · Married on 16/09/2017

We were so incredibly lucky to have Carlee as our wedding coordinator! From the beginning she was extremely helpful. It didn't matter how many questions I emailed her or suggestions I asked for, almost immediately Carlee would respond and help me through any issue I encountered. As the wedding approached, she went out of her way to last second meet us at the venue and help us plan out and walk through the whole day. She set all of our minds at ease with her calm demeanor and her wide breadth of knowledge. At our rehearsal, she corralled our large crew, worked us through the rehearsal, as well as took all of my decorations, center pieces, wedding arch, etc so that she would do all set up for us. To say that she helped keep me sane would be a complete understatement. Because of Carlee I went into my wedding day with a huge smile on my face and the knowledge that we were going to have an amazing time. The wedding was flawless. Every detail that I had panicked about for months she nailed perfectly. Even in my tipsyness I made a random request to keep wine corks from the wedding, and wouldn't you know it after our wedding Carlee had kept a huge bag of them for me. We are so extremely grateful for all she did for us at our wedding and would ABSOLUTELY recommended her to any and all of my friends. If you have Carlee you're as lucky a bride as I was.

Sent on 24/10/2017

Pocketful Productions's reply:

Thank you so very much Anna! It was an absolutely pleasure and honour to help bring your special - and super fun - day to life!

All the best and big hugs,

Carlee

Chelsea Bridge · Married on 02/09/2017

Carlee was so wonderful to work with! Right from our first meeting, I knew that she was the perfect fit for us. She is friendly and professional, super organized and she is truly caring and enthusiastic about what she does. She was always available to discuss questions, concerns, and to bounce ideas off. Wedding planning can feel overwhelming and confusing at times but Carlee was always there to ease these worries and clarify anything that was uncertain. She seamlessly executed our vision of the day and allowed for us to take in every moment!

Sent on 09/11/2017

Pocketful Productions's reply:

Thank you so very much for this wonderful review Chelsea! It was fun and an honor to get to know you and work with you in the lead up to your wedding day. Thanks for including the photo of the 3 of us...awesome!

All the best and big hugs,

Carlee

Claire Mcdonald · Married on 01/09/2017

Carlee was great, she took care of everything the day-of and allowed us to enjoy our wedding. She handled all the behind the scenes organization, from the caterers to the florist, music and last minute decor set up. Carlee was very organized and was willing to go the extra effort to make sure everything was perfect. She has a great personality and is very easy to work with, listens to everything you want and may need, and has great advice and recommendations for the perfect wedding. We would highly recommend Carlee as a wedding coordinator, although we wished she stayed and danced with us a bit more!

Sent on 29/11/2017

Pocketful Productions's reply:

Thank you so very much for this fantastic review Claire! I really enjoyed working with you and getting to know you and Liam in the lead-up to and on the big day. What a fun wedding! Thanks for including the photos of the 3 of us...awesome! :)

I wish you love and all the best!!

Cheers,

Carlee

Lori and Michael Thomas · Married on 07/08/2017

We were incredibly lucky to have Carlee as our "Day Of Coordinator" for our Whistler wedding - she is so fabulous! She goes above and beyond the one day and was there with us every step of the way. We chatted when we first booked the venue and it was a quick and easy connection. Carlee welcomed all emails throughout the planning process, and was timely and thorough with her responses. She met us for a venue walk-through and had so much to contribute to the meeting with both the facility and decor coordinators. She anticipated all of our needs and questions that might need answering, and was able to answer them all. We hired her for additional time to do a run-through of our rehearsal. Being a teacher, I so appreciated her organization and ability to lead a large group of excited wedding party participants with such calm and finesse. Carlee arrived on site first thing the day of the wedding and worked her magic with all the vendors - she was on top of everything! She checked in on us throughout the day. It was fun to hear how things were coming together and to feel her enthusiasm. Everything ran so smoothly thanks to Carlee's attention to detail and wedding coordination superpowers. So many people remarked on our incredible wedding planner - how she seemed to be everywhere, yet invisible at the same time. The day surpassed our expectations - and so did Carlee. Thank you so much Carlee for everything! Lori and Mike




Sent on 02/08/2017

Pocketful Productions's reply:

Thank you so very much for this amazing review! It was an absolute pleasure helping to bring your special day to life...what a gorgeous day and night! Oh and thank you again for being so organized and on top of everything! All the best to you both!

Mari Hestdalen · Married on 05/08/2017

We are so incredibly grateful that we connected with Carlee and she said yes to being our wedding planner! Having Carlee there from beginning to end truly made the experience so much easier and my husband and I much happier during the planning process and throughout the chaotic wedding weekend. She totally managed the entire wedding day and rehearsal with grace and style - so that we didn't even notice she was there but I knew that if I needed her she would take over so I wouldn't even think twice about it.

I was quite skeptical at first to have a wedding planner as I saw that as a cost cutting area. BUT, there is NO way that our wedding would have gone as smoothly as it did without Carlee there. As a bride, I was able to just fully enjoy the day and not worry about a single detail. She's a wonderful person that is easy and fun to work with, she knows her industry and the local community very well which was extremely helpful for finding vendors, as well as she is professional, reliable and hardworking. What more could you ask for?

Thank you Carlee for making our day amazing! We couldn't have done it without you!

Sent on 19/09/2017

Pocketful Productions's reply:

Thank you very much Mari for your kind words! It was so much fun getting to know you and Anders in the lead up to your big day. It was a pleasure working with you...thank you for being so organized...and I wish you both nothing but love and all the best! Cheers!!