Reviews for Maguire Events & Co
Awards
9 User photos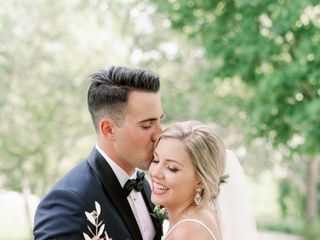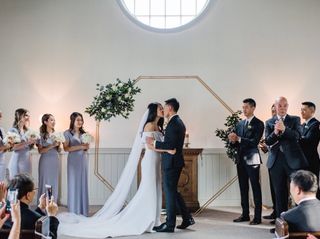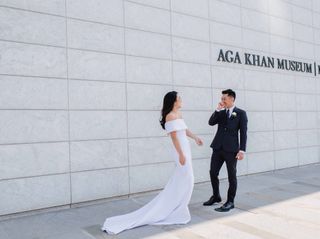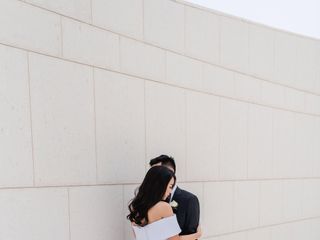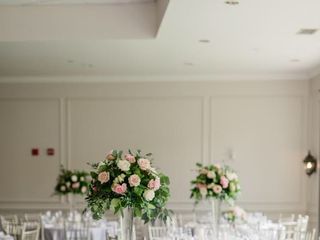 Ricki Adams · Getting married on 13/09/2020

Sloan is a Wedding Fairy Godmother

To All Wonderful Brides and Grooms,

Book Maguire Events (aka Sloan) as the first thing you do! My wedding is still one year away and I booked Sloan 2 years in advance, not because I had to but because I wanted to. I hired Sloan for day of coordination and let me tell you she is the most amazing genuine and thoughtful person ever. I have texted Sloan about questions and advice throughout the past year and she literally responds within seconds. She knows exactly what to say when you're having one of those, omg I've taken on way too much and do not know what I am doing, moments and most importantly she feels like a friend.

Sloan never makes me feel stupid for asking a question and honestly has so much knowledge to share it is insane. I will write a second follow-up review post-wedding as well. I am sure I will have even more amazing things to say about Sloan... if thats even possible cause she is already super awesome.

Cannot recommend her enough.

Sent on 02/10/2019

Kristen Fedorowicz · Married on 20/10/2019

Great Wedding Planner!

Sloan was a great wedding planner, we thoroughly enjoyed working with her. She was always available and made sure all of our concerns were addressed. There was a few hiccups the day of that were unexpected, but no ones wedding is perfect. She was very friendly and approachable, which made things much easier to deal with. She helped a lot when I was getting ready and came to the rescue with my corset and getting my shoes on when I made the mistake of getting into my dress first. Overall we were very pleased with her and her services!

Sent on 19/04/2019

Maguire Events & Co's reply:

Thank you Kristen for the review! We were honoured to be apart of your day. I am so glad we were able to work out the unexpected bumps that occurred during the day! Congratulations on your wedding once again!

Amanda D'souza · Married on 31/08/2019

Sloan is amazing! Hire her.

Sloan was amazing! She completely exceeded all of our expectations! She was incredibly kind, caring, organized and professional. She listened and provided valuable feedback, suggesting different vendors who could fulfill our wedding day dreams. Most importantly, she made me feel super relaxed and calm on my wedding day, which is quite the task, as I am a very anxious and nervous person. Sloan even got married a couple weeks before our big day, and she did not skip a beat-emailing my vendors and completing our day of schedule. She is an incredible wedding planner and I can't recommend her enough!

Sent on 09/09/2019

Carol · Married on 23/08/2019

Stop what you're doing and hire her already!

There are no words to describe my (our) genuine love and admiration for this beautiful person. As a small business owner, she is doing everything right and I mean EVERYTHING. I hired Sloan as our day-of coordinator for our 08.23.19. wedding at Holland Marsh Wineries. From our very first telephone call, about a year or so prior, I knew she was "the one" and Sloan did not disappoint. She went above and beyond. Every step of the way, Sloan was there for me, both in vendor and in a friend (when you hire her, you'll know why she'll turn into your friend immediately!). There are so many things I can say about her professionalism, superior communication, support, ideas and business structure, but I am going to just say this, HIRE her, because I honestly believe she is the best in the business. My husband and I agree, Macquire Events & Co (Sloan and her amazing husband, Randall) were by far, the best investment we made for our wedding day. And, I wish there were more events in our future so we could hire Sloan again!

Sent on 11/11/2019

Brittany Dakins · Married on 03/08/2019

Already miss working with Sloan!

Organized and sweet it as pie. It was a pleasure to work with Sloan as our day of coordinator! She was an EXCELLENT communicator far before her duties began, and I loved the collaborative google documents for planning our day and every call leading up. As a wedding vendor myself, I had a very clear vision of what I wanted our day to look like but since we're from Alberta and got married in Ontario, we wanted to hire a coordinator to help with all the vendor logistics, day of schedule and setup. Well, let me tell you how much every. single. penny. was worth it!! Things I would have never considered. Ease of communicating the entire day with our families and everyone involved. Advice on the best times to do cake cuttings, dances, where the bridal party should stand at the end of the aisle. The list goes on. If you're the visionary and need help seeing it all come to reality - I highly, highly recommend making the decision to hire Maguire Events. I'm truly so grateful for Sloan and her team. Walking into the venue and seeing all my calligraphy, signage and the decor displayed so beautifully for the first time was a surreal moment that I'll remember forever. Her support and professionalism were appreciated by everyone in our party!

Sent on 19/11/2019

Emily Nhan · Married on 27/07/2019

You need to hire Sloan right now!

It's been a month since our wedding and I waited this long to write this review because I wanted to actually have the time and mind space to properly articulate how amazing Sloan is.. cause she deserves it and so much more.

I genuinely miss her, like I find myself wanting to text her almost everyday to get her opinion on my real life problems that are 100% not wedding related anymore. She is a magical unicorn that I'm so thankful we're found, literally could not imagine our wedding day without her.

A little bit about me & my new husband, we are a couple originally from Toronto that now lives & works in San Francisco. We got engaged in March of 2018 and naively thought we'd be able to plan our Toronto wedding on our own from SF. We are Type A/OCD/organized people but by November of 2018 after booking a few things on our own (venue, catering, photography, hair & makeup) we realized we needed help to handle the rest... slash just had no idea how to even begin tackling the rest.. especially from SF.

I found Sloan through Instagram, she was tagged on a few wedding posts. We met over the holidays December 2018 and it was like an instant yes. She was friendly, sassy, funny, smart and clear a go-getter. Compared to a lot of other "partial" wedding planners, she offers WAY more value at a great price for. A lot of competitors were charging $1000-2000 more for only 10 hours of service between when you sign the contract and your wedding day. Sloan offers a truly personalized and hands on experience from the minute you sign her on. She's in it with you.. negotiating with vendors, sourcing wedding favors, figuring out paper stock, searching for deals and she genuinely wants to achieve your wedding vision as much as you do. Our wedding was absolutely perfect and it was all because of Sloan.

In the 6 months we had Sloan on our team, she was probably my 2nd most active text convo... falling only shortly behind my sister (& maid of honor) and probably easily surpassing my now-husband. If that isn't client service, I have no idea what is.

There are no proper words to explain how thankful we are to Sloan but I hope this review was able to convince anyone who's silly enough to be on the fence about hiring her. If you're thinking about it, stop reading this. Go hire her, now.

Sent on 28/08/2019

Maguire Events & Co's reply:

Emily & Mark!! It was an absolute pleasure to be apart of your special day. We connected so well & I truly think of you as friends now. I am so glad your vision for your wedding came to life & that your dreams came true! Thank you for taking the time to write this out - it truly means the world to me. Hope you are having a wonderful day in San Fran!! Miss you xox

Candace Alexander · Married on 06/07/2019

Wonderful.


Sloan was a wonderful addition to our day. She was very courteous and looked after the events of the day, which made our day so stress free.

Sent on 07/07/2019

Maguire Events & Co's reply:

Thank you so much! We had an amazing time with you, Tyler, & your loved ones! Congratulations again xoxo

Nadia Toppin · Married on 05/07/2019

Highly Recommended!

As an out of province bride I hired Sloan to be my day of coordinator. From our first conversation, Sloan was very professional, welcoming and very easy to contact! I appreciated her quick response time as I was planning my wedding from another province. When it came to our meetings Sloan was very flexible and worked with our busy schedule as we were in Toronto with lots of meetings and things to take care of. When it became time to get more involved with the planning/vendors (5-6 weeks prior to my wedding), Sloan put on her cape and did an awesome job. When I felt overwhelmed she took over and handled things for me and advocated for her us, her clients. The day of the wedding, everything went seamless, she took care of things ensuring us NOT TO WORRY. She really did an awesome job from start to finish. I would highly recommend her to any bride. From my experience there is nothing she could have done better. Craig and I thank you so much Sloan for making our fairy tale wedding truly and unforgettable experience!

Sent on 19/08/2019

Maguire Events & Co's reply:

Nadia! Thank you so much for this kind review. We loved every minute of your planning process & special day! Thank you for choosing Maguire Events. We love you both so much xox

Aron · Married on 14/06/2019

Highly recommended

Sloan and her team never fail to meet our expectations. She is very responsive to all inquiries (like we don't even know if she still sleeps lol). Let me start from the beginning..
After 3 meetings with different wedding coordinators, nobody actually met our standards. Until we met Sloan (maguireevents). From the moment we spoke to her, i knew she will be the perfect coordinator for our wedding. How? Your guts will tell you! Sloan is very accomodating and very professional. She does what she loves! Sloan also helped us in finding vendors based on our preference. We had issue with our first emcee that we hired but Sloan gave us an honest advice and helped us finding the perfect emcee. We didn't regret anything! Everything turned out perfect on the wedding day and everyone was saying that there was no dull moment during the program. For the future bride and groom, if you want a stree free wedding planning & coordination, Maguire Events & Co should be on your number 1 top list! Trust Sloan and her team for your dream wedding!

Sent on 17/06/2019

Maguire Events & Co's reply:

Aron & Lyka! Thank you for everything!!! We had such an amazing time with your family & friends. We wish you a lifetime of happiness, love, & adventure.

Sharon · Married on 27/04/2019

If you want a stress-free wedding, Maguire Events &Co is the company to hire!

From the moment when I first spoke with Sloan, I could tell that Sloan and her team is very confident in what they do. Sloan is confident, very efficient, yet she still knows how to make things personal for your wedding. I had taken a new job a month before my wedding, and had to travel overseas for business two weeks prior to my wedding day. If I had not hired Sloan as my planner, I would have been really stressful with my crazy schedule! Sloan communicated with me via email while I was away, and checked with me frequently how things were going with the wedding planning. Sloan and her team was very organized days gearing towards my wedding. The team also communicated with myself and the rest of the vendors very well on the day of. Everything went so smooth and my husband and I had the best time on our wedding day. We also received so many compliments from our guests how well things went, and how much fun they had at our wedding. I would recommend Sloan and her team to any couple looking for a planner. Their service and care is so worth your investment and I have no doubt that Maguire Events will become even more popular and successful!

Sent on 28/05/2019

Maguire Events & Co's reply:

Sharon - thank you so much for these kind words! We were honoured to be apart of your intimate day. We had such an amazing time with your close friends & family! We wish you a lifetime of happiness, love, & adventure.