Reviews for Shandro Photo
Awards


25 User photos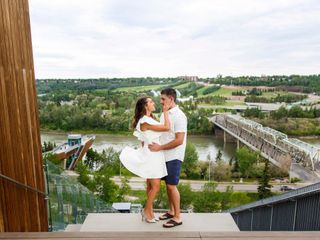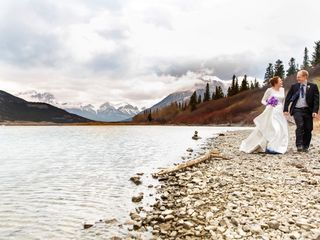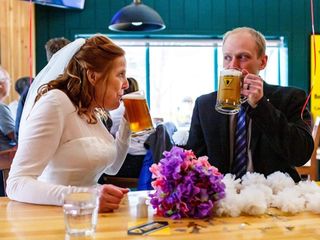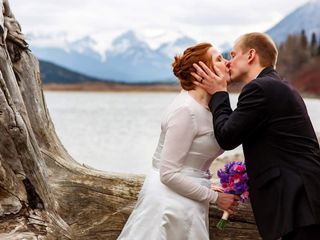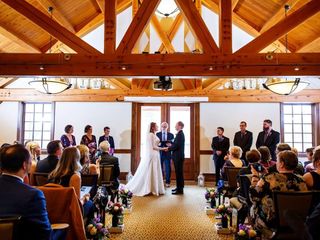 Kayla Panizzon Married on 31/08/2019

Professional, Bubbly, Amazing Photos!

The photo speaks for itself! Haley at Shandro Photography has an amazing eye, and she never stops snapping so you know she's getting all the great candid shots. She suggested the Funicular in Edmonton as our spot and even helped my fiance and I with what to wear to the shoot. She went above and beyond for us and I know she will for you too! Photography is clearly her calling. :) - Kayla

Sent on 18/06/2018

Shandro Photo's reply:

That's one of my favourites! Thank you guys so much for a fun shoot! I'm glad you were open to trying out a new spot that I hadn't shot at before.

Heather Demaniuk · Married on 03 of May of 2019

Not only will Haley amaze you with her talent for capturing the little moments, she captures your heart...she's incredibly great at putting you at eas

We picked Haley because of her style, her ability to to find your perspective, but also how kind and generous she is to make sure your day is captured perfectly! Second to none, pick Haley!!!

Sent on 20/06/2019

Shandro Photo's reply:

Thank you so much Heather! It was lovely to travel down to Canmore for your wedding! Thank you for trusting me with such an important day. You are both warm and generous and so was your wedding!

Sharen Married on 10/02/2019

Amazing Experinece!

Haley was absolutely fantastic to work with! Communication was so quick, and she even helped us with finding our locations (which we loved). In person, she immediately made my fiancé and I feel at ease and gave her expert advice every step of the way to make sure our pictures turned out. We were blown away with our engagement photos and we couldn't be happier! I would recommend Haley to all friends and family looking for a photographer :)

Sent on 23/09/2018

Shandro Photo's reply:

Thanks so much Sharen, I had a blast with you both on your shoot! I'm so glad I was able to help you both feel so comfortable.

Aidan Ferguson · Married on 07 of October of 2018

Passionate, Professional and Personal

There are so many things that make Haley a phenomenal photographer.

Off the top her when you meet her she immediately makes you feel at ease, she is down to earth, kind and excited to get to know you. You can tell she is a passionate and smart business woman who knows the chaos/stress that can surround a wedding. She is dedicated to making sure that your experience with her is not a part of that stress, from the organization and prompt answers to emails/texts, or the checking in along the way to make sure everything is going well with the planning. Haley is devoted to her clients.

It is evident that her passion goes far beyond simply taking photos. She is passionate about people and celebrating what makes each couple/individual unique and capturing that in her art/work.

Her work is exceptional! There are many photos from my wedding that instantly bring me back to that moment, to that feeling. Not only will she capture the big moments (the first kiss, the family portraits, the first dance etc), but she will capture the little moments that make your day unique and special. Some of my favourite photos are the ones of the little moments, a picture of my husband and I dancing with my dad in the background grinning, me crouched on the floor saying hello to my nieces for the first time, a picture of my husband with his nephew on his knee as we played bean boozled, my aunts and uncles singing with napkins on their heads to get my husband and I to kiss, my friend singing in the choir who hasn't sung in over 10 years but sang at my wedding with a huge grin on his face... those photos are more than just a photo, they are memories.

If you are looking for a fun, passionate, loving and dedicated person to capture your memories Shandro Photo is guaranteed to be everything you wished for and more.

Sent on 15/12/2018

Shandro Photo's reply:

You know I love you guys =) I told you I wouldn't be able to adequately express it!! Thank you thank you =)

Meghan Paul · Married on 25 of August of 2018

Perfect photos and amazing service

Haley is amazing. She was very organized and was great at coming up with solutions and taking things off my plate in the months leading up to the wedding. On the day she kept everything on track even with short times at each location. We couldn't have imagined better photos, she really captured who we are as a couple and all the moments of our day. She made us feel comfortable in front of the camera which doesn't come natural to us. She adds little personalized touches to everything and has a fun-loving, energetic character as well. I would definitely recommend Haley to anyone. Thanks Haley!

Sent on 05/01/2019

Shandro Photo's reply:

It definitely doesn't feel like we didn't even really get a chance to chat until after everything was booked, I remember when we first met and your bubbly energy came across like a warm mist around you - and meeting Jack was just delightful. You two have been on so many adventures together already, and it was an honour to be a part of your wedding. You two were just incredible to work with from start to finish. Even when I suggested taking your family photos behind the venue near a garbage bin, but you trusted me it was the perfect spot. And thank you for providing me with amazing gins to sample! My people!!!

Luke Hinkey · Married on 11 of August of 2018

Best of the best

Haley is absolutely fantastic to do business with. From the first time we spoke on the phone and all the way to the wedding, Haley has been awesome! Shes funny, outgoing and takes her work very seriously yet very down to earth! She's all about making it work to get the best shot and very accommodating, professional and very organized. In the future, for whatever photo needs we have, there's no doubt in my mind we'll be using her again.
Her photos and skill with a camera speaks louder than words!

Sent on 21/08/2018

Shandro Photo's reply:

You two are EXACTLY the clients I love working with! Easy going, super in love, and happy to try new things =) Thanks for an amazing day and taking the time to leave a review!

Julie Johnston · Married on 05 of May of 2018

If you're looking for an AMAZING photographer

Thank you so much to Haley and her team for delivering my dream wedding photos! Haley is creative, fun, professional, and easy going. Above all she is talented and will make sure you have lasting memories of your special occasion. Highly recommend!

Sent on 19/06/2018

Shandro Photo's reply:

Julie - you guys were a dream to work with! Your style and bubbly personality made everything so easy. Thanks so much for an amazing day, and I'm so glad you love your photos!

Katelyn Petersen · Married on 18 of February of 2018

What a pleasure!

Haley Shandro (and Shandro Photo) was an absolute pleasure to work with! The entire process from the first consultation through to receiving the pictures was handled in a friendly and professional manner, and was fun to boot! The photos are gorgeous and really reflect our personalities and the spirit of the wedding. Haley knew our venue very well and was able to direct us efficiently through a bunch of creative shots, as well as some more traditional poses w/ family members. We couldn't be happier and would heartily recommend Shandro Photo!

Sent on 15/03/2018

Shandro Photo's reply:

I'm so glad you're happy Katelyn and thanks for taking the time to do a review! You guys were awesome!!!

Amy Ross · Married on 23 of September of 2017

I can't say enough great things about Haley. She is a amazing photographer. She is very professional but also easy going which makes you feel very comfortable. She puts 100% effort in and captured what we wanted! Even though it was quite a hike in Canmore, she pulled off unbelievable pictures! We got our photos back very quick as well! Thanks again Haley 💕

Sent on 28/10/2017

Shandro Photo's reply:

We earned that photo shoot - thanks for coming on an adventure with me!! I'm glad the bears left us alone =)

Jennifer · Married on 03 of September of 2016

Haley was so professional and helped me with every step along the way. From choosing photography venues to planning how and when to do the pictures in order to capture the best lighting and accommodate the guests. Both Haley and her second shooter Derek were so friendly and fit right in immediately, making everyone comfortable and resulting in amazingly honest and in the moment pictures. The angles and shots that Haley thinks of are beyond me and I would strongly recommend her work to any and everyone. She can do just about anything from boudoir to baby shoots and weddings. I have used her services more than once and plan to continue doing so throughout each milestone in our lives. A picture says a thousand words and holds a thousand memories.

Sent on 20/03/2017

Shandro Photo's reply:

You guys were just amazing to work with - your wedding was so family oriented and steeped in culture, it was awesome!