Reviews for Kim Payant Photography
Awards




194 User photos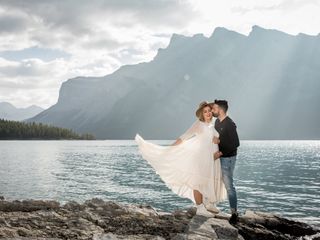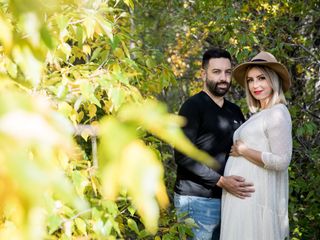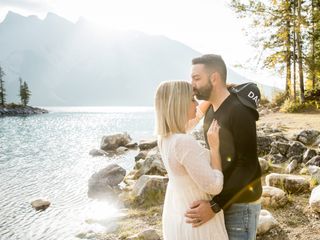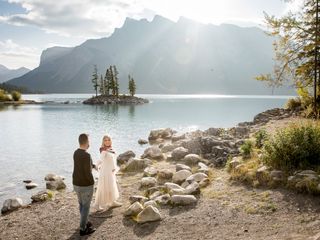 Erika Lougheed · Married on 19/08/2019

Kim was amazing at what she does!

If anyone is getting married in Banff and is looking for a photographer Kim is the one! She was amazing and got some really good shots, she also knows Banff and the Banff Springs hotel really good so she knows all the great places to take pictures!

Sent on 24/08/2019

Lisa Hassan-Green · Married on 15/08/2019

Excellent service, amazing photographer

Kim is an excellent photographer and she is so easy to deal with! We live in the UK but had our wedding in Banff and Kim was always super responsive - she literally responded to all of our emails within hours, it was amazing and put our minds at ease from so far away! She knows Banff and the Fairmont (our venue) which was so helpful as she knew where to go to get the best shots and she knew our other vendors. She even helped me do up my wedding dress and put my veil in - she's a true pro!

Kim sent us sneak peaks the morning after the wedding which we absolutely love and we can't wait to see the rest!

Sent on 24/08/2019

Nobel · Married on 13/08/2019

Genuine, sincere and memorable photography in Banff

BEST photographer in Banff!! My fiance and I had a wonderful time with Kim for our photoshoot. Kim was genuine and sincere in capturing our moments. She is very personable and knowledgeable of Banff, and she was very good at making you feel at ease throughout the whole photoshoot. Best decision made to go with Kim as our photographer in Banff.

Sent on 13/10/2019

Tobi Wulfkuhle · Married on 25/07/2019

Magical photo moments in the Rocky Mountains

Dear Kim,

we had always the dream of a wonderful wedding at Banff National Park due to our great holiday experience we had some years ago in this beautiful nature.

Then, since we saw somewhere online several wedding photos taken at Banff Nationalpark, there was just one thing in our mind...Realizing our dream.


Of course we hoped for great pictures of our special day, but your photos made our day unbelievable and we will never forget all these moments. Everybody who see the photos does not believe that this is reality.

We are very thankful for all of your great ideas for different photo poses and spots.

The photos are really professional with such high quality. You really have the eye for the important detail. Thanks also for your great accomodation of our somehow special wishes!

Again, we are very thankful having you as our photographer for our most important day.

So you did an amazing job!!!

Each photo has something special and it is always a wonderful moment for us when enjoying the photos.


Thanks for everything!!!

All the best from Germany

Jacky and Toby


And for anybody else: Take Kim as your wedding photographer

Sent on 25/02/2020

Megan · Married on 20/07/2019

Engagement shoot

Kim was absolutely amazing and flexible to work with! We had never done a photo shoot before and didn't really know what to do. Kim managed to turn our awkward and nervous selves into very natural looking and stunning photos. We were able to hop into her car and explore a bit of Banff while looking for locations to shoot at. We're so pleased and would recommend her a million times over!

Sent on 24/01/2019

Kim Payant Photography's reply:

Thank you so much for your kind review! I had a great time taking your engagement photos in Banff! Thanks for braving the cold!

· Married on 15/07/2019

Wonderful experience!

The photos were absolutely breathtaking! Kim was so helpful, personable, and the most organized photographer I have ever met! I appreciate that she really took the time to get to know us and remembered our families names when she arrived. Kim took the time to ensure we had everything we wanted photographed. I would highly recommend her and would love to do a regular non-wedding shoot.

Sent on 26/08/2019

Kim Payant Photography's reply:

Thank you so much for your kind words! I'm happy to hear that you love your photos and had a great experience with me! Thanks for having me photograph your wedding day in Banff and I wish you all the best!

Ashley V. · Married on 07/07/2019

So much more than a photographer!

We cannot say enough great things about Kim Payant. We are from the US, so we did not know much about the area of Banff, so Kim asked us the right questions about what we were looking for in our special day, and guided us accordingly. Kim was not just a photographer, she was so much more. She helped us choose our ceremony site, recommended vendors for us, and set up a schedule for the day. On our wedding day, we spent 5 hours with Kim and had such a great time. She is professional, but fun, and adventurous. Not to mention, our photos are absolutely stunning. I would recommend Kim time and time again. She is the absolute best.

Sent on 07/08/2019

Kim Payant Photography's reply:

Thank you so much for your great review! I had so much fun exploring around Banff with both of you on your wedding day! Thanks for braving out all of the weather changes from warm and sunny to cold, windy and rainy! I wish you all the best!

Megan Tromposch · Married on 06/07/2019

The Best Photographer for your Mountain Wedding

Kim is hands down the best photographer you can find for your mountain wedding. She knows all the best spots and takes incredible photos. We had many people compliment us on their quality. If you are getting married in Banff/Canmore/Kananaskis, you NEED this lady to be your photographer.

Sent on 21/08/2019

Kim Payant Photography's reply:

Thank you so much for the great review, it is really appreciated! I had a great time working with both of you and thanks for embracing all of the crazy weather changes from clouds to thunderstorms and finally beautiful sunshine! Thanks for having me photograph your engagement and wedding day in Banff!

Emerald Lake Lodge · Married on 09/04/2019

Highly Recommended!

I would highly recommend Kim. She is very professional, thorough and accommodating. Very friendly and wonderful to work with. Our photos are amazing!

Sent on 31/05/2019

Kim Payant Photography's reply:

Thank you so much for the review! I had a wonderful time photographing your wedding and I hope that you will cherish your photos for many year!

Heather Munro · Married on 06/04/2019

Excellent Wedding Photographer

Kim did an incredible job capturing our wedding day! The pictures turned out absolutely stunning. She is very professional and helped with all aspects of the day, not just photos. She is very knowledgeable and experienced and makes sure your day runs smoothly. Kim is good at directing your wedding party and guests to make sure she gets the best shots possible. We couldn't be happier with her work!

Sent on 14/05/2019

Kim Payant Photography's reply:

Thank you so much for your kind words! I had a great time photographing your wedding day in Banff and at the Banff Gondola. Thanks for choosing me to capture this special day!