Reviews for Carlos Gouveia Photographer
Awards
4 User photos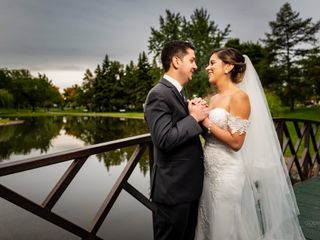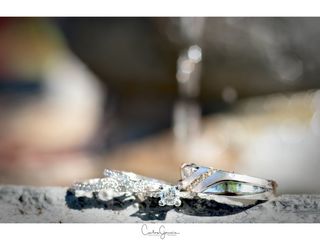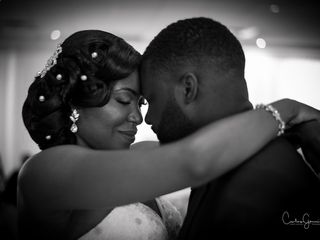 Graça · Married on 06/10/2018

Expérience exceptionnelle

Carlos Gouveia est à mon avis l'un des meilleur photographe. Il était professionnel et respectueux. Les photos sont tous magnifique. La meilleure expérience que nous avons vécus .

Sent on 03/01/2019

Carlos Gouveia Photographer's reply:

Félicitations, non seulement pour votre journée spéciale, mais plus encore pour le beau couple que vous êtes et pour la famille si géniale que vous avez. C'était un plaisir de couvrir et de voir la journée se dérouler. Merci à toi et à Fabio de m'avoir permis, à moi et à mon équipe, d'assister à un tel amour, à un tel engouement et à une telle humilité. En souhaitant vivre heureux pour toujours.

Stéphanie · Married on 14/07/2018

July wedding MTL

Carlos takes care of you from start to finish. He captures emotions and ambiance. He will work with black and white mostly and transform your pictures into masterpieces.

He was the perfect photographer for my beautiful special day.

Thank you Carlos!!!


Sent on 14/10/2018

Carlos Gouveia Photographer's reply:

Stéphanie, it was a privilege to document you and Patrick on your special day.

I couldn't ask more as a photographer; emotions expressed everywhere like it was fireworks, wow! You truly deserve each other.

Thank you again for all the kind words and gentle smiles everyone gave me and my team! I wish you all the happiness of the world!

Melissa Larocque · Married on 16/09/2017

There is all sorts of things that I would change from my wedding day, but Carlos isn't one of them. He is really talented and friendly. He is professional and kind and really took the time to understand what we wanted, and he delivered beyond our wildest dreams. We have sooo many good pictures, we're having a hard time only picking a few to put up in our house! I would recommend him to anyone who wants a stress-free but fun time.

Sent on 16/11/2017

Carlos Gouveia Photographer's reply:

You guys are amazing in every way.

Everyone and everything was splendid, I had so much fun covering your day. I wish you both all the best the world has to offer.

Thank you for trusting me with your beautiful day!

Andrea Barria · Married on 26/08/2017

I love the work he did for our wedding! Carlos is reliable, personable, very creative and professional in every way. He does a great job of capturing the moment while not interfering with it.
Thank you Carlos!

Denise and Arnie


Sent on 14/11/2017

Carlos Gouveia Photographer's reply:

Thank for letting me part of your special day. Everything and everyone was awesome so happy to know you appreciated my work and service.

Tiffany Brum · Married on 10/09/2016

Très belle photo
Les photographes sont symphatique,ponctuel et patient .
J'ai vécu un très belle expérience leur travaille est exeptionnel .
La livraison des photos c'est faite super vite,j'ai adoré leur concepte de leur petite boite gravé .
Merci beaucoup :)

Sent on 06/01/2017

Carlos Gouveia Photographer's reply:

Merci beaucoup Tiffany de nous avoir fait confiance avec votre journée spéciale, nous vous souhaitons tout le meilleur, vous et Samuel sont géniaux!

Charlene Grabowski · Married on 24/07/2016

Amazing!!! The photos are unbelievable, and it was a pleasure to work with Carlos. He is so easy going, fun, patient and professional. Was a great working with him and his son!!! Highly recommend Carlos Gouveia for all your photography needs.

Sent on 13/09/2016

Carlos Gouveia Photographer's reply:

Charlene + Mark, how beautiful it was to document and witness all the love thorough my lens. Thank you so much for letting me be part of your special day, I feel blessed and honored to have immortalized this special journey. Thank you!

Mac and Lynn · Married on 17/07/2016

Carlos is very professional photographer sometimes too pationated ! Nothing but great things to say about this dude!! He trained and prepared us for our wedding day. Thank you Carlos!

Sent on 17/09/2016

Carlos Gouveia Photographer's reply:

You are very welcome Lynn + Mac you guys and everyone on your day we're truly inspiring! Emotionally in every way possible, Thank you for letting me be part of your magical day.

Nguyen · Married on 27/09/2014

Marriage is not like any other days, for that we need to have those magical moments to treasure forever. Thank you so much Carlos for making our wedding a truly memorable and special day. You are so efficient and have such a positive attitude, your professional skills captured every significant instant. Thanks to you we can look back at the photos and never forget theses beautiful moments. You captured the most important day of our lives so perfectly, every laugh, every tears, every kiss and every hug. We are truly grateful and appreciate everything you have done for us. Tes ca coche!!! :D

Sent on 16/11/2017

Carlos Gouveia Photographer's reply:

It's with great pleasure that I did and gave my soul to immortalize this special day, love, affection and friendship was present in every moment. Thank you and Cesar to trust me on this magic day where continents were forgotten. Every wedding is special in its own way, but this one was really special, to witness humans as one has no words, thank you for this wonderful day.

C'est avec tout le plaisir que j'ai fait et j'ai donné mon âme pour immortalisé cette journée plein d'amour, de tendresse et d'amitié, merci à toi et Cesar de me faire confiance à cette journée magic où des frontières ce sont oublié pour quelques heures, il y'a quelques chose spécial à chaque mariages, tous ont plein d'amour mais le vôtre c'est vraiment spécial de voir que les humains sont que un, merci pour cette magnifique journée.