Reviews for Portrait Ceremonies
Awards
13 User photos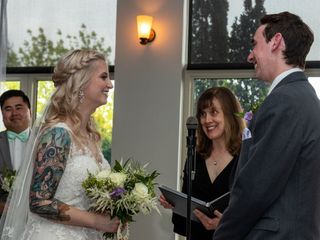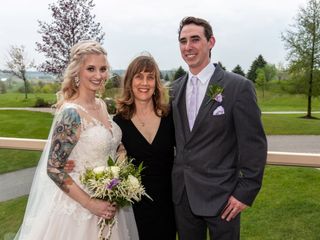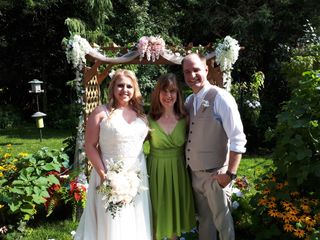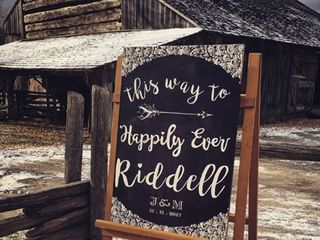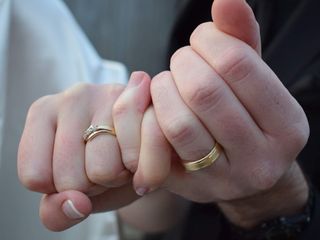 Kathy M. · Married on 14/04/2018

Kathy and Garry

We want to thank Laura for helping to make our wedding so special and personal. My son and his family were only going to be here for a short visit and because we wanted all our children and grandchildren at our wedding we only had a limited time to plan it. Laura made the whole process easy and stress free. She was very professional, supportive and guided us through everything always answering our questions patiently and in a very knowledgeable way.
Laura personalized our ceremony to exactly the way we wanted making suggestions and any changes we requested. She came an hour early to help make sure everyone knew what to do.The whole experience from when we first met Laura to the ceremony was one of the most wonderful experiences we have had.
Thank you Laura you were absolutely the best

Sent on 10/05/2018

Portrait Ceremonies's reply:

Thank you so much Kathy! I was so happy to be able to help with your wedding day and thrilled to be a part of such an intimate, beautiful, authentic time with you and Garry and with your children and grandchildren. I was so very happy for you all, that you could have that special time together while your son and his family were here. It has been my pleasure from start to finish and I wish you and Garry every happiness.

Jennifer M. · Married on 11/11/2017

Laura is absolutely worth her weight in gold and our guests were actually telling us afterwards that ours was the best wedding ceremony they have ever been too. Laura worked incredibly hard to get to know Matt and myself well and tailored our ceremony so that it was a customized reflection of us which it was. She was super responsive, quick to offer advice and supremely well organized which was also appreciated.

Sent on 16/11/2017

Portrait Ceremonies's reply:

Thank you Jennifer! I love that your guests felt that way about your ceremony. I truly enjoyed getting to know you both, learning your stories and what makes your relationship so special and then being able to share that through your ceremony. Learning more about Scottish wedding customs and including them was great fun as was learning a little Gaelic for a marriage blessing. You have been a joy to work with and I wish you and Matt every happiness!

Quentin · Married on 28/10/2017

Laura crafted and conducted a ceremony that suited us perfectly. It was everything we wanted our wedding to be: light hearted but serious when it needed to be, intimate yet inclusive, and above all - fun.
She was thorough, organised and responsive, making sure nothing was overlooked, that contingency plans were in place and that everything was very easy for us.
We both enthusiastically recommend Laura


Sent on 21/11/2017

Portrait Ceremonies's reply:

Thank you so much Quentin! I absolutely loved creating your ceremony--it was truly a joy--and I loved that it had those elements of fun and humour. And how wonderful that it took place in a venue that evoked the atmosphere of your first date... Perfect! I wish you both lots of wonderful travels, wining and dining together and every happiness that marriage can bring.

Matthew M. · Married on 21/10/2017

Laura was even more than we could have hoped for in an officiant. We wanted someone who would guide us through creating a simple, yet thoughtful ceremony, and she did just that. The way she laid out the different options to construct the script just how we wanted was extremely helpful. And Laura's writing is excellent, making it easy to choose passages you like. We loved Laura's opening remarks and have received several comments from our guests about how unique and perfect they were.

Laura's attention to detail is incredible. During the planning process, she was so helpful in keeping us organized. I'm not sure what we would have done without her. In the days ahead of the wedding, she even contacted all of our vendors to make sure everyone was on the same page.

We had a big crowd at our rehearsal dinner, but Laura took control and made sure everyone knew exactly what they needed to do. As for the ceremony, it couldn't have gone better. She spoke flawlessly, and everything went off without a hitch thanks to all of her preparation and hard work.

We strongly recommend Laura. You won't find better value.


Sent on 03/01/2018

Portrait Ceremonies's reply:

Creating and officiating your ceremony was one of the highlights of my summer. You shared so much with me about one another and about your story as a couple that it made writing your ceremony such a pleasure--and I loved seeing your guests enjoy it so much. I'm so glad that you were happy with the ceremony and that it suited you so well. It gave me a lot of joy to be a part of it. Thanks so much. Hugs to you both!

Liana D. · Married on 02/09/2017

Laura was absolutely spectacular. She was so thorough and thoughtful with her work, and very responsive to our wants and questions. Our ceremony was so personal and countless guests said "that was the best ceremony I've ever seen!" It was truly the highlight of our day and set the stage for an awesome celebration with the guests that witnessed our marriage. I am so grateful that Laura shared our love story. She is worth every penny and more!

Sent on 07/09/2017

Portrait Ceremonies's reply:

Thank you so much Liana for your wonderful and kind feedback. I loved creating your ceremony with you and sharing your story. Including your parents' blessings during the handfasting made it all the more special. I absolutely loved that you included family in your processional and had your three grandmothers be flower girls! My pleasure was making your vision of the ceremony come to life and seeing just how much in love you both are. You and Jonah are a very special couple and it was my joy and privilege to work with you!

Cassie G. · Married on 26/08/2017

Laura was absolutely amazing! We would reccomend her to anyone. From start to finish laura was professional and so easy to work with. She listened to our needs and wants to create an unforgettable ceremony. She even looked at our vows and compared them to each other to make sure we were in the same page. She went above and beyond her duties. We would reccomend her to anyone :)

Sent on 01/09/2017

Portrait Ceremonies's reply:

Thank you so much Cassie! It was a pleasure to work with you and Kyle. Your shared story and your strengths as a couple are very inspiring. I loved being a part of your wedding! Congratulations and best wishes on the grand adventure ahead! :)

Michelle · Married on 19/08/2017

Laura was a pleasure to work with! She was professional, responsive, warm & conducted a wonderful ceremony that suited us perfectly. All of our guests commented on what a lovely, personalized ceremony it was. I highly recommend working with Laura for your wedding!

Sent on 31/08/2017

Portrait Ceremonies's reply:

Thank you so much Michelle! It was a pleasure to work with you and Cory and I loved that your Maid of Honour had written some beautiful words to incorporate into the ceremony--and I loved that your sense of humour and Cory's came through in the moment. Congratulations and best wishes!

Riel S. · Married on 08/07/2017

My wife and I consider it one of the great blessings of our wedding to have had Laura Higgins as our celebrant/officiant. With her guidance, we were able to design and carry out a ceremony more beautiful than either of us ever imagined. From our very first meeting with her till the time of our wedding, Laura conducted herself with assured professionalism, confidence, class and a wonderfully open mind. She also showed a genuine appreciation for the tender intricacies of the heart, for the element of romance. We wanted a ceremony that would give some context to who we are individually and who we are as a couple, one that would convey the depths of our love for one another. We wanted, above all, a ceremony rich with feeling, and thanks to Laura, we had that to our hearts' content. At the same time, we felt a great peace of mind, knowing that she was always on top of the essential legalities of the marriage process, making sure we were equipped with all the necessary paperwork and no shortage of helpful materials. She is remarkably thorough. Laura was also very accommodating with her time, consistently available by phone or email. She has a warm, compassionate and fun-loving manner, and it was always a pleasure to interact with her. Following our ceremony, there was no shortage of direct praise for Laura from our guests, so many of whom were moved to tears. My uncle told me, as he shook my hand, how impressed he was with Laura and that he wanted to have her as his own officiant when he and my aunt renew their vows. My wife and I cannot recommend Laura highly enough. She has our everlasting appreciation and thanks.

Sent on 12/08/2017

Portrait Ceremonies's reply:

Thank you so much Riel for this thoughtful, eloquent and very kind testimonial. Working with you and Karen was an absolute pleasure and I am honoured you both shared your beautiful story with me and allowed me to share it with your guests. I was very touched by the love you have for one another--being a witness to that kind of love is one of the many blessings of my work as a Celebrant. Thank you so much for your trust in me and for writing about your experience in this review. It means a great deal to me. Many blessings to you and Karen.

D & · Married on 01/07/2017

Laura helped us to have exactly the wedding ceremony we wanted — authentic, intimate, and with the least possible amount of stress. Throughout the whole process, Laura was knowledgeable, supportive, organized and professional. She helped us to figure out what we wanted and customized a ceremony that was really about us. Several friends and relatives remarked how the ceremony reflected our personalities perfectly, how intimate it was, and that they felt they knew us better after it. We found the ceremony rehearsal very helpful, and Laura also coordinated with participants in the ceremony who could not be at the rehearsal to make sure that everybody knew exactly what they would be doing. On our wedding day, Laura was well received by friends and relatives, and her delivery of the ceremony drew laughter and tears in all the right places. We were so comfortable with everything from the "stage instructions" to the vows that we could just be present in the moment and enjoy the experience. The custom ceremony was a small portion of our wedding costs, but it was the most important part of our wedding day and is what we will remember in years to come.

Sent on 04/11/2017

Portrait Ceremonies's reply:

D & H,

Your wedding was such a joy to create and I appreciate your trust in me to share your story through the ceremony. Your whole wedding was a lovely reflection of who you are as a couple and what is important to you and I admire how you did things a little differently knowing it would be what you would truly enjoy! Thank you for your kind words. I absolutely loved working with you!

Tiziana K. · Married on 20/05/2017

Thank you so much Laura for personalizing our ceremony and making our wedding day extraordinarily special! And, although everyone looks back on their wedding day as the beginning of their marriage, we will always carry your words and warmth with us throughout our marriage. We were truly blessed to have you as officiant of our wedding. With gratitude, Tiz and Chris

Sent on 29/06/2017

Portrait Ceremonies's reply:

Thank you so much Tiz. I absolutely loved working with you and Chris. I loved incorporating your favourite quotes into the ceremony and that your kids were involved and read three beautiful poems about love. You have inspired my husband and I to consider a trip to Stratford to celebrate our 20th anniversary! Thanks again and my congratulations!