Reviews for Patrick Smiley - Marriage Commissioner
Awards
19 User photos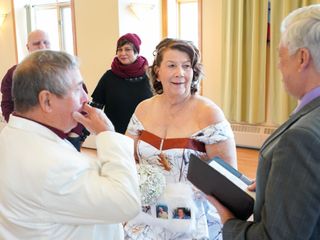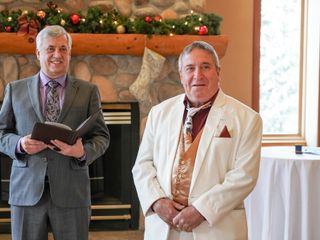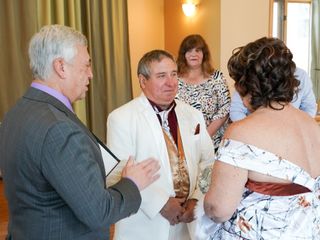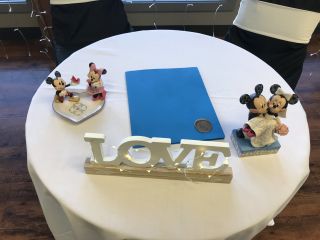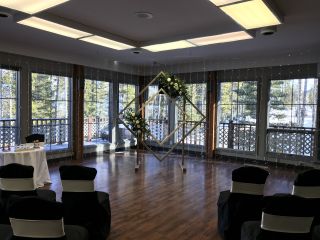 Joanne Mckenzie · Married on 28/02/2017

Patrick was an excellent Dj who came highly recommended by the venue coordinator were I was getting married. Patrick played every song (not traditional wedding music) that I requested and I had a lot of people come up to me throughout the night saying how great the music was thanks to Patrick.
Thank you again Patrick for lighting up our night and making it that much more special for us on our wedding day. I would recommend you to anyone who enjoys music as mush as we do.

Sent on 16/12/2017

[Anonymous]

Patrick was very professional and friendly and he got me through my vowels when I was crying. He impressed our guests and he has a great attitude and he made the ceremony feel very special. He is great!

Sent on 12/03/2017

Patrick Smiley - Marriage Commissioner's reply:

Thank you for your kind words and I wish you both a lifetime of happiness. It was an honour to perform you marriage ceremony.

[Anonymous]

Patrick was an absolute pleasure to have as our marriage commissioner. We had a small ceremony (6 people total with lots more joining by skype). Although we were in a beautiful venue (the Banff Springs Hotel) and we were dressed in our fancy wedding attire, we wanted the ceremony to be somewhat fun, light-hearted and not too up-tight. We let Patrick know the type of feel we were looking for an he delivered - spot on! He made us laugh and smile and neither of us were nervous at any point in the ceremony. He is a very friendly and warm person and I would absolutely recommend him as a marriage commissioner.

Thank you, Patrick, for being a part of our special day!

Sent on 09/01/2017

Patrick Smiley - Marriage Commissioner's reply:

Hope and Alex, it was so cool to have family from Quebec and Ontario joining us on Skype during the ceremony and even the champagne toast at the end! Thank you for having me as your officiant and best wishes!

Ashlee Jodry · Married on 17/12/2016

We had a great experience with Patrick. He was great to deal with and made sure you had everything you needed. He even followed up after the wedding to clarify understanding with our marriage certificate and name change. Thank you so much!!

Sent on 09/01/2017

Elijah Jouk · Married on 10/12/2016

We were very happy to have found someone like Patrick to be our marriage commissioner. We had the best marriage ceremony and we loved his humor and how he referenced our personal vows in his speech on the spot. I would recommend Patrick to anyone without a doubt

Sent on 08/01/2017

Patrick Smiley - Marriage Commissioner's reply:

Elijah and Megan, thank you for your kind words. Buffalo Mountain Lodge is such a great venue and it was a pleasure to officiate your ceremony. All the best!

Jessica Hillestad · Married on 28/11/2016

Patrick was a pleasure to work with for our November 2016 wedding.

My husband and I were planning a helicopter elopement out of Kananaskis so finding a marriage commissioner was a bit of a tricky task. Patrick responded to our request quickly and assured us that heli-weddings were right up his alley and he had no reservations with them. Patrick continued this trend of quick responses throughout the months leading up to our wedding date.

Patrick sent us a list of questions to answer prior to our meeting (to go over final details) with him in October 2016. It was clear that Patrick knew what to ask to make each ceremony unique to the couple.

Our in-person (Patrick did offer to talk over the phone or on Skype - whichever was most convenient for us) meeting reaffirmed that we chose the right person to marry us. He was friendly and professional and took the time to get to know us as a couple. We left his home feeling ready for the day to come.

Due to an unseasonably warm November, we ended up having a change of plans for our heli-wedding. We had to get married on the ground instead of where we had planned to fly to as there was no snow for our portraits at this original destination. Patrick was very accommodating with this last minute change even if it meant he was shorted a helicopter ride! He simply told us to tell him where he needed to be and he would be there and assured us he would get us hitched no matter how plans changed. Patrick even provided his wife as our second witness.

I could not have asked for a better ceremony on our wedding day. Patrick made us laugh but at the same time made us truly appreciate what a beautiful thing marriage was with his words. It was the perfect length and we walked away with a keepsake booklet of the ceremony to cherish.

I would highly recommend Patrick if you are looking for a marriage officiant that is accommodating, flexible, extremely responsive, professional and downright fun!


Sent on 06/12/2016

Patrick Smiley - Marriage Commissioner's reply:

Hi Jessica, Thank you for your review! It turned out to be a very nice spot in Kananaskis and I hope you enjoyed your heli-photos at Marvel Pass. All the best to you both!

Chantelle Bondar · Married on 05/02/2016

We were married on February,05,2016 at the buffalo mountain lodge in Banff Alberta. After many phone calls and inquiries we were referred to Patrick through our venue. What a wonderful treat it was to find him. His last name very suiting as our guests including ourselves had noting but smiles and tears of joy. We chose to have our ceremony personalized and he did a phenomenal job of fitting our love story into our vows. He was very friendly and easy to work with, answered all our questions promptly and professionally. Made us feel like he really took the time to get to know us and made our ceremony absolutely stunning. 5 smiles out of 5 thank you so much Patrick for making our day so special and memorable!

Sent on 09/02/2016

Shawn Bursey · Married on 24/12/2015

We had our wedding xmas eve and there was no problem with Patrick coming. We had written our own vows and also wanted a saying the blessing of the hands said as well. Patrick added all of these to our outdoor ceremony without any question. Patrick was so friendly and professional and just made our day that much better. I would recommend him to anyone.

Sent on 11/01/2016

Erica Paxton · Married on 19/12/2015

We were absolutely thrilled with our officiant, Patrick Smiley. He was so kind and caring since our very 1st meeting with him, and helped us through the entire process. As anybody getting married, all of this is so new but he was able to make everything so simple and make sure everything was in order. He took charge during the rehearsal and the Wedding ceremony to make sure everything ran smoothly, and it did. He is such a good speaker and we were overall, very happy. We would definitely recommend him for anyone else needing an officiant!

Sent on 23/12/2015

Andre Savard · Married on 13/08/2015

Let me tell you about Patrick Smiley . Not only is his last name suiting , He was the perfect marriage commissioner who made my now wife Melanie and I feel very comfortable. He was very quick to respond to any questions we had and he exceeded our expectations. Patrick was a huge part in our absolutely perfect day I would recommend Patrick to anybody Thank you patrick for your service

Sent on 18/08/2015

Patrick Smiley - Marriage Commissioner's reply:

Thank you Andre,

Your personal vows to each other were unique and completely in sync with each other and I wish you many happy years of travel and adventure!