Reviews for Garry Francis Officiating Services
Awards

22 User photos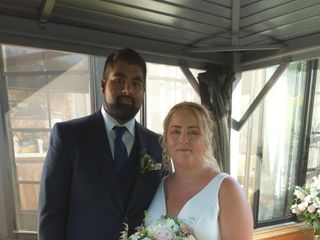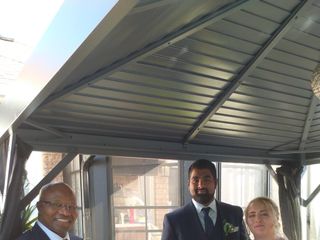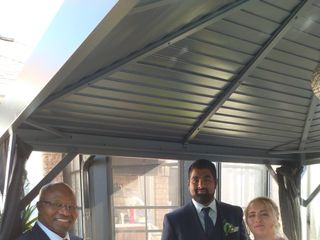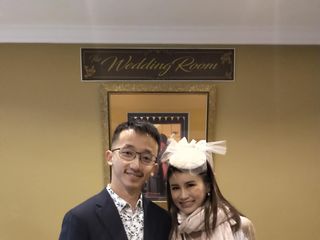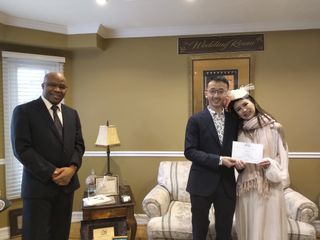 Elisa Romano · Married on 30/09/2017

Garry Francis was absolutely amazing! We was very professional and easy to work. He responded very quickly and offered up a number of options for the ceremony. He made the ceremony so fun and uplifting. It felt very stress free!

Sent on 03/09/2017

Garry Francis Officiating Services's reply:

This wedding was full of laughs surrounded by the "lights" for the Toronto Skyline. It was a beautiful ceremony for Elisa & Jordon in a beautiful setting! My heart was touched to observe the tremendous family support from both sides! Congratulations Elisa & Jordon! Enjoy married life!

Krista Cogliano · Married on 09/09/2017

Garry is extremely kind, detailed and professional! He is always quick to respond to any questions you may have. He provides an extensive amount of information to help you plan your ceremony from beginning to end, which is extremely helpful! I would highly recommend him to anyone, he is the best officiant!

Sent on 09/08/2017

Garry Francis Officiating Services's reply:

Wow what a great review! Thanks Krista! This is a beautiful couple with a very bright future! Reviews like this one gives me the encouragement to do my very best for every couple and to live up to high standards I've created for my 5 Star Officiating Service.

Jennifer Liao · Married on 02/09/2017

Garry was wonderful and a pleasure to work with! We had found him through searching online, and after chatting with him by phone and via chat, we knew he cared deeply about the quality of his work and was dependable . Our ceremony was perfect - Garry guided us through all of our vows prior to, assisted us in creating our ceremony to our liking, and delivered it without a hitch the day of. We couldn't have asked for a better officiant. 100% would recommend to anyone looking for an officiant. Thank you truly, Garry!

Sent on 04/09/2017

Garry Francis Officiating Services's reply:

I had the honour of standing with this couple for their significant milestone moment! It was so refreshing to observe the beautiful mixture of cultures for Jennifer & Matthew. The setting for their wedding was "on a roof top" which is an indication that this couple is headed for great heights in their relationship!

Michelle Kelly · Married on 19/08/2017

If you are looking for an officiant who cares about creating a ceremony that is exactly what you want, then you need to get in touch with Garry. My husband and I were looking for a non-religious ceremony that was personal, not too long (but not too short) and something that guests would enjoy being a part of. Garry delivered on all of these asks and more. The resources he provided us made writing our vows and selecting readings easy. We even had guests approach us throughout our reception to tell us how much they enjoyed the ceremony and even referenced how personal and "not-stuffy" it was... which was exactly what we wanted. Garry made the most important part of our wedding day beyond memorable and we would re-hire him in a second!

Sent on 28/09/2017

Garry Francis Officiating Services's reply:

Wow! What a great review from a very memorable moment! This couple was an extreme pleasure to work with! I had a blast officiating their Milestone Moment! Congratulation Michelle & Jon...enjoy married life!

Shelly Antram · Married on 05/08/2017

Garry was excellent!!!!Garry was Very kind and helpful, and he was Very easy to chat with, very responsive to all our questions . He made our wedding prefect.... all of our family and friends complimented on him and one even asked for his info for the future! I would recommend Garry to anyone looking for a officiant.... Thank you again Garry it was a pleasure having you with is on our special day!

Sent on 10/08/2017

Garry Francis Officiating Services's reply:

It was a great pleasure to officiate this wedding! Shelly & Derek were very calm and easy going through-out the whole process. Everything was just perfect! After the wedding I said to myself..."I love sharing significant moments with salt of the earth people!"

Jodi Ann Harvey · Married on 15/07/2017

Mr.Francis did my wedding ceremony on 07•15•17. It was great!!!! He was very professional and I must say VERY PATIENT. My wedding was 2:30 P.M. and I (the bride) didn't get there until 4:00 P.M. I would recommend Mr.Francis to any and everyone who is looking for an officiant for their wedding.

Sent on 28/07/2017

Garry Francis Officiating Services's reply:

It was a beautiful day, a beautiful venue and a beautiful ceremony! When a wedding is delayed I don't sweat it! Life happens! I took the time to get the know some of the guests and explored the wonders of the venue. My goal was to create a memorable milestone moment for the couple and all the guests. When it was all over everyone was happy! Goal accomplished!

Jessica Gibson · Married on 09/06/2017

Garry was great!! He was quick to reply, gave us all kinds of helpful advice, and was very flexible with us. We didn't have a rehearsal, and Garry was able to help guide us at the ceremony and give us a quick heads up before everything started so we knew what was going on, and when to come down the aisle!
We'd definitely recommend him to anyone!!
Jes + Joe

Sent on 12/06/2017

Garry Francis Officiating Services's reply:

What a fun couple! I still remember the "high five" I received from the bride during the ceremony! In fact that was the first "high five" I've ever received during a wedding ceremony! I will try to incorporate into future weddings.

Freda Gilmour · Married on 03/06/2017

GARRY WAS THE PERFECT CHOICE TO BE 5HE OFFICIANT FOR OUR SONS Wedding ON JUNE 3 2017. HE WAS VERY PROFESSIONAL HAD A LOT OF GOOD IDEAS AND VERY WARM AND FRIENDLY. HE ADDED THE PERSONAL QUALITY THAT MADE A DIFFERENCE. EXCELLENT CHOICE AND SO GLAD HE WAS PART OF THE BIG DAY

Sent on 08/06/2017

Garry Francis Officiating Services's reply:

Wow! What a wedding! It was such a joy to see Justin grow up to be such a fine young man! I felt as if I was part of the family! What an honour it was for me to stand up for Justin & Allison

Angelica Francis · Married on 02/05/2017

Garry did a wonderful job! He was a joy to work with, and made sure the wedding day went smoothly!
He provided us with 'his and her' books as wedding gift, and we both LOVE them!
Would definitely recommend him! Thank you so much, Garry!

Sent on 03/06/2017

Garry Francis Officiating Services's reply:

A great joy to work with Angelica & Joseph! You are both made for each other. Angelica you looked stunning! Joseph I loved the wedding jacket! Enjoy married life!

[Anonymous]

We can't speak highly enough of Garry's services during our November 2016 wedding. Right from the beginning Garry was quick to respond to emails and was easy to get a hold of. His website also provided many great resources for choosing your own ceremony and vows to suit your style. Garry's genuine enthusiasm and his recommendations prior to our wedding made us feel at ease about the ceremony. Many of our guests commented throughout the wedding about how good of a job Garry did during the ceremony. We really enjoyed his approach and happily recommend him to any others looking for a great officiant who will go above and beyond for your needs.

Sent on 13/12/2016

Garry Francis Officiating Services's reply:

It was a joy to officiate the wedding of Michaela & Jeremy! Their venue (the Steam Whistle Brewery) perfectly matched their personalities. It was pleasure to meet so many of their guests at their reception...the speeches and the food were right on! It was a "perfect" November wedding! Congratulations Michaela & Jeremy...enjoy married life!