Reviews for Garry Francis Officiating Services
Awards

22 User photos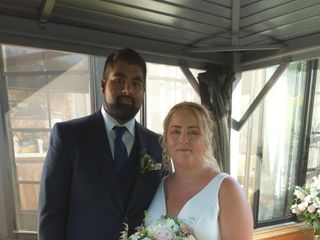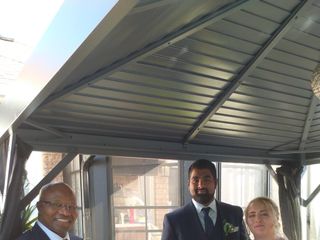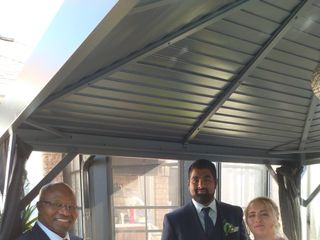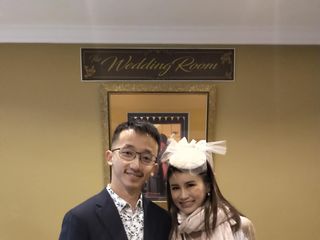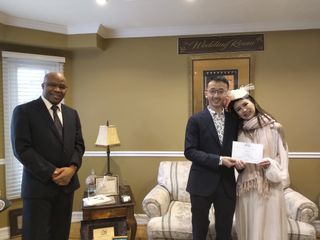 James Thiele · Married on 07/07/2018

All about you

If you're looking for an officiant you can't do better than Gary. From the start he makes you feel comfortable and at ease.

Gary is a consummate professional. From day one he was very responsive to all of my emails answering big and small questions alike in a timely fashion.

For the wedding rehearsal Gary took the time to let us know that the day was all about us. We get what we want. While he would politely listen to others input he would make sure that only the things that my wife and I wanted happened.

During the ceremony Gary conducted a very smooth service from start to finish. Everything went perfectly as planned.

We also got the top package available which includes marriage counseling. This part was very important to me as it opened up a whole new line of dialogue between my wife and I. I thought this made for a great first step. If you're on the fence I recommend it.

Sent on 13/07/2018

Garry Francis Officiating Services's reply:

I was honoured to be asked to officiate for Meghan & James! This couple is very well suited for each other! I couldn't wait for their big day because I especially enjoy out of town weddings. Their chosen wedding ceremony was perfect and I especially enjoyed the "ice cream truck" to cool off after the ceremony. I can't say enough about the wonderful process from beginning to end with Meghan & James! Enjoy married life!!

Kristal Saltern · Married on 01/07/2018

Did not fulfill his duties, unprofessional!

Unfortunately, Garry did not fulfill his duties. He double booked on the day of my wedding. He did not get into contact with me, until the day before the wedding. He emailed me a copy of the wedding ceremony (the day before the wedding), and had both mine and my husbands name wrong. Which had me worried he would say our names wrong at the ceremony. We had an outdoor ceremony and due to the heat, he respectively cut out some of the things he would have talked about, however, he also disappeared before we were even able to do the unity candle lighting. He took his payment out of an unauthorized credit card, as I was to pay him at the ceremony. I would not recommend him, as he lacks professionalism and does not properly preform his duties. Pick another officiant Brides, besides Garry Francis, or you too may be disappointed!

Sent on 25/07/2018

Garry Francis Officiating Services's reply:

Every now and then one receives a review like this one. I did contact the couple before my reply to this review. Let it be known that I did not "double book" on that day. I did contact the couple twice prior to the wedding day. The error in spelling was for the "draft ceremony" and not the presentation copy on the wedding day. No candles were provided for a unity candle ceremony and I received permission to shorten the ceremony due to the extreme heat. There was no communication about paying cash on the wedding day. After the ceremony I congratulated the couple on my way out and they thanked me for my completed services. I invite you to read my other reviews. I would "never" treat couples as this review states

Shannon Gesualdo · Married on 09/06/2018

Thank You Garry!

Garry was great at both our rehearsal and on the big day. He was always so fast to reply and was very organized throughout the planning process and provided us us a number of customizable ceremonies on his website. We received lots of positive feedback from our guests on how much the enjoy the ceremony and how great Garry was. Garry was so great to work with and made the process seem so easy. We'd recommend him to anyone! Thanks! Shannon & Colin

Sent on 10/07/2018

Garry Francis Officiating Services's reply:

It was an absolute joy for me to officiate for Shannon & Colin. Shannon was very organized which made it extremely easy for me to put it all together for their big day. The weather was perfect for this perfectly matched couple. Enjoy married life!!

Matt Black · Married on 07/04/2018

Fantastic officiant - even better guy!

From his quick email responses, warm sense of humour and professional demeanour, we were really thrilled to work with Garry for our recent wedding! Do yourself a favour and make sure you book a rehearsal with him as well, as he will ensure that everyone knows exactly what to do, where to go, etc., on your big day. We really appreciated all of Garry's efforts to make our wedding special and heard many positive comments from our family and friends on how great our officiant was. Thanks for everything, Garry! - Matt and Kristina

Sent on 01/05/2018

Garry Francis Officiating Services's reply:

Matt & Kristina's wedding was process perfect! I can honestly say that everything went exactly as planned...the booking process, our in person meeting, the rehearsal and the climatic wedding day was a model I wish for every couple. I owe the flawless execution of their wedding process to this wonderful couple! They are made for each other. It was an honour to be chosen as their officiant!

Tania · Married on 20/03/2018

Garry is a great officiant!

Garry made our ceremony very special, unique, laid back and fun. I would recommend his services to other couple who want to get married either at home, or at any venue. He is a very professional officiant!

Sent on 30/03/2018

Garry Francis Officiating Services's reply:

A beautiful couple made for each other! I learned so much from their shared and separate travel experiences. Karen & Tatia...enjoy married life and cheers for your great wine collection!

Chantal Nadeau Grigas · Married on 29/12/2017

Wonderful officiant

Mr. Garry Francis made out whole day special. Even before that he was quick to respond to my emails and inquiries. Made payment simple through e-transfer. Allowed us to do our simple quick ceremony in his home in a beautiful room. Everything was always smooth, simple and easy. And when planning for such a huge event, anything that can take away any worries or stress is truly a gift. I would recommend him to anyone searching for an officiant to make their day special.

Sent on 01/02/2018

Garry Francis Officiating Services's reply:

It was a delightful and joyous moment to officiate for Chantal & William in my Whitby Wedding Room in front of the Christmas tree. All weddings regardless of their size or location receive "5 Star Officiating Service" and this wedding was no exception. Congratulations Chantal & William! Enjoy married life!

Lindsay Hunter · Married on 21/10/2017

Garry was our officiant for our wedding on Oct. 21. He was the perfect fit for our ceremony- we wanted someone who would make us and our guests laugh, and keep things relaxed and light (we had compliments all throughout the evening about how perfect our ceremony was). Meeting him, and the resources he provided was extremely helpful in planning a ceremony exactly the way we wanted. Garry is professional and punctual, and we felt in very good hands having him as our officiant.

Thank you for everything, Garry!

Sent on 26/10/2017

Garry Francis Officiating Services's reply:

It was an honour to officiate for this very organized couple! Lindsay left no detail unattended for her perfect wedding day! In fact the weather turned out to be perfect for this October outdoor wedding. Lindsay and Blair make a perfect pair! The support of their families and friends for their union tells me they have a very bright future. Enjoy married life!

Greg · Married on 14/10/2017

Garry is a wonderful man that made our day special and stress free. His ability to make people smile and happy was amazing. All of our guests complemented on how nice and we'll spoken Garry was. Thank you!

Sent on 19/10/2017

Garry Francis Officiating Services's reply:

This was an exciting wedding for Ewa & Greg! I'm so glad that I along with most of the guests arrived early enough to expedite the outdoor ceremony before the clouds above us opened up. Good call Greg & Ewa for making a wise decision. Enjoy married life!

Ewa Manso · Married on 14/10/2017

Garry was very professional and a pleasure to work with right from the beginning. He brought a great vibe in our ceremony. He is very great at what he does that he was able to adapt with the slightly challenging weather condition during our outdoor ceremony. it was a perfect day with overcast and rain just waiting to happen, Garry was able to execute a great short and sweet ceremony and perfectly timing it with the rain that was about to happen.

A Lot of our guests have also commented on how funny he is which also set the tone in our intimate wedding. All in all, we had a great wedding ceremony!!

Thank you so much Reverend Garry Francis for being such a gem and adding great value and humour to our wedding!



Sent on 19/10/2017

Garry Francis Officiating Services's reply:

Ewa is a beautiful bride that brought sunshine to a cloudy day. Such a joyful couple to work with. I was honoured to stand with them for their memorable and meaningful Milestone Moment Wedding. Enjoy married life!

Polina Provad · Married on 08/10/2017

Garry officiated our Thanksgiving wedding this year - and we are SO happy with his work. We found him through wedding wire, he was very responsive to emails and set up a meeting with us for a first meeting. At the meeting, he got to know us as individuals and as a couple, and then set us up with his EXTREMELY organized and very thoughtful online wedding ceremony building module. We had hundreds of outlines to choose from and were able to build a ceremony that suit our needs best. He is open to all religious affiliations and is not rigid on timing, structure and is wonderful with throwing in some humor. We had planned to say our own vows, but changed our minds an hour before the ceremony. Garry was equipped with an alternate script and no one noticed of any change! We received tons of compliments on his words and how dapper he looked - and had three friends ask for a referral. Garry is now very highly recommended by us! Thank you Garry!!!

Sent on 15/10/2017

Garry Francis Officiating Services's reply:

I love hearing that couples are "happy" with my 5 Star Officiating Service. Weddings on holiday weekends are a joy to officiate so I looked forward to standing with this couple for their special day! It was such a joy to work with this couple!