Reviews for Garry Francis Officiating Services
Awards

22 User photos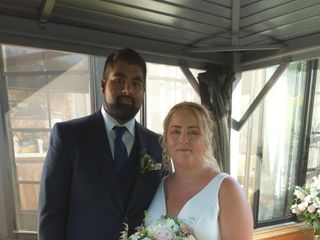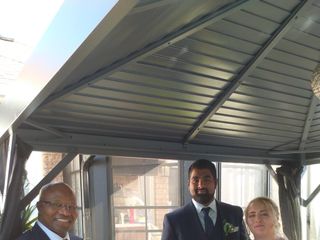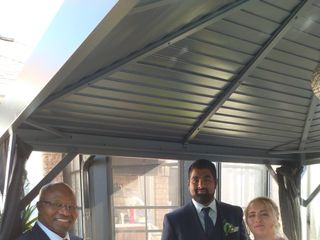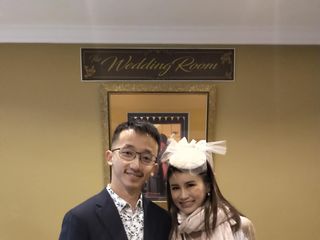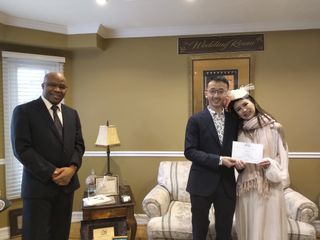 Stephanie · Married on 17/11/2018

Absolutely Perfect

I can't praise Garry enough. He was extremely professional and experienced in his work which was highly evident in his quick responses. He took the time to go through everything in detail, from wedding ceremony writing to the timeline. The resources and help Garry provided were huge assets in making the day memorable. Thanks to Garry, our ceremony went perfectly!

Sent on 20/11/2018

Garry Francis Officiating Services's reply:

It was an absolute joy to work with Stephanie & Timothy! Their personally written vows were absolutely incredible. I've had the honour of hearing many vows over the years and their vows really stand out and gave me cause to reflect on my own vows. Enjoy married life!

Stephanie Douma · Married on 17/11/2018

Perfect Ceremony

Garry was fantastic to work with! From the first email all the way to the wedding day, he was so kind and comforting to both my now-husband and I. With the resources he provided, we were able to put together the perfect ceremony. We still get compliments for picking such a great officiant! We couldn't be happier with the way everything went!

Sent on 24/11/2019

Garry Francis Officiating Services's reply:

I still vividly remember the ceremony for Stepnhanie & Timothy from November 2018 @ the Royal Ashburn Golf Club in Whitby. It was a perfect venue for a fantastic couple. Enjoy married life and may you stay together forever!

Mandy Duffney · Married on 21/10/2018

Wedding day

Gary was amazing to deal with. Very accommodating and patient. He helped us pick the perfect spot and tailored it just for us. Our family and friends helped us celebrate and it was short and sweet. Highly recommend him for any wedding.

Sent on 21/10/2018

Garry Francis Officiating Services's reply:

When I recommend an outside wedding in October I didn't count on it being almost freezing! It was not a problem for the bride and groom...true Canadians! Their ceremony was very warm even though it was rather cool! Enjoy married life!

Vishvek Babbar · Married on 20/10/2018

Highly recommend Garry

Garry is a good-hearted, knowledgeable, and flexible officiant. He was able to accommodate at the last minute and travelled to our place to conduct our short and sweet wedding ceremony. We very happy with the ceremony and vows. Thank you Garry!

Sent on 25/10/2018

Stacey Brine · Married on 06/10/2018

Amazing Service!

We planned a wedding from BC in Ontario. Garry was kind and incredibly professional and answered any questions we had almost immediately, even when there was a time difference. His attitude was incredible, and he was funny and heartfelt, he gave us a ceremony that we'll never forget.

Sent on 21/10/2018

Garry Francis Officiating Services's reply:

Stacey & Nick's wedding was one of the most memorable for this wedding season! I was so honoured to be surrounded by "men in uniform" including the groom! This couple was extremely kind and generous to invite us to their reception celebration. My wife and I felt like family! I know they will enjoy married life!

Davide Sartori · Married on 22/09/2018

Definitely a Thumb Up

We really enjoyed our wedding celebration with Mr. Garry. He helped us a lot in a very short time to have directions about the proper procedure of the ceremony. He was professional, entertaining and made all the guests feel that they were part of this unique experience in a fun way.

Sent on 29/09/2018

Garry Francis Officiating Services's reply:

It was my honour to work with this dear sweet couple for their #MilestoneMomentWedding! Their venue was the perfect size for this perfect looking couple. The bride looked absolutely perfect! Enjoy married life!

Tara Jarvis · Married on 22/09/2018

Great officiant!

After being at a friend's wedding where Garry was the officiant, we had to have him as ours too! We loved his personality and professionalism. Once he became our officiant, we were not disappointed at all! I loved the resources that Garry provided us with to create the perfect ceremony for us. I was able to select passages that reflected us as a couple and felt authentic. Beyond that, Garry met with us beforehand to discuss the ceremony and our choices, which provided us with a real sense of ease knowing that everything would be under control on the day of the wedding. On the day of the wedding, we were beyond happy with how the ceremony unfolded and we felt that it couldn't have gone any smoother!

Sent on 02/10/2018

Garry Francis Officiating Services's reply:

I was thrilled to officiate this wedding for a couple from two different nations and cultures. Their differences didn't matter because this couple was so very much in love! It was beautiful wedding with an absolutely beautiful bride! Enjoy married life!

Jacqueline Simatovic · Married on 21/09/2018

Garry is the best!

Garry is an amazing officiant. He is personable and likeable and made everyone feel comfortable and at ease. He worked with us to develop the ceremony that we wanted - not just in length and words, but in tone. We wanted something that was relatively short and light, but also heartfelt with a touch of humour (not an easy feat!). Garry executed it flawlessly. People felt the love and laughed at the right moments. It was absolutely perfect. Multiple people came up to us during the reception to tell us how nice the ceremony was and that Garry was the best officiant they've ever seen. We are so happy that we chose Garry to be a part of our day, and would highly recommend him to anyone.

Sent on 23/09/2018

Garry Francis Officiating Services's reply:

It was a truly amazing experience to officiate for Jacquie & Joe! They are a beautiful couple perfectly matched for each other! It's a great honour to stand with a couple who is madly in love and will go the distance for a long and happy marriage! It was a Milestone Moment wedding that stands out in my mind! They will enjoy married life!

Rachel Newby · Married on 18/08/2018

Amazing Officiant

From the very first interaction my husband and I had with Garry, we knew he was the officant we wanted for the wedding. He was professional, expereinced in the industry and was such an incredible help with organzing our ceremony.

With Garry we got to customize our entire ceremony. He had great content to chose from but he also allowed us to add in anything we wanted (readings, poems, etc.) to make our ceremony meaningful.

Garry totally took charge of the rehersal with a relaxed and calm demeanor. He made my husband and I feel listened to and he helped us get our wedding party all on the same page with the ceremony. Garry walked through the rehersal as many times as I (the bride) needed, he made it very clear that if I wasnt happy with something we could change it.

On our wedding day, Garry was perfect, he showed up in a suit and tie, with lots of time to spare and made sure my husband and I were absolutely ready before we began the ceremony. He ran the ceremony perfectly, he lightened the mood up after our sappy vows and gave our guests the lovliest ceremony to witness.

If there is one thing I can say about Garry its that I never had to worry about him. As a bride there were a million things running through my head for like a whole year before the wedding; but with Garry, I never had to send a dreaded "follow up email" or have to worry about if he'd be on time for the rehersal or ceremony. He was so incredibly easy to work with.

With Garry you dont just get an officiant, you get someone who truely cares about you and will go the extra mile to make your wedding day exactly how you want it to be. He is worth every penny, he made our ceremony one-of-a-kind and I cant thank him enough for that.

Sent on 01/09/2018

Garry Francis Officiating Services's reply:

Wow!! What an amazing review!! Rachel & Eric's wedding was spectacular!! It was in a superb setting for a superb couple! Their personal vows were absolutely incredible! It was truly my honour to serve this couple and their families! It was a dream to work with Rachel & Eric...their organization made my job very easy and enjoyable! Rachel & Eric I have these words for you: Thank you for an awesome experience! Enjoy married life!

Chasity Mckinnon · Married on 21/07/2018

Married July 21st

Garry is a genuinely caring officiant, he was very flexible with what we wanted and his amazing package allowed for a very individualized experience. He maintained a very relaxed atmosphere and kept checking on my poor husband who was so nervous he looked like he was going to fall over, his package allowed us to be married on our site for a more reasonable price than most others. He truly made it an unforgettable experience.

Sent on 22/07/2018

Garry Francis Officiating Services's reply:

It was truly an "unforgettable experience" at Chasity & Matthew's wedding! Their ceremony was meaningful and memorable! It was well planned with much depth and thought! My wife (Sandra) joined me for this beautiful ceremony in Niagara Falls. We took time afterwards to enjoy all that Niagara on the Lake had to offer. Looking forward to more ceremonies in the Honeymoon city. Congratulations Chasity & Matthew...enjoy married life!