Reviews for Ceremonies With Choice
Awards



6 User photos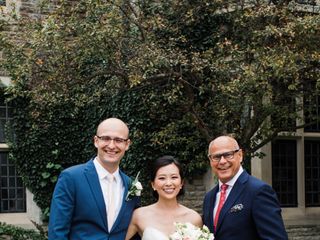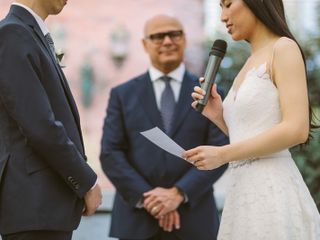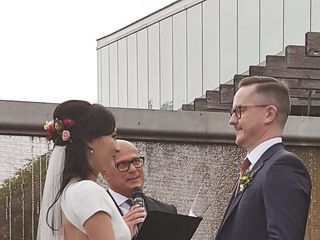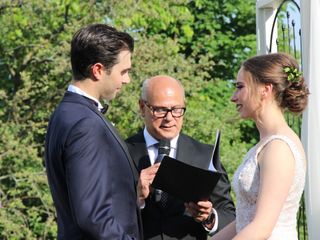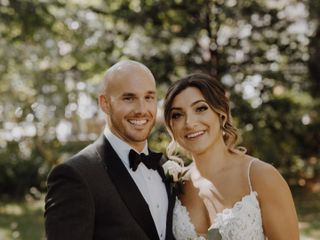 Kevin Z. · Married on 19/09/2020

Poor communication. Abandoned.

We had high hopes for Martin but after paying our deposit, unfortunately our emails were (and continue to be) ignored. Our wedding was postponed to the following year due to Covid. We acknowledge that he did demonstrate some flexibility in rescheduling, but when we chose a new date for our venue that he was not available for, he became completely unreachable and unresponsive. After 2 months of being ignored, we received an email saying he could be "potentially available" for our new date. We had total loss of confidence in his professional communication at that point. He does seem like a pleasant officiant if things go according to plan but be forewarned that unforeseen or extenuating circumstances (like Covid) may result in you being abandoned.

Sent on 15/10/2020

Jennifer · Married on 14/09/2019

Made us feel at ease

From our first meeting we instantly agreed
Martin would be our officiant. He is so warm and welcoming we both felt like we had met him before and could easily talk with him. He perfected our ceremony and made it very personal -he shared our story of how we met with our guests. We can't count how many people came up to us and mentioned that our ceremony was so personal and well done. We thank Martin for working with us and creating the perfect ceremony that expressed exactly who we are as a couple.

Sent on 29/09/2019

Ceremonies With Choice's reply:

Jennifer and Justin, thank you for your kind words. I'm delighted you are so happy with your ceremony. The inclusion of your love story and personalized vows made for such a beautiful celebration. Wishing you a lifetime of happiness. Hugs, Martin

Lily T. · Married on 01/09/2019

Very friendly - Perfect choice for us!

Martin was an amazing officiant! Right off the bat, he offered to meet with us as many times as we wanted, which we really appreciated. He helped personalize our ceremony by getting to know us and our relationship. He made sure that the ceremony was adapted to something that was comfortable for us and reflected our families. He is so easy going and easy to talk to which helped calm our nerves on the day of. I would definitely recommend him!

Sent on 04/11/2019

Michelle S. · Married on 29/06/2019

Thank you Martin!

Martin was great to work with throughout the entire process of planning our ceremony and truly brought it to life the way we had envisioned. After meeting Martin, we knew we had to have him as a part of our wedding as he was professional, kindhearted and exhibited a passion for what he does. As he was recommended by our coordinators, it is evident that Martin is very well known throughout the Toronto wedding community and highly respected by all of those we spoke with.

A sincere thank you to Martin for helping make our day so full of love, happiness and laughter.


Sent on 21/07/2019

Ceremonies With Choice's reply:

Michelle and Mitch, thank you for your kind words, and I'm so delighted we created a ceremony that truly reflected you, which is exactly what your wedding day should be. Wishing you a lifetime of love, happiness and laughter. Martin

Edwin C. · Married on 08/06/2019

Fantastic Officiant

Martin was a joy to work with. He took the time to get to know us, to listen to our story, and played a big part in personalizing our ceremony. On the day of, he kept things light and fun and delivered a ceremony that perfectly celebrated our love. We would definitely recommend!

Sent on 26/06/2019

Ceremonies With Choice's reply:

Edwin and Pauline, thank you for your kind words. You had such a magical wedding day at Casa Loma and it was a privilege to celebrate your love with you. Wishing you a lifetime of love and Aloha. Warmest wishes, Martin

Meghan T. · Married on 13/04/2019

Personal, heartfelt and funny!

We did the marriage preparation classes with Martin (recommend the classes!) and that led to us feeling very connected with him. Several of our guests asked how we knew him because they were convinced we were friends since he made the ceremony so personal and heartfelt. Our ceremony was tailored to us, our relationship and the values we wanted expressed during the ceremony. Martin made us laugh and cry and it was perfect.

Sent on 05/06/2019

Ceremonies With Choice's reply:

Meghan and Alex, thank you for your kind words and I'm delighted you felt your ceremony was so perfect. It has been such a pleasure getting to know you and I wish you a lifetime of happiness! Lots of love, Martin

Phylicia F. · Married on 24/03/2019

Very responsive, accomdating and always willing to answer questions.

From the moment we spoke Martin made me feel very comfortable and supported during this stressful time. I was planning from out of town so he went out of his way to work with my schedule and to help me along the process. He was very professional and made our ceremony feel special. I would recommend him to anyone.

Sent on 29/03/2019

Ceremonies With Choice's reply:

Hi Phylicia and Ashley, thank you for our kind words. It was a pleasure sharing in your intimate ceremony and I know how challenging it can be to plan from afar. I wish you the very best as you start this new chapter in your lives. Warm regards, Martin

Kristina · Married on 29/12/2018

Amazing, personalized experience!

Martin was absolutely wonderful to work with and did an amazing job officiating our wedding. We met several times with Martin prior to our wedding to help shape our ceremony. He provided excellent direction and many different options to ensure our ceremony was personalized, fun and ultimately ours. The ceremony went perfectly - more than we could have ever imagined. Martin spoke passionately and captured the entire audience as he told our story. Many people afterwards thought he was a family friend, as it seemed as though he had known us forever. I would 100% recommend Martin.




Sent on 21/07/2019

Ceremonies With Choice's reply:

Kristina & Michael, thank you for your kind words. You're a fantastic couple, and I have such fond memories of your wedding day at Boehmer. Wishing you a lifetime of love. Hugs and best wishes, Martin

No Longer M. · Married on 13/10/2018

Martin for the win!

Martin's natural warmth and charm perfectly augmented our casual-setting wedding day. He took time to get to know us as a couple to ensure that our ceremony was tailored to us. Martin also made the prep-work leading up to the day was so much fun. If you want your wedding officiant to be the perfect combo of fun, organized and caring, he's your guy.

Sent on 17/10/2018

Ceremonies With Choice's reply:

Krista and Rob, you're the best! You're such a warm, relaxed, and fun couple, so I'm glad the ceremony captured you at your best. I enjoyed hanging out with you and your beautiful friends and can't wait to see the pictures. Wishing you much love and may the best be yet to come! Martin

Robby T. · Married on 29/09/2018

We couldn't have asked for a better officiant

Martin was amazing. What I enjoyed most about Martin was he took the time to learn about our story and connect with us on a personal level. During the day of the wedding when all our nervousness was at their highest, Martin was very supportive and kept us calm during the whole thing. We really needed that. We enjoyed that he retold our story to give people the context of how we met and it made the ceremony really personal and warm. During the planning phase, he shared with us several templates for the ceremony structure and examples of past ceremonies. That helped us iron out the details lot quicker than looking up guides on our own. Thank you so much Martin. We'll never forget it.

Sent on 07/10/2018

Ceremonies With Choice's reply:

Robby & Cynthia, thank you for your kinds words. It's truly a privilege to have shared in your wedding day and I've enjoyed getting to know you through your ceremony preparation. I'm always happy when you as a couple are happy and that's always my goal! Looking forward to seeing your photos when you receive them and wishing you much happiness as newlyweds!