Reviews for Julia Joy Makeup Artistry
Awards
3 User photos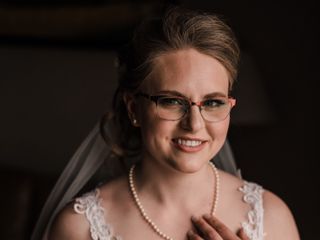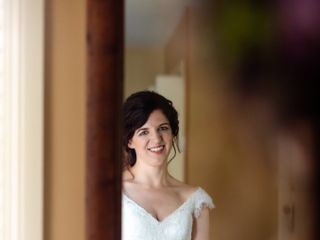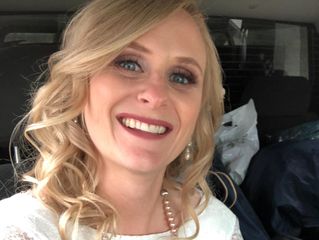 Kaitlyn Nielsen · Married on 14/03/2020

Highly recommend!

Julia was so easy to work with, from booking, to the trial, to wedding day! Our makeup matched each of us perfectly (including my mother-in-law who almost never wears makeup) and lasted all day with no issues. I would highly recommend Julia to any wedding party!

Sent on 27/03/2020

Julia Joy Makeup Artistry's reply:

Thank you, Kaitlyn for the lovely words. You and your family were very easy to work with and I enjoyed my time with you. Congratulations! I love the photos :)

Danielle Poirier · Married on 23/09/2019

Professional, Friendly, and Stress-Free!

Julia & her subcontracted hair stylist were complete professionals on my wedding day this week! Quick responses throughout the weeks leading up to the day made the coordinating of everything completely stress free, prices were reasonable and better than several, and she even gave a PDF of any FAQs I could possibly think of prior to making my decision to choose them for the company I went with. The communication was so seamless and above any other company I inquired with (about 6 or 7 in the area). On the day of they showed up exactly on time, generously allocated enough time for each person needing to be worked on, and finished exactly when they estimated they would be done - all with making the whole experience friendly and personable. AND the makeup & hair was AWESOME of course! Can't say enough great things about them and how easy they made the day start off for us - highly recommend and would use them again in a heartbeat for any events you want to look your best at!

Sent on 28/09/2019

Julia Joy Makeup Artistry's reply:

Wow! Danielle!!! Thank you so much for this. You were all so lovely, so friendly, so welcoming. It was a pleasure being apart of your special day. Cannot wait for the photos! All the best!

Tabitha · Married on 05/09/2019

Amazing Work

can't say enough good things about Julia. She came early, was done on time, and very personable. My witness and I loved our makeup for the day. I would highly recommend Julia if you're getting married in the Banff area.

Sent on 10/09/2019

Julia Joy Makeup Artistry's reply:

Thank you for the kind words! Loved all our laughs! You looked incredible and I wish you all the happiness!

Mandy · Married on 16/07/2019

Wonderful experience with Julia Joy!

We booked Julia Joy Makeup Artistry for our friend's wedding in Canmore. We booked for hair and makeup and we were not disappointed. Julia was easy to contact and was prompt in returning emails with answers to all our questions. The day of the wedding, the services were completely in a timely manner and the finished products looked incredible. All the girls were so pleased with their hair and makeup. I also found Julia was priced fairly and we loved the fact that she could come to us!

Sent on 29/09/2019

Julia Joy Makeup Artistry's reply:

Hi Mandy! You're a sweetheart! Thank you for the kind words. You ladies were fun and it was lovely getting to know you over the time spent with you! Thanks again for everything!

Jennifer · Married on 06/07/2019

Amazing outcome

Julia did an amazing job on my make-up for my wedding. I had a trail with her and she listened to what I wanted. After the trial, I decided that I wanted a different look and gave her my feedback and she made adjustments on my actual day and I loved the outcome! I am very picky and so is my husband with make-up and we both loved the result!!! I highly recommend Julia for your make-up.

Sent on 10/08/2019

Julia Joy Makeup Artistry's reply:

Awe, that's so sweet, Jennifer. Thank you so much for that. You are so gorgeous and was happy to assist with your makeup on your big day!

Livia Shi · Married on 05/07/2019

Great Experience!

Julia and team were great. They knew exactly what they were doing and were super efficient. We were able to have some spare time before the photographers came. I especially liked the make up that Julia did for myself and bridesmaids. I never did a trial since I flew in just for the wedding week but it was definitely my favorite professional make up experience (among other times I have a been bridesmaid) so couldn't be happier with that!

Sent on 13/07/2019

Julia Joy Makeup Artistry's reply:

Thank you, Livia for the lovely review! We were honoured to be apart of your special day! You looked stunning!

Abby B · Married on 13/06/2019

Absolutely perfect

Julia did my elopement makeup and it was the best makeup I've ever had done. I was nervous because I wasn't able to have a trial, but Julia understood the exact style I was going for and executed it flawlessly. I wanted a natural look so that I could look and feel like myself, and I truly felt like the most beautiful version of myself when she was done. Plus her products were light and natural, didn't feel heavy or sticky on my face and didn't look caked on at all, perfect for my sensitive skin. I would recommend her to anyone, couldn't have been happier.

Sent on 18/07/2019

Julia Joy Makeup Artistry's reply:

You're a sweetheart!! I loved being part of your special day - it was an honour. You looked amazing and I'm so glad you felt like the most beautiful version of yourself. That's what we like to hear!! ❤️ Would love to see more pictures :)

Timothy · Married on 24/05/2019

Beautiful Job

Julia was such a joy! It was wonderful to have her be a part of my wedding day, and she did a fantastic job. Thank you!

Sent on 10/07/2019

Julia Joy Makeup Artistry's reply:

Thank you so much for including me in your special day! Your group was so much fun to be around. You looked absolutely amazing!

Andrea Bredinski · Married on 10/05/2019

Exceptional

Julia was above and beyond my expectation for wedding makeup ! She made me and my girls feel absolutely stunning on my special day ! She was super flexible and accommodated my other two bridesmaids when they requested to have their makeup done after seeing me and my maid of honour ! She even waited for me at the ceremony for my touch ups , after we ran a bit later than expected ! I would highly recommend her services . She will make you feel like a princess on your special day ! Timeless and elegant ❤️

Sent on 15/05/2019

Julia Joy Makeup Artistry's reply:

Thank you, Andrea! Being apart of your day was such an honour. I had a blast with you ladies! Your pictures look so good!

Danielle Tocher · Married on 27/10/2018

Amazing Makeup and such a Blast!!

Julia did an amazing job with the makeup for myself (the bride), 4 bridesmaids and 2 mothers! She was very flexible and easy going and was able to accommodate for several different requests and changes beforehand. I would absolutely recommend Julia to everyone looking for someone who can do an amazing job and make you laugh the entire time! Julia really made our day special by keeping everything fun and being so down to earth. Definitely book with her, you will not regret it! :)

Sent on 30/10/2018

Julia Joy Makeup Artistry's reply:

Danielle! Thanks for the beautiful review. I still think about all the laughs we shared and how amazing you guys were!