Reviews for Julia Joy Makeup Artistry
Awards
8 User photos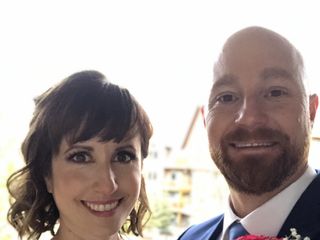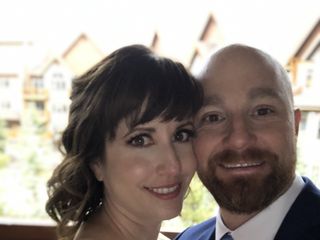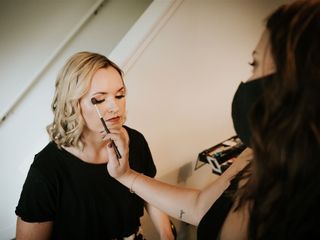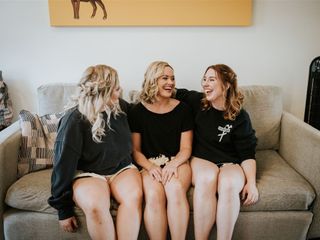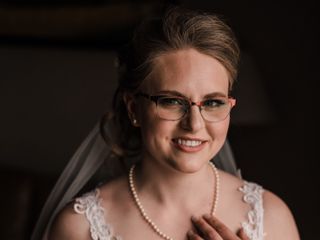 Tomi · Married on 04/04/2021

Great experience

Stephanie listened to me as regards what I was looking for with my makeup and hairstyling. She did a beautiful job on my special day. I would certainly recommend her. My makeup was tastefully done she went above and beyond to make sure I was happy with my final look. My makeup lasted the entire day.

Julia was prompt in terms of responding to emails and any questions or concerns I had. Great experience overall from start to finish with this team!

Sent on 09/04/2021

Julia Joy Makeup Artistry's reply:

Thank you so much for sharing your positive experience. It was our pleasure being part of your day!!

Monique S. · Married on 14/11/2020

Very professional and overall good experience

For my wedding they were accommodating and a pleasure to do business with. They kept to the scheduled time and did a good job on the bride's, mother of the bride, and grandmother of the bride's hair and makeup. My only criticism is I expected a little more value in the makeup then what I paid as they lacked in products to match some of the makeup requests and didn't quiet execute what I expected/requested but still did a good job (ex. Specific eyeshadow colour requests).

Sent on 15/11/2020

Julia Joy Makeup Artistry's reply:

Thank you for your feedback, Monique. It was great being apart of your special day! You looked fabulous :)

I am sorry that you felt that we lacked in products to match your makeup requests. Thank you for taking the time to elaborate over email that the green we used on your Mom wasn't the exact shade of green you were looking for. Unfortunately green isn't a common colour that is requested on wedding clients. As for your makeup, I apologize that the gold that you requested was too bronze for you. It is really important for the clients to communicate with us if there's something you don't like. If you tell us you love it and that we did a great job, we take your word for it. We would never leave clients unsatisfied. That is why we make sure the clients are happy before we leave.

We wish you all the happiness! Congratulations again!

Maryanne F. · Married on 07/11/2020

Julia and her team were excellent!

We decided to elope to Canmore to get married beside a beautiful river with the mountains towering around us.
I did not have much time to prepare for this wedding. When I reached out to Julia for hair and makeup-she responded so quickly.
Julia and her subcontracted hair stylist, Sara, were amazing.
They were so calming and reassuring-everything this rushed bride needed.
I trusted them completely. My hair was beautiful and my makeup was stunning. Both Julia and Sara have a passion for their talents and it showed.
I felt so beautiful and so confident-I walked down 'the aisle' feeling so good.
Thank you Julia and Sara.
I highly recommend Julia Joy, she is amazing at what she does.

Sent on 23/11/2020

Julia Joy Makeup Artistry's reply:

Thank you, Maryanne. You are an absolute sweetheart. Such lovely words. It was our honour to accommodate your beauty services. You looked amazing and so happy! I loved your energy. Enjoy every minute of this new adventure 💕

Kristine W. · Married on 07/11/2020

Professional makeup and hairstyling service

Excellent quality, prompt and professional wedding makeup and hairstyling services provided. Would highly recommend for any bride looking for an elegant look on her special day!

Sent on 10/01/2021

Ayla · Married on 17/10/2020

Julia is amazing!

I can not thank Julia enough for making me look and feel gorgeous on my wedding day! She was so incredible to deal with right from the start. She was prompt in responding to all of my questions and was so much fun to talk to while she was getting all of us ready. I would highly recommend Julia for all your makeup needs. I can not say enough good things about my experience!!

Sent on 20/10/2020

Julia Joy Makeup Artistry's reply:

Ayla! You're too sweet. Thank you so much. My pleasure :) Thank YOU for being such a fantastic client! You looked so beautiful. Congratulations 💕

Kate P. · Married on 09/10/2020

Make-up looked nice but didn't last!

Sarah and Julia arrived on time and were able to adapt and set up easily in a small space. We had a bride, 2 mothers and 3 bridesmaids for hair and makeup and it took just over 4 hours.

I liked my makeup initially, however it didn't last beyond the ceremony! My mom and two bridesmaids had to reapply/touch up and if I (the bride) had time, I would have loved to as well. You can see a big difference in makeup quality between the ceremony and the photos and reception (no i'm not a crier - i didn't cry it off!)

Sarah did amazing with every ones hair, highly recommend her! However, she did run a little behind, as with any hair/make-up be sure to budget extra time!!! Also, don't make the same mistake I did, they suggested I go last, except when they ran over time, I was the only one not ready so the getting ready photos and first look with my dad were VERY rushed.

Sent on 01/02/2021

Julia Joy Makeup Artistry's reply:

Hi Kate, thanks for sharing your feedback. We're sorry your experience didn't match your expectations. It was an uncommon instance and we'll do better in the future.

Tonia M. · Married on 13/09/2020

Couldn't be happier!

Julia and Steph made my wedding day perfect! Julia worked her magic with my bridal makeup and my sister MOH makeup. My sister doesn't wear makeup and Julia made her feel so comfortable and absolutely stunning. My makeup was perfect, elegant and I could not be happier.
Steph listened to our ideas for our hair and turned them into more than we could have hoped for. I have such fine hair and brought extensions so I could have a low updo, Steph worked wonders with them and the result was magic.

Both Julia and Steph made us feel so comfortable on a stressful morning, I can't thank them enough!!

Sent on 26/09/2020

Julia Joy Makeup Artistry's reply:

Thank you for taking the time to share your positive experience! We loved being apart of your wedding day!

Alsu B. · Married on 02/09/2020

Simply amazing service

Julia was prompt in responding to my emails and very professional. My hair and makeup were done by Stephanie, who was absolutely phenomenal. I was concerned if there will be too much makeup, but it was just perfect. And my hairstyle was amazing as well. I do recommend this business for your wedding day.

Sent on 10/09/2020

Julia Joy Makeup Artistry's reply:

We are so glad your had such a wonderful experience, Alsu! We appreciate the positive feedback. We can't wait to see some photos of your wedding hair and makeup!

Megan · Married on 09/08/2020

Positive experience

I used Julia Joy for my wedding in August. Emails were responded to efficiently. The team she sent did an amazing job, they were friendly and professional. Everyone loved their hair and makeup and it lasted all night. I would highly recommend!

Sent on 20/08/2020

Julia Joy Makeup Artistry's reply:

Thank you so much, Megan! It was a pleasure working with you and your group. Your photos are stunning - you made such a gorgeous Bride!

Mackenzie H. · Married on 31/07/2020

Exactly What we Envisioned

I met with Jessica for a makeup trial and ended up changing my mind by the day-of. She rolled with it and created exactly what I had envisioned. Sara was our hair stylist and she was equally amazing. The ladies were both friendly, professional and took covid precautions seriously. Everyone left feeling beautiful and excited about their looks!

Sent on 11/10/2020

Julia Joy Makeup Artistry's reply:

Thank you, Mackenzie for the sweet testimonial! Absolutely adore the photos you have attached. You ladies look beautiful!