Reviews for Jenn Chivers Hair & Makeup
Awards
14 User photos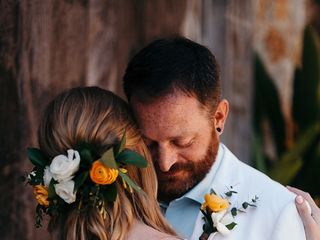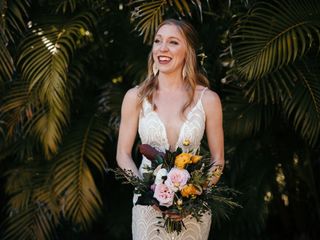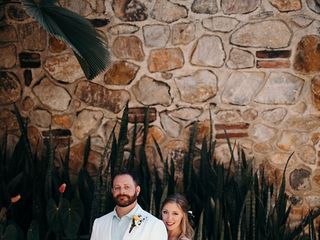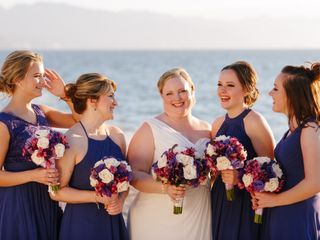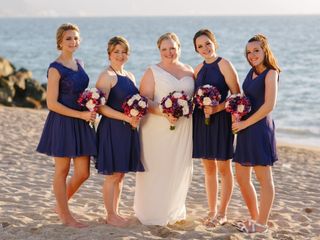 Alaina J · Married on 04 of March of 2019

Amazing Hair + Makeup Artist!

I recently used Jenn for my hair + makeup services for our destination wedding in Sayulita. I was so glad when I stumbled across her amazing work on Instagram one day! As a professional wedding planner, I truly appreciate when vendors go the extra mile and Jenn 100% delivers. Given my out of town location, Jenn was flexible and able to accommodate my trial the same week as our wedding. I wanted a natural, relaxed beach look and she nailed it. Not to mention, she is such a fun personality and a joy to be around. I cannot recommend Jenn more highly-- book her now and love her as much as we did!

Sent on 02/04/2019

Karen Villatoro · Married on 16 of November of 2018

Jenn is a rock star!

Jenn and her team were extraordinary from the get-go. Jenn did an awesome job you did with my guests' and my makeup. She made us all feel comfortable and look like princesses (even if it was just for one day). Her upbeat energy kept me from worrying about the small things that were going on around me. I highly recommend her to anyone looking for a make-up artist/hair dresser in the Sayulita and Puerto Vallarta area.

Sent on 29/12/2018

Roya · Married on 23 of February of 2018

Amazing Stylist, Great Work, Fabulous Experience!

Hosting a wedding abroad can be slightly stressful regarding a few big pieces, and finding the right person to do hair and make up for my ladies and myself was a slight stress of mine. Dealing with different climates and different humidity plus different cultures can be challenging. But as soon as I found Jenn (recommended by my wedding planner), my stress was relieved and she lived up to my predictions of her performance by a long shot. Not only did she make my beautiful friends more lovely, but she made the process simple and helped keep us all on task. Coordinating a bunch of ladies is slightly like herding cats, and she did great with that. For my look, I really struggled with what I wanted, and she did an awesome job interpreting my wishy-washy ideas and making them beautiful. She also was good at giving her opinion on particular styles, etc to best guide the look instead of simply saying something was good enough.
Also, as a side note, my mother had been going through treatment for ovarian cancer and had recently lost all her hair. She wasn't feeling herself, and definitely wasn't feeling like the mother of the bride. Jenn helped doll her up and made he feel lovely for the evening. This also got a lot of stress off me to not have to worry about this. Huge extra brownie points.
Highly recommended. Great work making us feel pretty. Great staff! Fun to work with.

Sent on 27/06/2018

Kelly Read Married on 30/04/2017

It was so much fun to work with Jenn Chivers on my wedding day. She is so personable yet professional, and made all of us feel relaxed. Jenn works easily with all age groups, and was loved by my three teenage bridesmaids. Most importantly, she focuses on making each client look and feel amazing on their wedding day. I highly recommend Jenn and her services for your big day!

Sent on 28/03/2017

Jenn Chivers Hair & Makeup's reply:

Thank you so much Kelly. I loved working with you and your ladies on your big day! You were all so easy and fun to work with, congratulations again on your big day!!

Jenn

Madelyn · Married on 05 of November of 2016

Where to begin... If you want a therapist, make up artist, and hair stylist in one - Jenn is your lady! She kept me calm and in good spirits all day, on top of making myself and (5)bridesmaids feel absolutely flawless. I love that I didn't feel scared to ask about adding more make up, sometimes you may feel you are being offensive, but Jenn genuinely WANTS you to look and FEEL stunning on this day. She is insanely talented, knows how to deal with the humidity and weather, and has great energy! Also, she did a hair change for me before the reception! She's a dream! I wish she could make me look that good every day!

Sent on 14/12/2016

Jenn Chivers Hair & Makeup's reply:

Thanks so much Madelyn!

You are one amazing woman and it was a pleasure to get to know you!

I can't wait to see what life brings you next.

Jenn

Danielle Jarke · Married on 22 of April of 2016

I can't say enough good things about Jenn! She's an absolute sweetheart and made me, my bridesmaids, and the moms all glowing beauties for my wedding day! We received so many compliments on both hair and makeup. She was on time, organized, and incredibly talented! She had amazing ideas for hairstyles and our makeup kept fresh even during pictures in the heat of the day. She was such a delight to work with from beginning to end. Highly, highly recommend her for any event!!

Sent on 17/12/2016

Jenn Chivers Hair & Makeup's reply:

Thanks so much Danielle!

Your day was so amazing! I was honored to be a part of it and loved working with you in the days and months leading up to your wedding. Congratulations again!