Reviews for BeautiMarkPro Mobile Hair & Makeup
Awards


14 User photos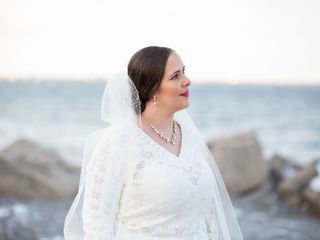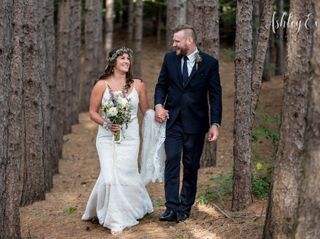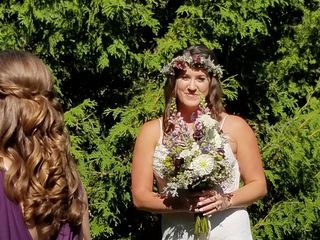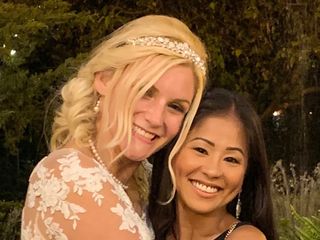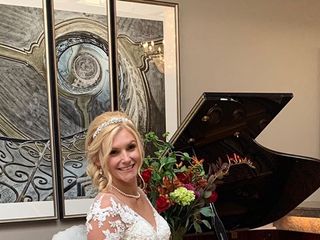 Jazmin · Married on 31/08/2019

Overall good service

The hairstylist them selves were very nice and wanted to make sure you got exactly what you envisioned. Rene and Beata were our two.
They both showed up on time and worked fast.
The only thing I didn't like was they didn't clean up all the hair on the floor or hairspray all over my nice oak dining room chairs.
When my make up team came in they brought their own chairs and cleaned up the tables after they were done.

My hair had strands falling out for pictures (thankfully I had a cousin who is a hairdresser and pined them up for me.)
All and all they were very nice and did a beautiful job.

Sent on 09/09/2019

BeautiMarkPro Mobile Hair & Makeup's reply:

What fabulous photos Jazmin thanks so much for attaching them! You look stunning as did your bridal party. Thanks so much for your review and feedback, we're so happy To hear your satisfaction of our services!

Keely K · Married on 28/08/2019

I cannot say enough about BeautiMark Pro. Renee is warm, professional, collaborative, flexible - not to mention an artist! The morning of my wedding I was incredibly sick and genuinely did not think I was going to make it down the aisle. I slept the whole morning and finally started feeling better around 1:30pm. When I got to the room where hair and makeup was happening, Renee worked incredible magic to make me look and feel human again. If you are looking for the least stressful wedding day beauty experience, go with BeautiMark Pro. They are excellent.

Sent on 28/06/2018

BeautiMarkPro Mobile Hair & Makeup's reply:

Keely, I'm so glad everything planned out the way it did in the end, it was such a pleasure to work with you! You made our job so easy and hope to see you again soon!

Noelle · Married on 22/12/2018

I couldn't have asked for a better experience

Reneè was fantastic from the moment we spoke on the phone for the first time to us saying goodbye as I left to marry my best friend in life. I had a month before my wedding that was 4 days before Christmas! I was having a hard time finding a company that was flexible during the holidays to do a small wedding. Reneè and BeautiMarkPro were extremely accommodating. Everything was so fun and relaxed. I had a small wedding so it felt like it was just a fun girls hang out. Everyone liked her work, even the photographer. The makeup stayed put despite my happy tears. She definitely went above and beyond to make my special day that much more special. I would hire BeautiMarkPro again.

Sent on 25/12/2018

BeautiMarkPro Mobile Hair & Makeup's reply:

Aww Noelle, you're awesome thanks so much for the amazing comments, you're too kind! Loved loved your photos!!

Julie · Married on 02/11/2018

Amazing to work with from the first phone call to the last bobby pin!

Beautimark Pro did hair and makeup for my best friends wedding back in 2014 and they were amazing, so of course they were my first call when I was looking for my wedding. Renee was so helpful in answering all my questions about their services for my wedding day and shortly after I spoke with her, I booked their services!! Jessica, the booking coordinator, was so professional and very responsive to my emails - she helped so much along the way with booking my trial and figuring out timing for day of as well as finding another artist within weeks of the wedding to accommodate my large group!
I had my hair and makeup trial with Bea and Wardah, respectively and they were so friendly and easy to work with. They really helped me figure out my best look for the day (I'm not someone who usually wears makeup or does my hair in anything but a ponytail, so this was a big deal for me!!). My mom also had a trial as she wasn't convinced she wanted to get her hair or makeup done, but they quickly sold her and she couldn't have been happier with their services.
On the day of my wedding, the ladies arrived and promptly turned my living room into a beauty salon and got to work - they were so much fun and made such a positive environment for my big day!! Everyone loved their looks so much. My hair and makeup were amazing - my hair didn't budge for the whole day and everyone went on and on about how much they loved it - I was ecstatic with my whole look!! I would highly recommend this team for all of your mobile hair and makeup needs. Thank you so much, Beautimark Pro for your truly amazing work :)

Sent on 13/11/2018

BeautiMarkPro Mobile Hair & Makeup's reply:

Ooh Dear Julie you are so sweet. Thanks so much for taking the time to write this detailed review wow! We're so delighted to hear how happy you were with our services!!!

Jessica Robichaud · Married on 29/09/2018

Absolutely Amazing!

I hired BeautiMark Pro as they did my friend's wedding in 2015. I was happy with their services and was not disappointed on my wedding day. They are professional and friendly! Easy to work with and were open to suggestion about my specific style on what I had envisioned for myself on my big day.

Sent on 09/10/2018

BeautiMarkPro Mobile Hair & Makeup's reply:

Thanks so much Jess you were wonderful to work with!! It was such a pleasure to work with you and your party!

Farah E. · Married on 21/09/2018

Absolutely wonderful!

Renee and her team were absolutely wonderful to work with. They are highly skilled! My bridesmaids and I all had very different skin types and tones and they accommodated everyone with ease. Highly recommend this wonderful team for your next event!

Sent on 21/12/2018

BeautiMarkPro Mobile Hair & Makeup's reply:

Farah! Thank you for your review, I absolutely loved your photos thanks so much for sending them along!!

Krista · Married on 15/09/2018

Amazing Service!

Wardah and Bea were my stylists / artists from BeautimarkPro. They were so sweet and amazing and made sure we not only looked fantastic but calmed my nerves too. We were joking that they provided complimentary therapy while glamming you up. Needles to say I am so very satisfied and would recommend them to everyone.

Sent on 13/09/2019

BeautiMarkPro Mobile Hair & Makeup's reply:

Lol i know right! In all honesty l, glamming our amazing guests is therapeutic for us! So we're glad that transfers over to you as well!

Sandra Pielaszek · Married on 01/06/2018

Best makeup, best hair, best people

Renee and her team were absolutely wonderful to work with! She responded quickly and was so easy to reach. All of my bridesmaids (there were 7) absolutely loved their hair and makeup!!! Thanks again!!

Sent on 07/08/2018

BeautiMarkPro Mobile Hair & Makeup's reply:

Sandra you look stunning. We had so much fun getting you all ready. Way too many good laughs. Thanks for your referrals so far! We look for are to seeing you again:)

Bmpro

Asimah Mahmood · Married on 01/06/2018

BMP is an amazing team! They did a fab job on my wedding day and made the morning so much fun and stress free. Would recommend to everyone.

Sent on 31/03/2017

BeautiMarkPro Mobile Hair & Makeup's reply:

Thanks Asimah, you looked stunning on your wedding day. Can't wait for your sisters wedding in 2020!

Michelle Pogue · Married on 26/05/2018

Amazing team!

Rene and Bea did a fantastic job preparing myself and my bridesmaids for my wedding this past May. I came into the trial clueless about the makeup, and Rene worked so hard to make sure I would feel confident the day of (with great success!). Bea also did such a great job on my hair, even with the addition of a real flower crown. I am very thankful for both of them, they couldn't have captured the feel I was going for more spot on. Extremely professional and passionate in their work but also such a joy to have as company. Thank you, Rene and Bea!

Sent on 22/06/2018

BeautiMarkPro Mobile Hair & Makeup's reply:

Hey Michelle! Thanks for the super kind words. You were also a joy to work with, and we got some really good laughs in there on the wedding day didn't we!

Thanks for putting your faith in us to bring your vision to life!