35 Awesome Halloween Wedding Ideas
Looking to make your big day a spooky affair to remember? Here are a few creative ways to host a Halloween wedding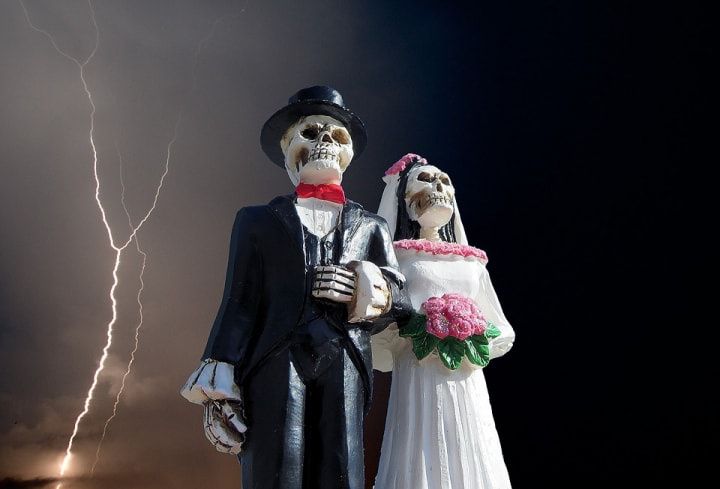 It's the most wonderful time of the year – well, at least for the people who love the scary and supernatural! If October 31 is your favourite holiday, why not host a Halloween wedding? From serving trick-or-treat candies on your dessert table at your Halloween wedding reception to wearing a gothic gown at your candlelit ceremony, there are plenty of ways to put a spooky, yet elegant spin on your big day.
Here are 35 of our favourite Halloween wedding ideas.
Historic Wedding Venue
Historic houses, castles and manors tend to have a few skeletons in their closets, making them perfect for spookier celebrations. You totally get bonus points if the wedding venue you choose has one or two ghost stories attached to it.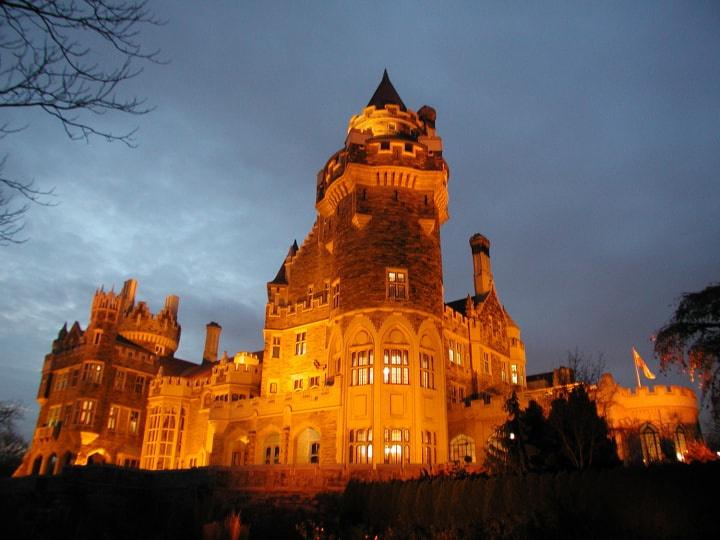 Spooky Halloween Wedding Decorations
Think your wedding venue needs a little something extra? Turn your reception into one big Halloween party by decorating it with eerie bits and bobs like skulls, candles, crows and cobwebs.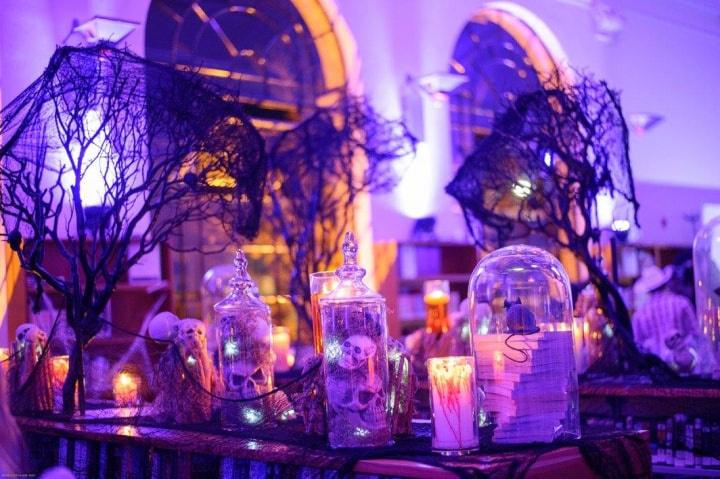 Vintage Gothic Invitations
Want to give your guests a clue as to what they're in for? Make everything spooky, down to your wedding stationery.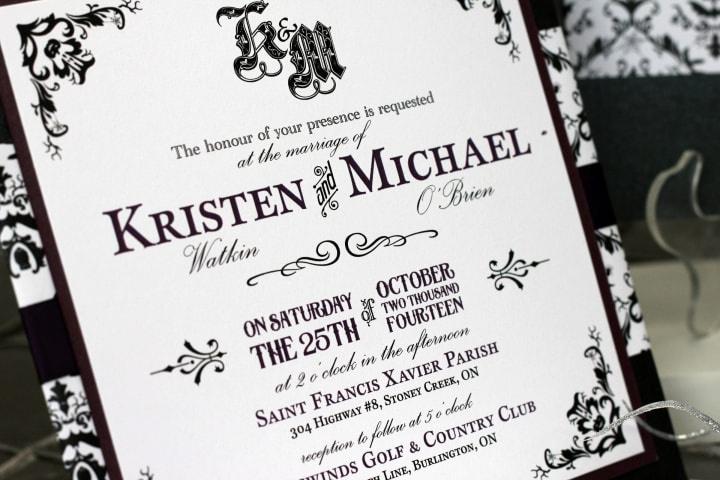 'Til Death Do Us Part Signage
Here's a stylish Halloween wedding idea! Use a ''Til Death Do Us Part' plaque in your wedding portraits.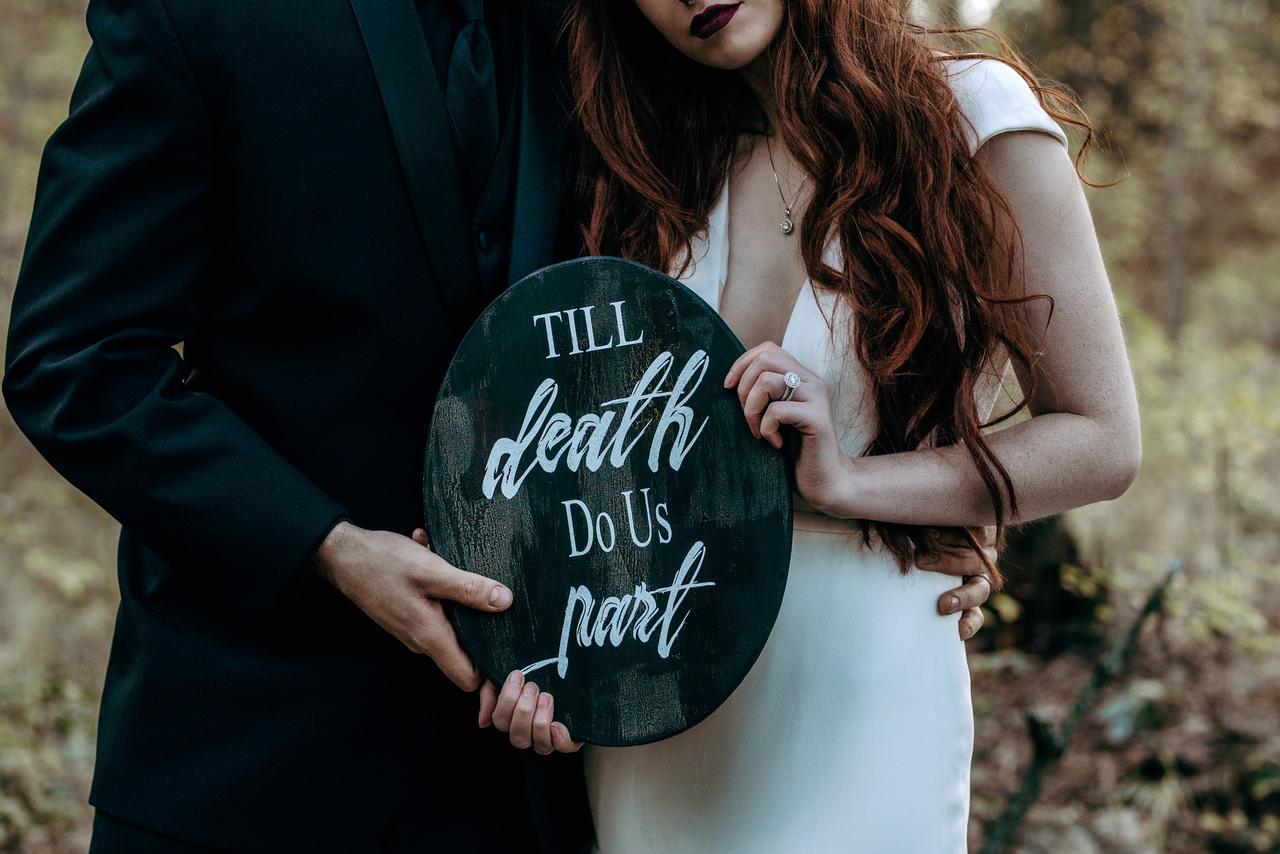 'Til Death Do Us Part Jean Jacket
Or, have "Til Death Do Us Part" inscribed on a jean jacket.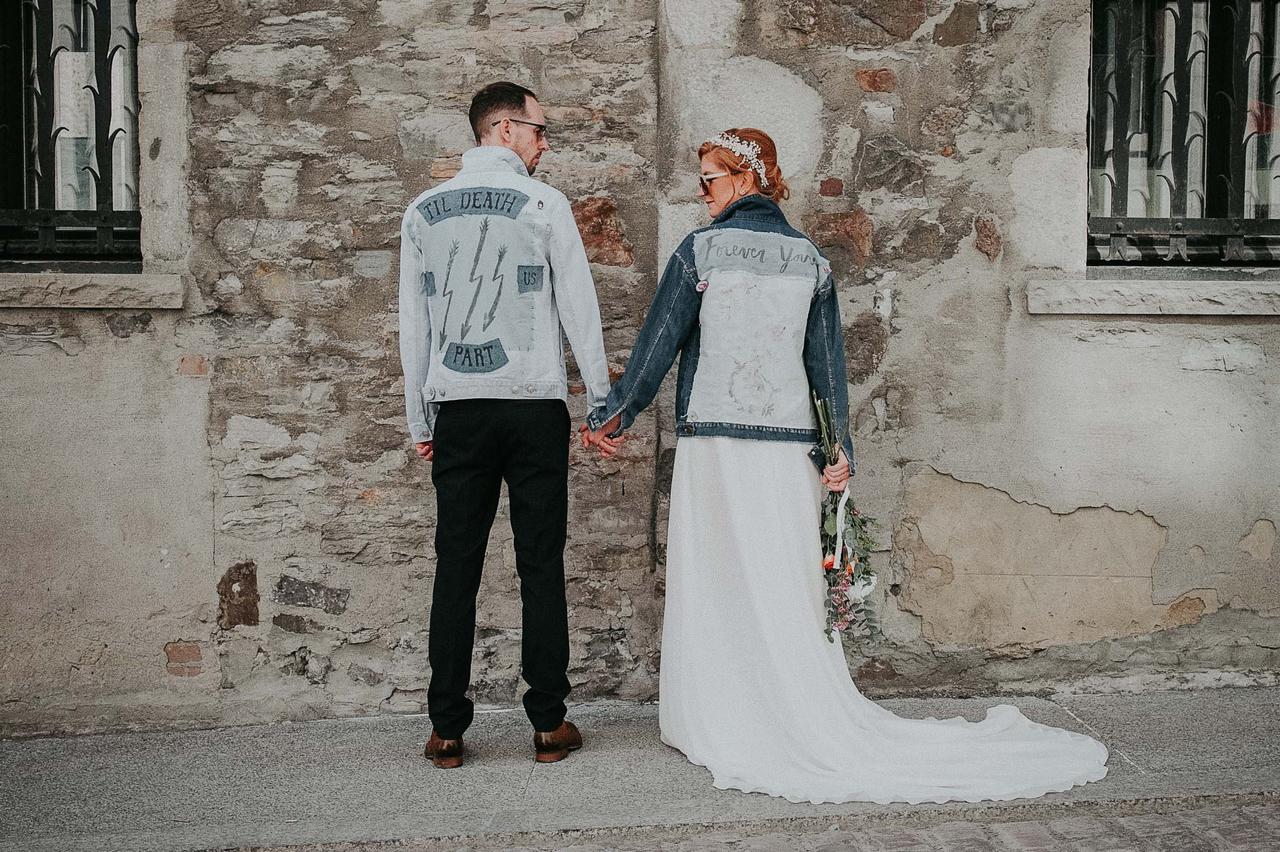 'Til Death Do Us Party Neon Sign
Or, you can order a cheeky neon ''Til Death Do Us Party' sign like this one from HiNeon Custom Neon Signs to display at your Halloween wedding reception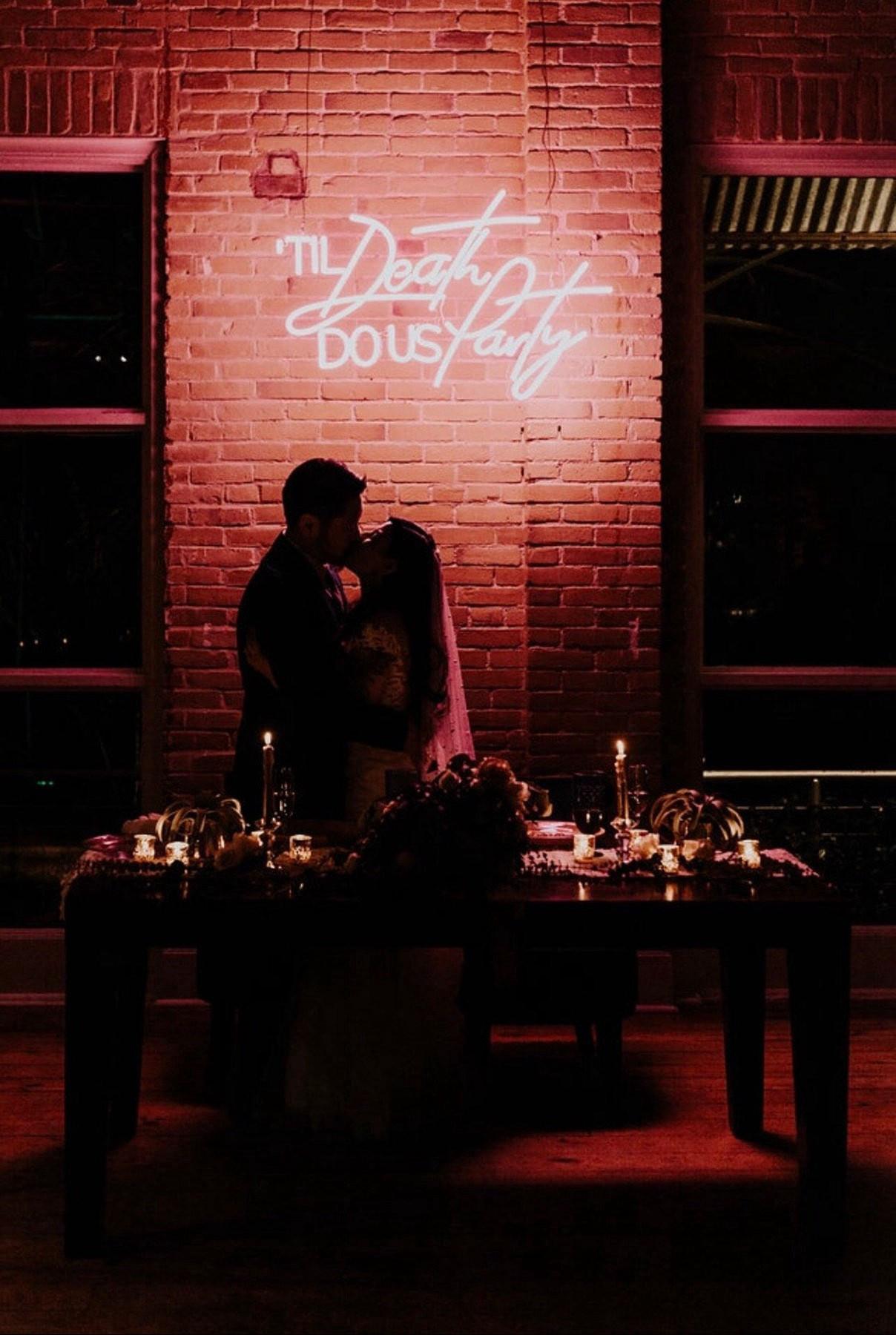 Candlelight Ceremony
Set the mood at your ceremony for your Halloween wedding theme with an altar illuminated with candles and decorated with crows, candelabra and skulls.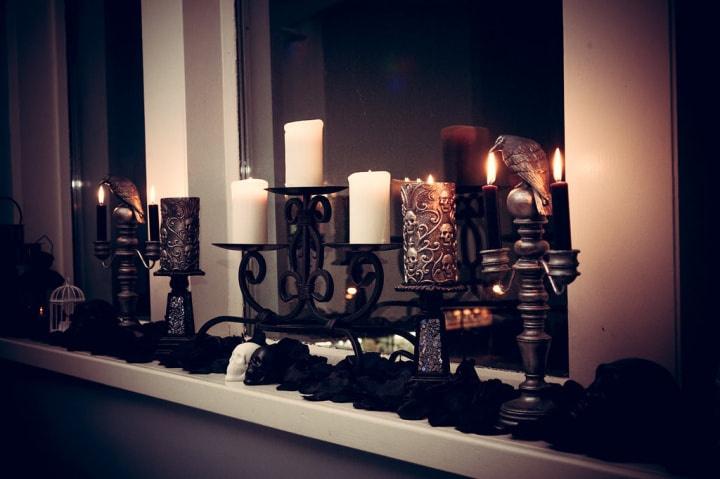 Coffin Ring Box
Have your ring bearer deliver your rings in a coffin-shaped ring box. We love this customized handmade version from Hierographix on Etsy.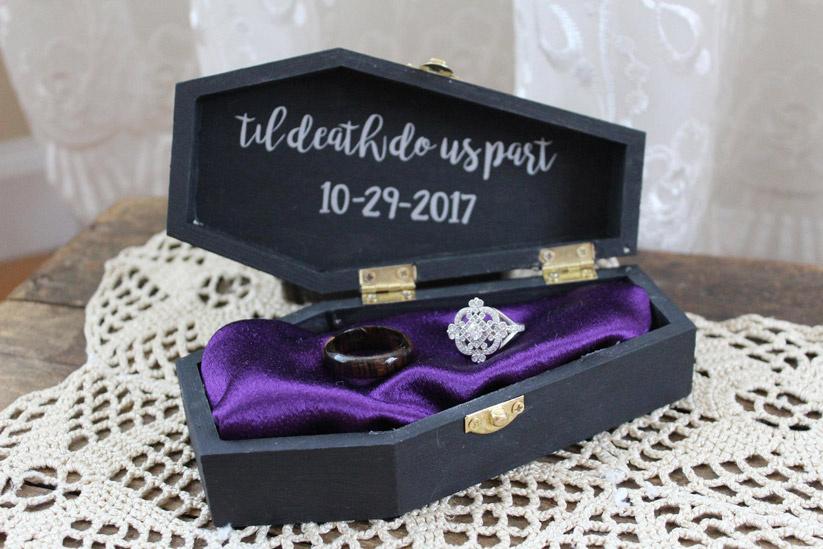 Eerie Ceremony Music
Set the tone for your wedding ceremony with some haunting music. We suggest hiring a violin soloist or harpist to welcome your guests and accompany your walk down the aisle.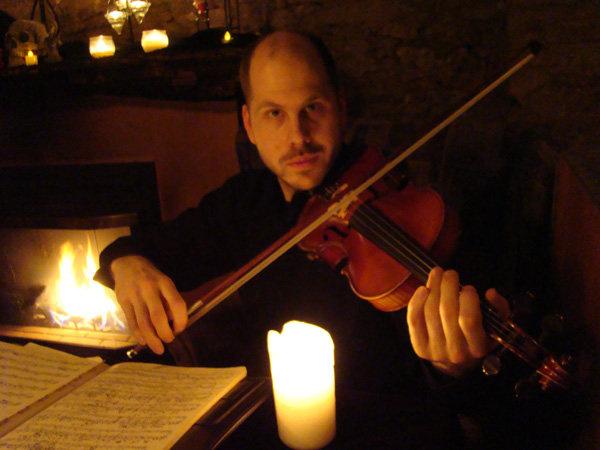 Halloween-Themed Wedding Vows
Hire an officiant to customize your wedding vows and perhaps include some rituals like a handfasting ceremony or jumping the broom in keeping with your Halloween wedding theme.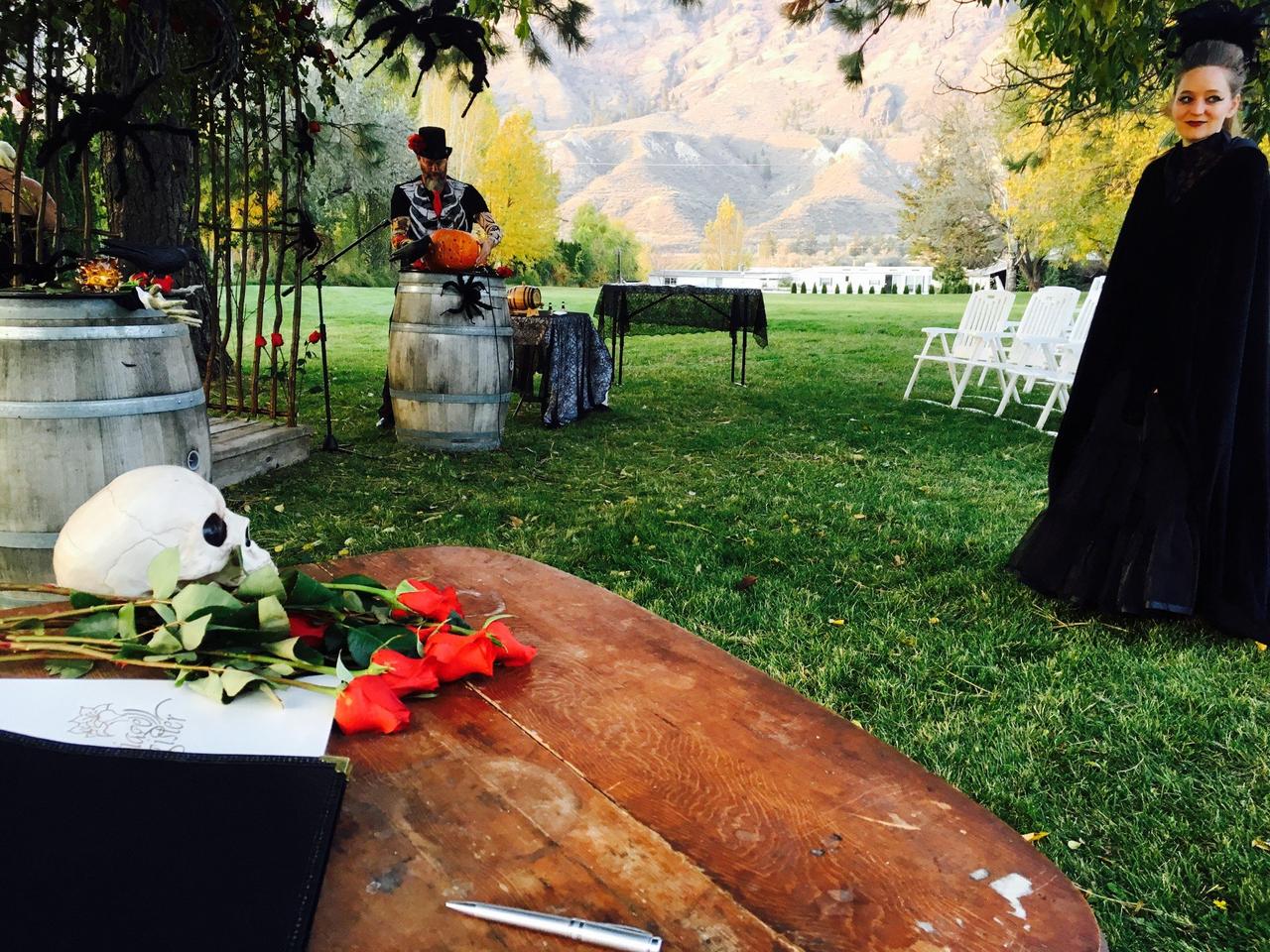 Supernatural Wedding Portraits
Give your wedding photos a supernatural twist by recreating a scene from your favourite Halloween movie. We suggest taking a break from planning and watch a few films - Ghostbusters, Nightmare Before Christmas and Hocus Pocus are all great options - to get those creative juices flowing - then find a photographer with great photoshop skills.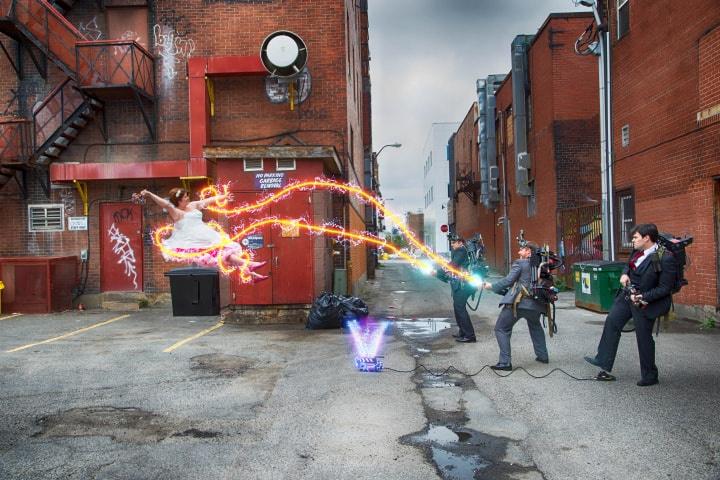 Pumpkins Galore
Name one prop more Halloween-y than a pumpkin? Impossible! You can easily deck out the entrance to your venue, your tables and even your dance floor with these seasonal squashes. Pro tip: if you want something a touch more elegant, go with the white version or have yours painted to match your colour scheme.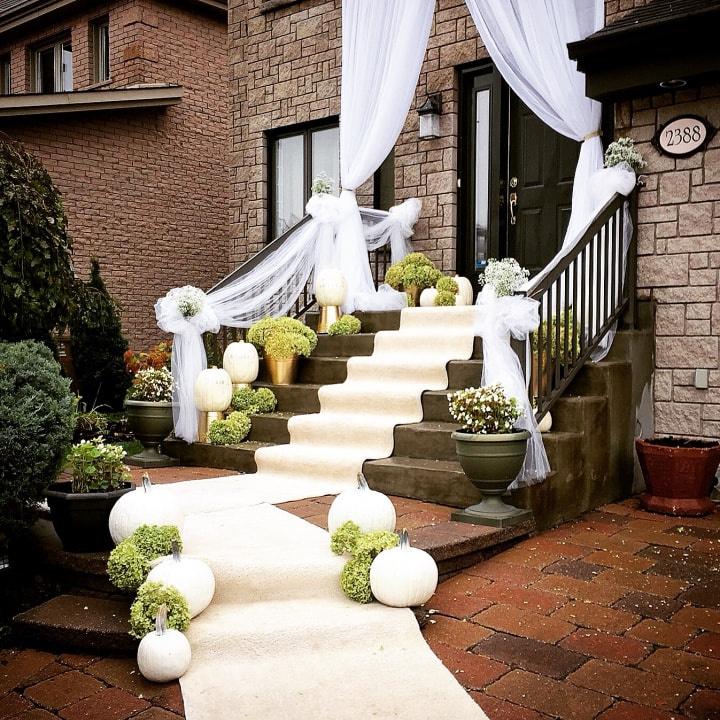 Cobweb Lighting
Forget about illuminating your monogram in lights, make your entranceway or dance floor a little eerier by shining a few spiderwebs on it!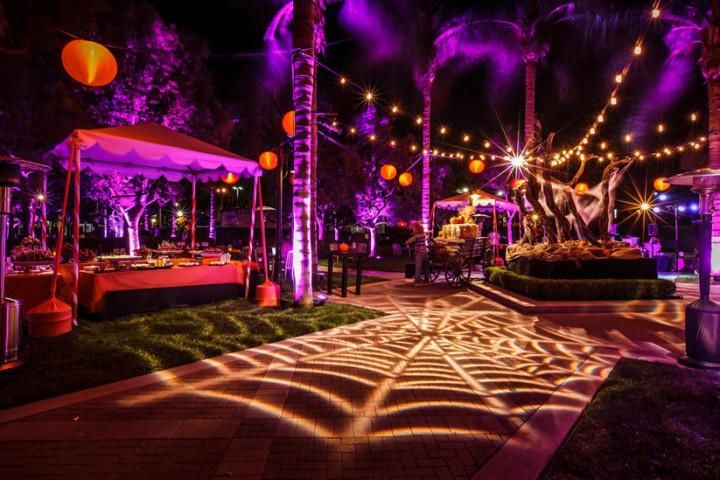 Dramatic Makeup
When you think of wedding makeup, your mind probably automatically goes to nude lipstick, fluttering eyelashes and a natural complexion. While there's nothing wrong with that, you can definitely darken things up to Halloween-ify your look.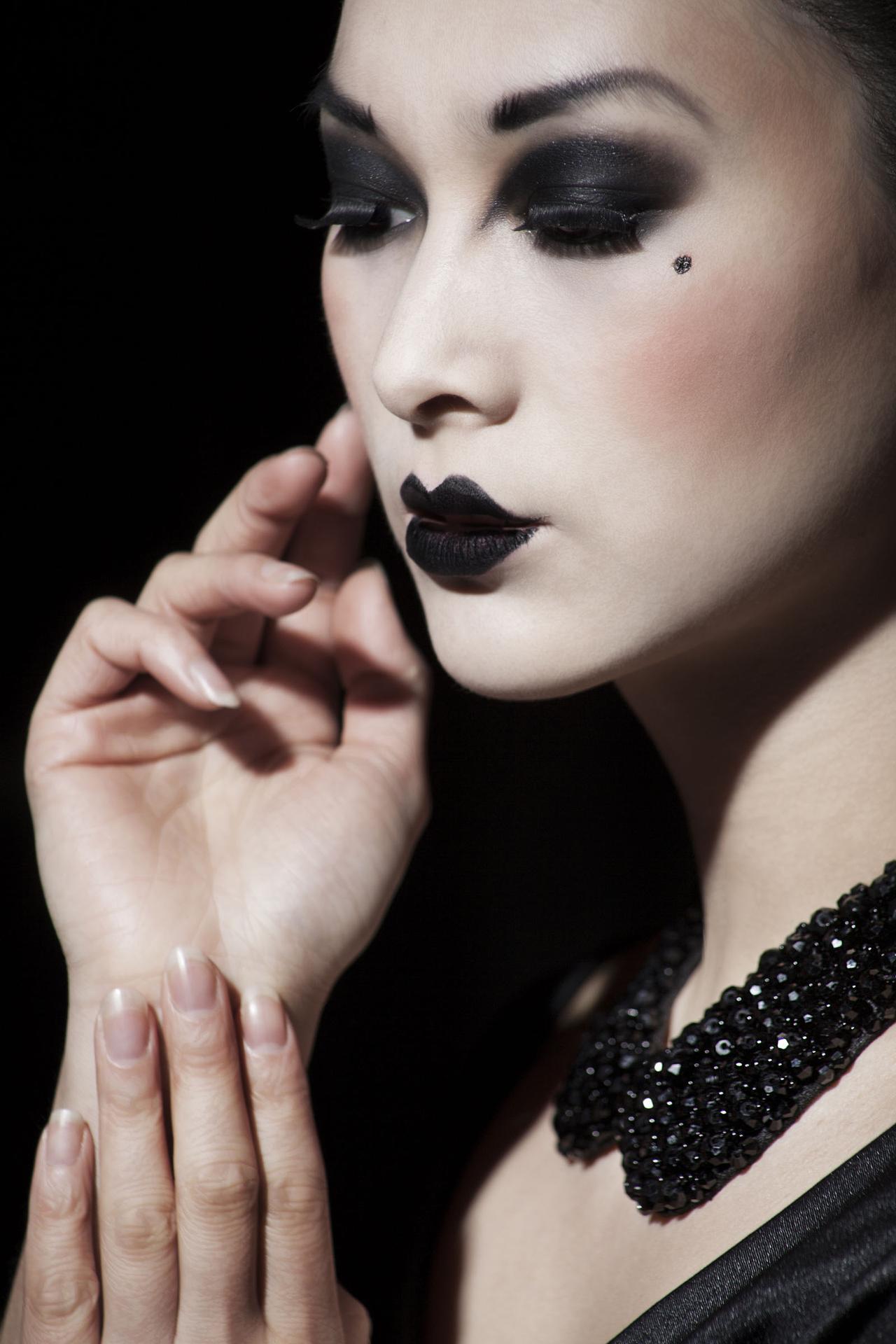 Full Face Paint
Or, if you want to go the extra mile, you can even don face paint and turn your wedding looks into costumes.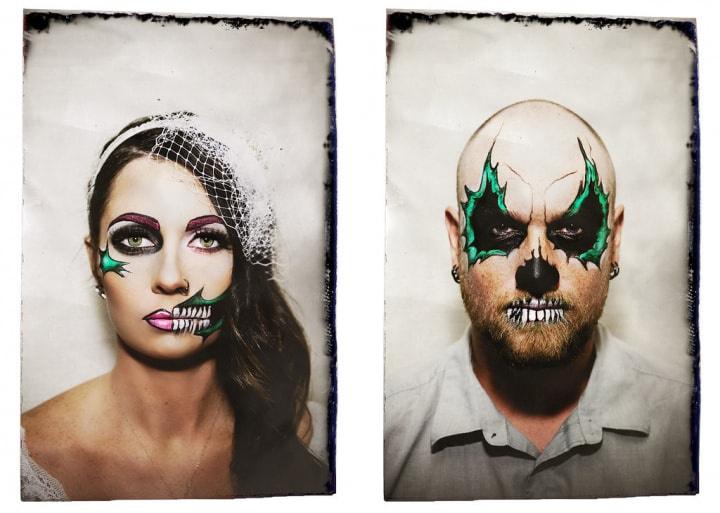 Gothic Glam Bouquet
Choose deeper hues for your wedding flowers (faux or real), or, if you really want to embrace the Halloween wedding theme, you could even go with a full dried flower bouquet.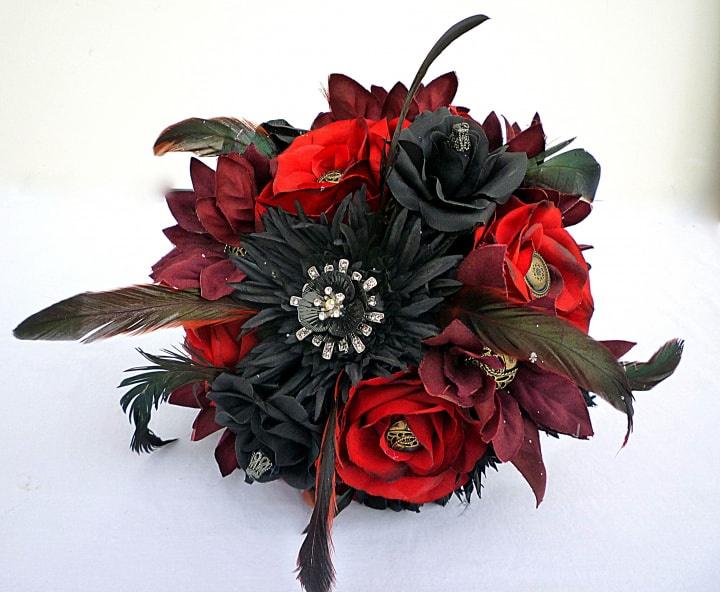 Black Halloween Wedding Dress
You don't have to wear white on your wedding day! If you're hosting your wedding on or around October 31, skip the white, cream and ivory and go with a black wedding dress, instead. It'll definitely have your guests oohing and ahhing as you walk down the aisle.
Decorated Shoes
Don't want to go all out and dress as the Bride of Frankenstein for your Halloween wedding? Understandable. Give your outfit a bit of extra edge by adding some themed shoes (they'll probably be hidden for your ceremony, but you can always show them off in photos and at your Halloween wedding reception).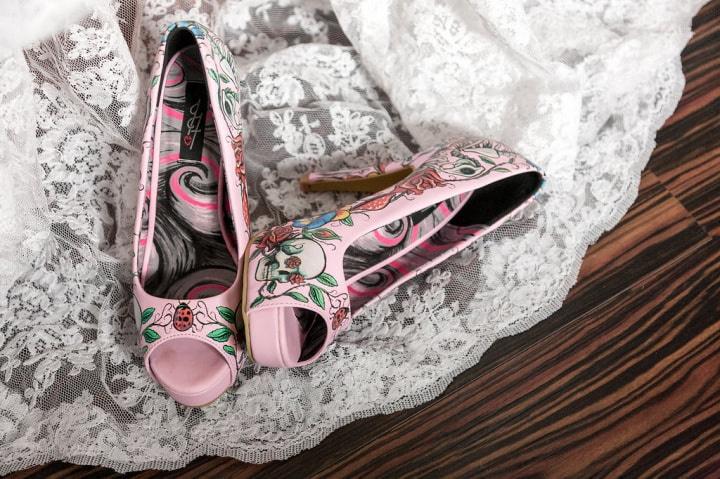 Themed Bridesmaid Ensembles
Go for a gothic glam look for your girl squad, too. Choose bridesmaid dresses and accessories in dark colours like black, red and burgundy. Layer on the accessories and apply dramatic makeup including red lipstick.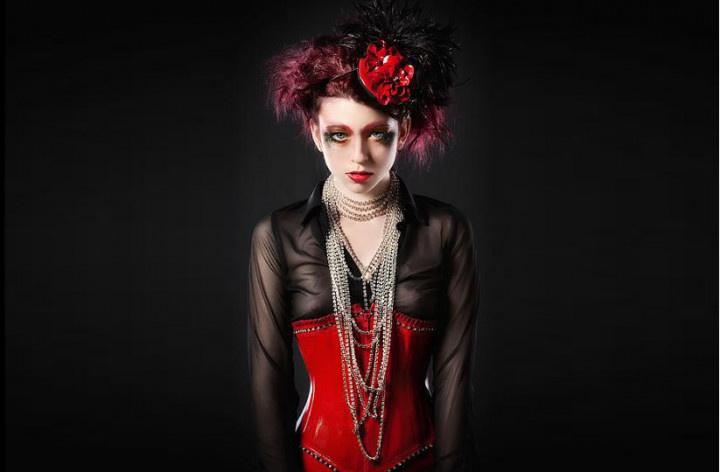 Halloween-Hued Groomsmen Outfits
Black, orange and purple are pretty much the official colours of Halloween, so why not dress your groomsmen in them?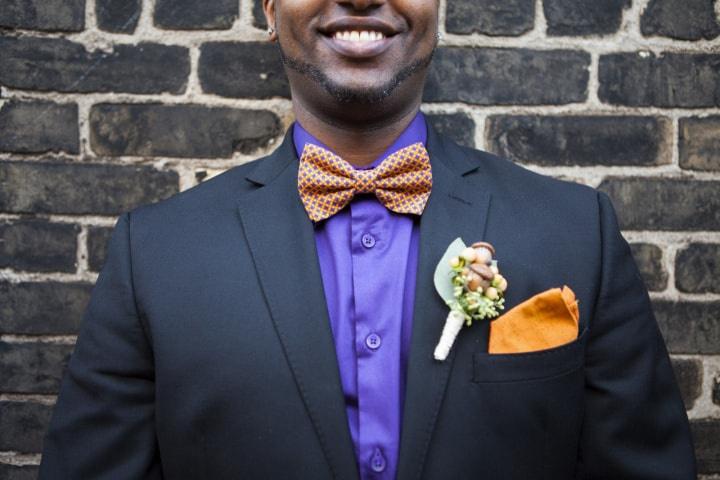 Monstrous Socks
Calling all grooms! You can make your wedding ensemble a little more interesting (and spooky) by finishing it off with a pair of monstrous socks.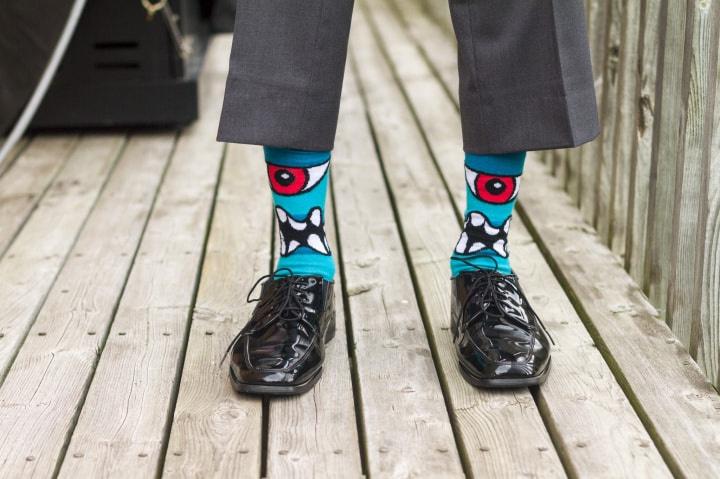 Cool Costumes
Ok, you probably don't want to swap your bespoke suit for a superhero costume from Party City, but that doesn't mean you can't dress as a caped crusader on your wedding day. Sport your favourite character's emblem on a t-shirt under your ensemble, that way you'll get the best of both worlds.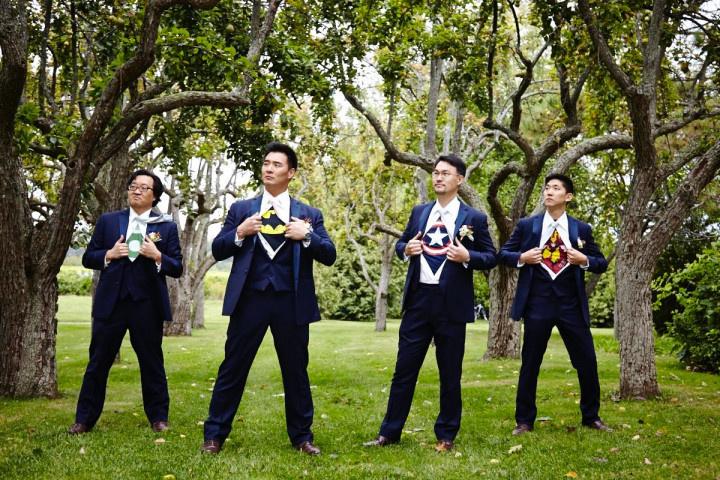 Halloween-Themed Cocktails
Put the boo in booze by serving up some ghostly, ghoulish cocktails at your Halloween wedding reception, like blood orange cosmos, bloody caesars, zombies and black widows,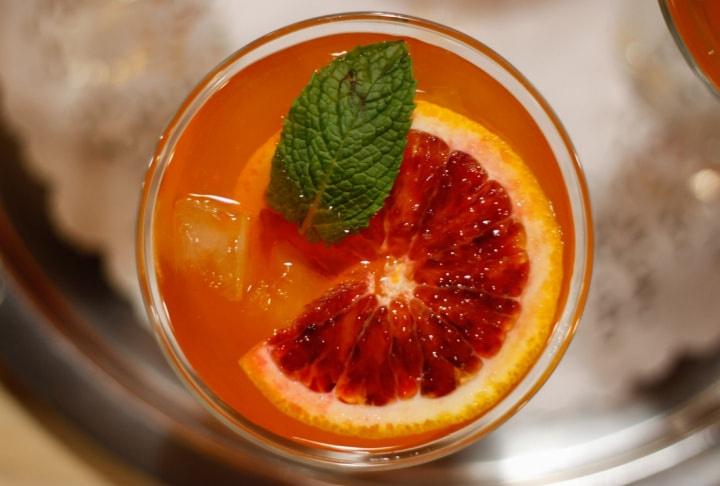 Creepy Cocktail Hour
Invite your wedding guests to feast on a grazing table stacked with Halloween-themed appetizers. Take inspiration from this Halloween menu featuring everything from 'Crunchy Cockroaches' (dates in bacon) to 'Raw Gallbladders' (shucked oysters). These eats will definitely get your guests talking.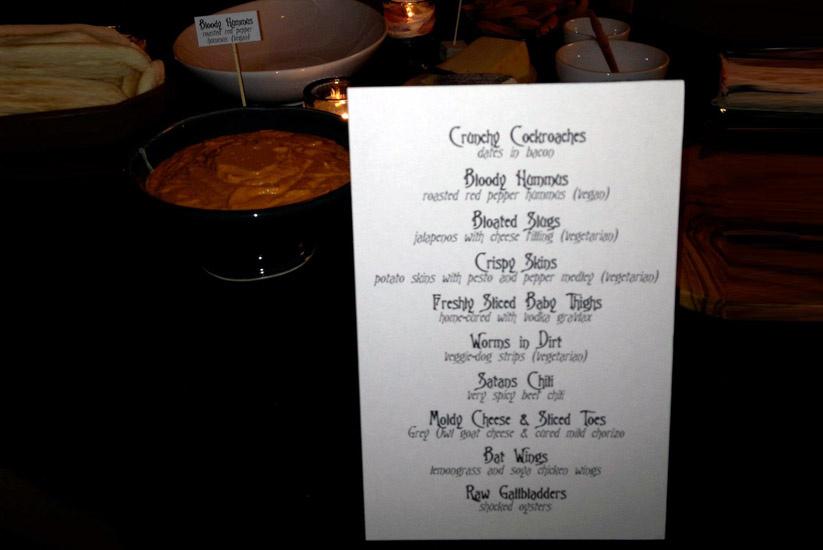 Decked-out Sweetheart Table
Make your sweetheart table OTT with cobwebs, candles, pumpkins and other Halloween decor.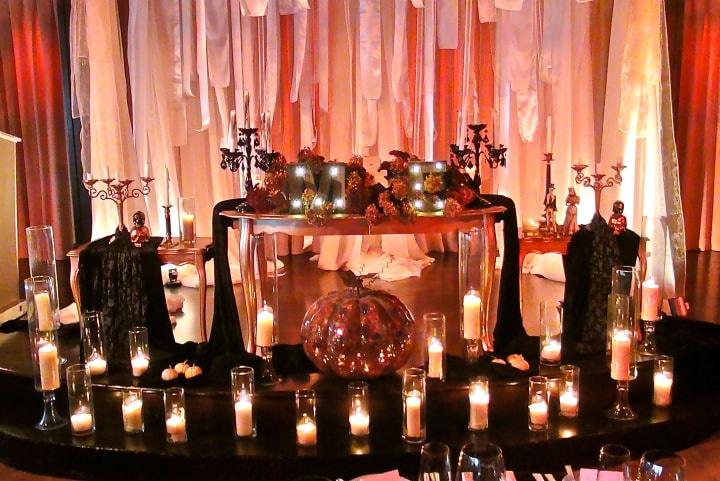 Black and White Colour Scheme
Black and white wedding decorations will set a stylish scene for your celebration. Skull wedding centerpieces, black feather place cards, striped table linens and graphic stationery items are an easy way to Halloween-ify your reception venue.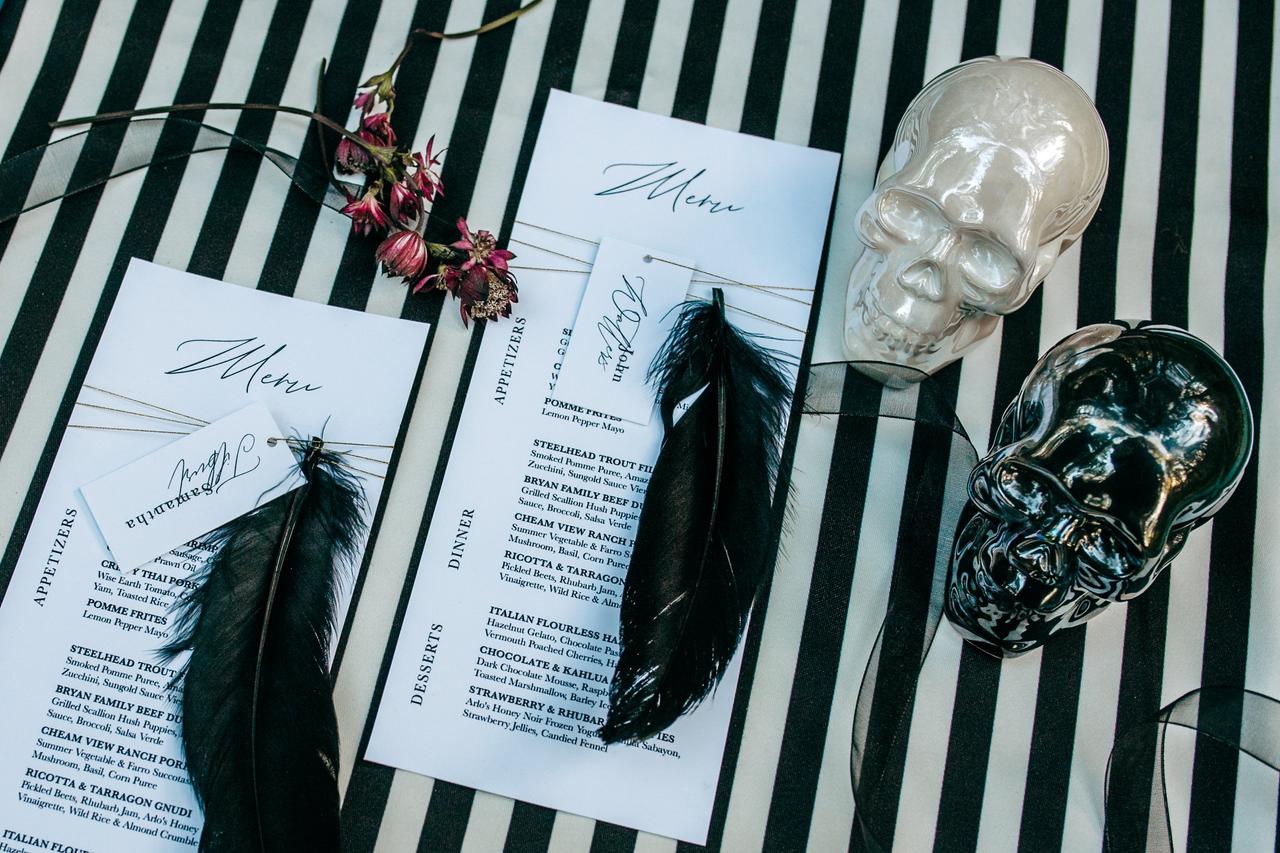 Pumpkin-Infused Menu
Pumpkins are pretty much a staple for any Halloween wedding. If you want to use them for more than decor, go ahead and serve pumpkin dishes or skip the bowls for your appetizers and serve soup in 'em, too.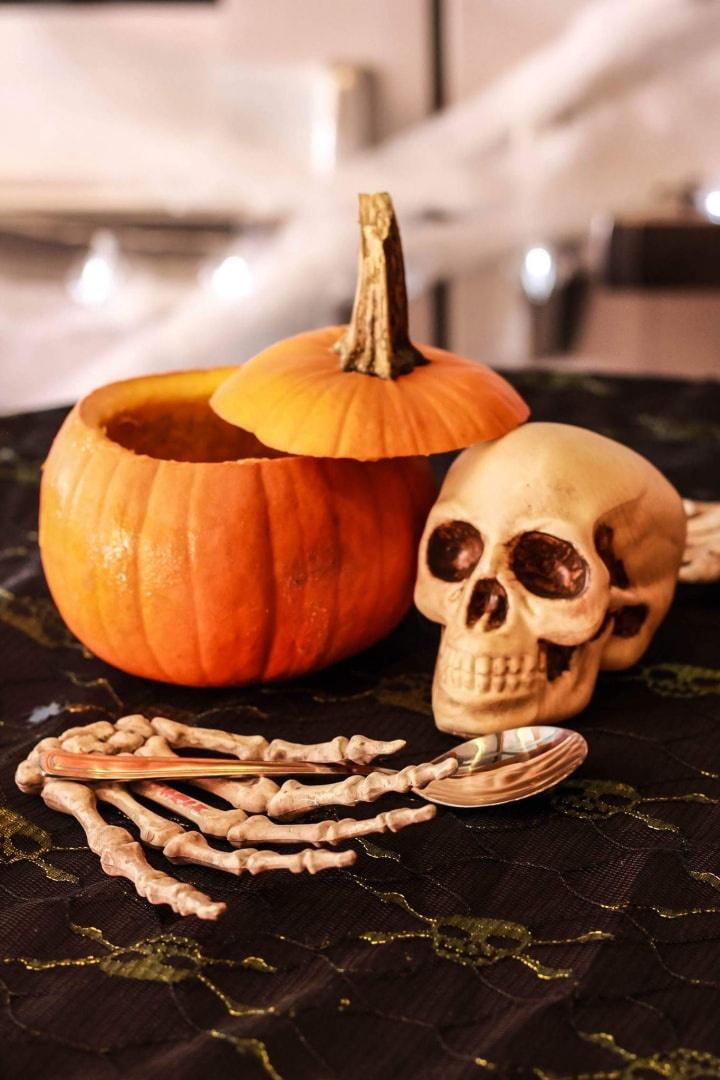 Hauntingly Beautiful Cake
Give your wedding cake the Halloween treatment by choosing a darker colour palette and/or a costume theme for its design. If you don't want to mess with the exterior, you can amp things up by choosing a flavour like Death by Chocolate.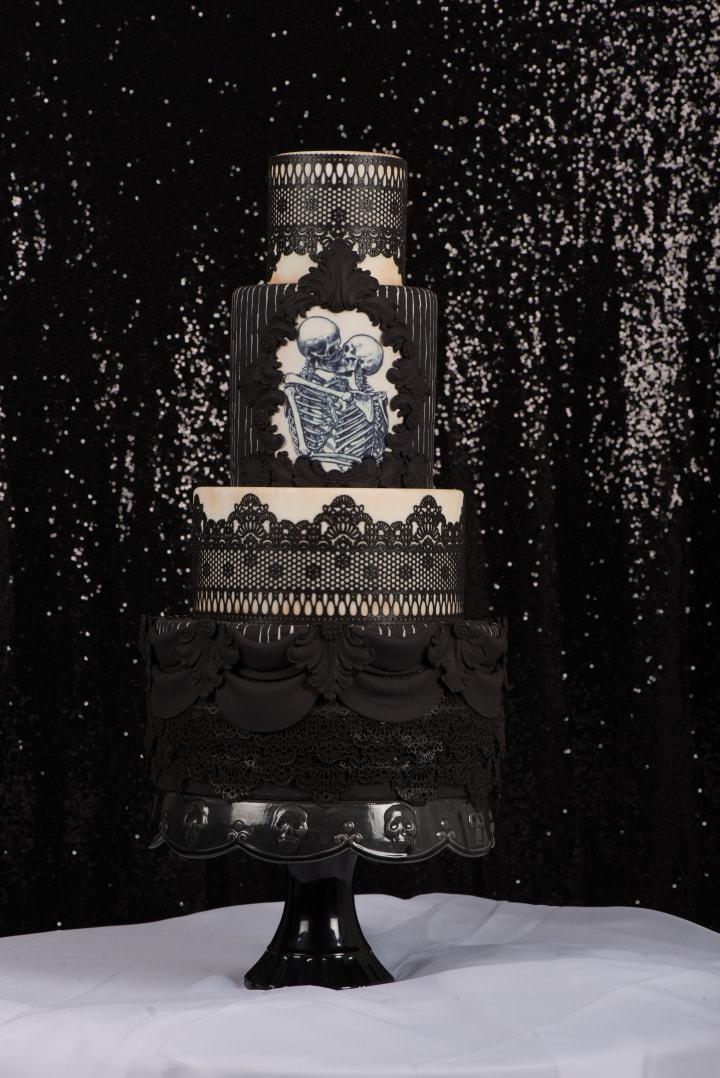 Skull Cake Topper
Whether or not you've opted for a full-blown Halloween-inspired cake design, you can make things a bit more appropriate for October 31st with a skeleton bride and groom cake topper (pictured at top) or a custom skull cake topper like this one from CakeTopperBliss on Etsy.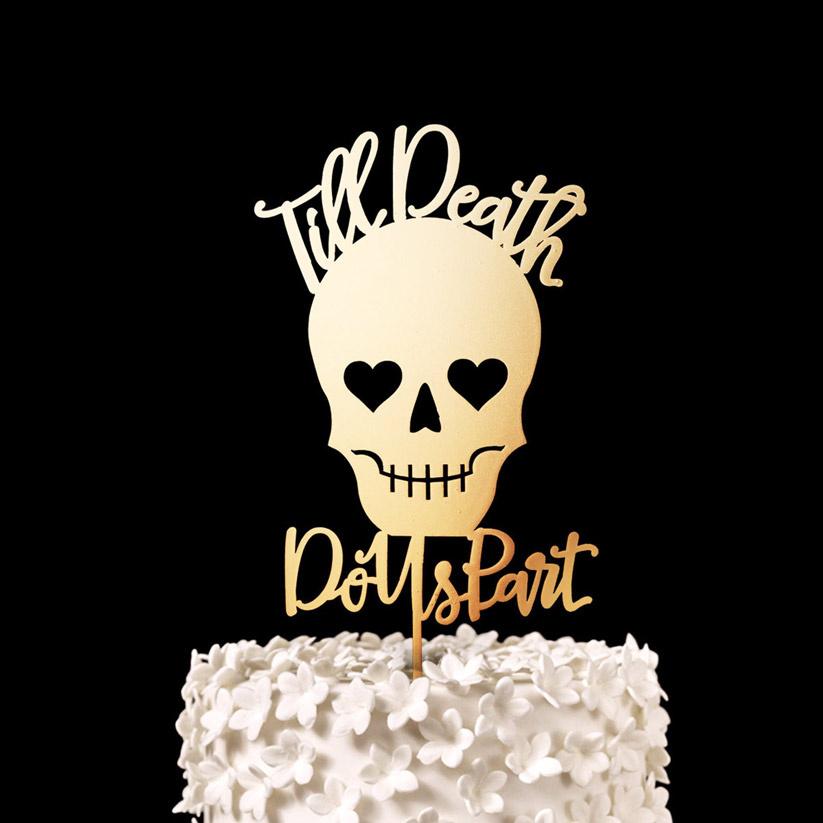 Halloween Candy
You're never too old to indulge in Halloween candy. Instead of stocking your dessert table with luxurious desserts like macarons and eclairs, fill it with itty bitty packs of Smarties, Coffee Crisps, Crunch bars and more. It'll save you money and your guests will love feeling like kids again.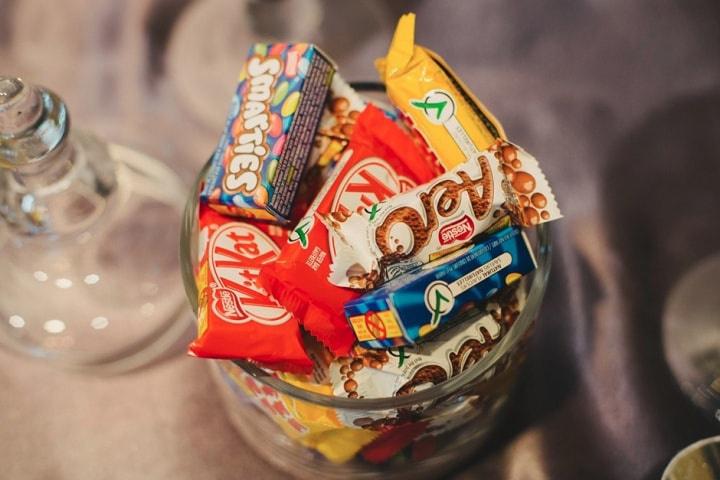 Bewitching Band
If you really want to go all out, ask your band to suit up in costumes for your big day. Looking for something a little more low-key? Add a couple Halloween favourites, like the "Monster Mash" and "I Put a Spell on You" to your wedding playlist.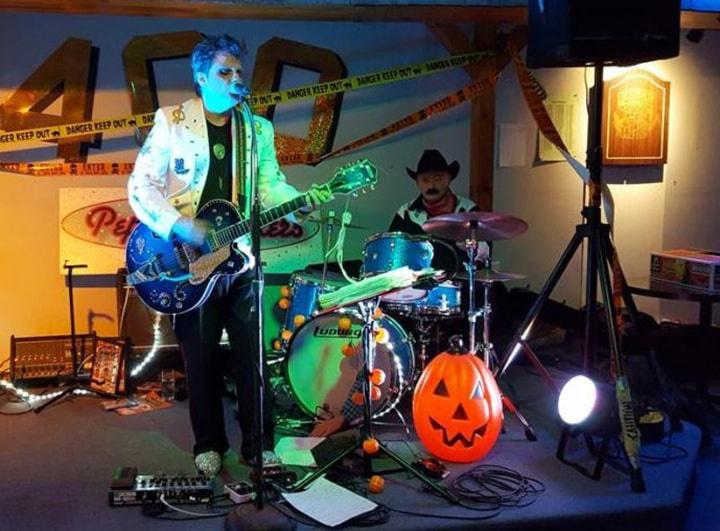 Dry Ice First Dance
Create some spooky ambiance with a foggy first dance surrounded by dry ice mist at your Halloween wedding reception.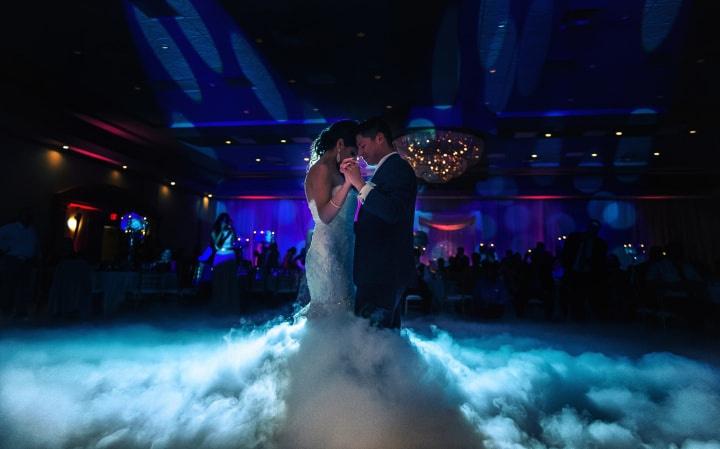 Spooktacular Photobooth
Photobooths are always a crowd-pleaser at weddings. Adding a black backdrop and piling your prop box with costumes will make yours suit the holiday perfectly.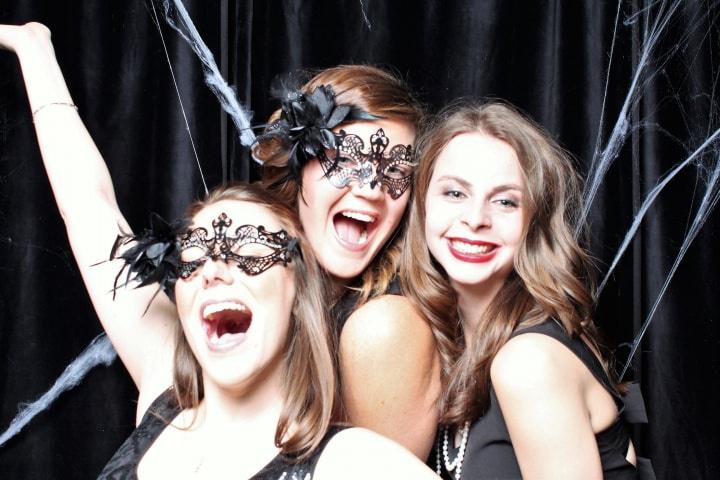 Tricky Treats
Send your guests home with Halloween-inspired foodie wedding favours like these custom cookies filled with sprinkles or another surprising creation.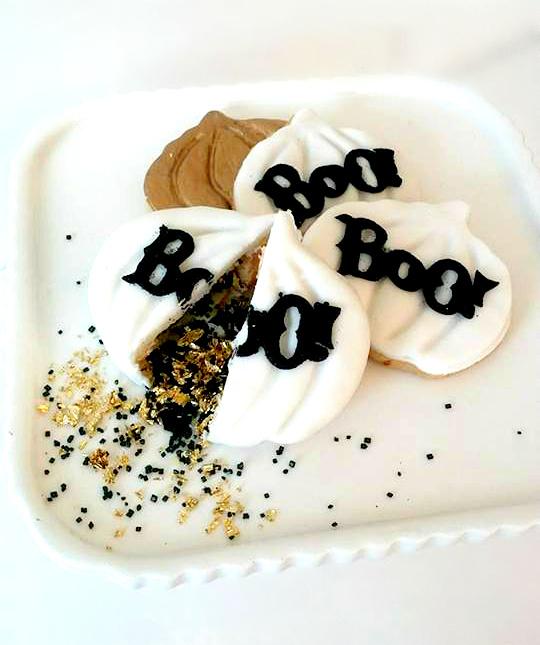 Moonlit Photoshoot
You probably won't be hosting your actual celebration in a cemetery, but you can have a photoshoot in one for your engagement or wedding photos. If that's a little too creepy, escape your reception for a nighttime photoshoot in the light of the moon.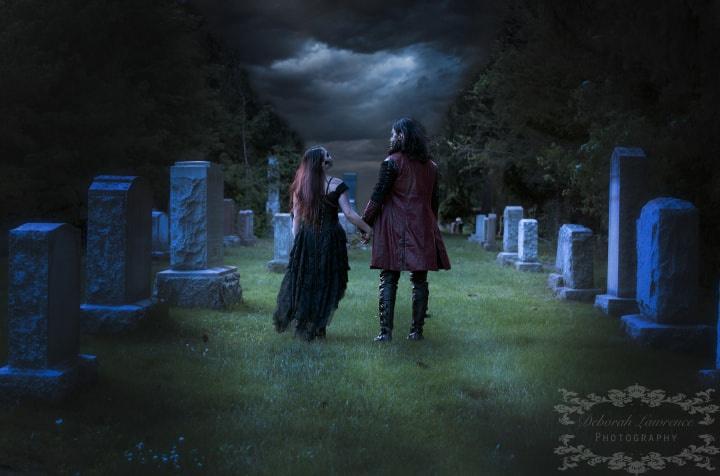 Find more wedding theme ideas and inspiration in our Real Wedding galleries »