Reviews for Lilies and Lace Beauty Co.
Awards

63 User photos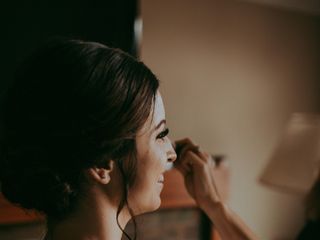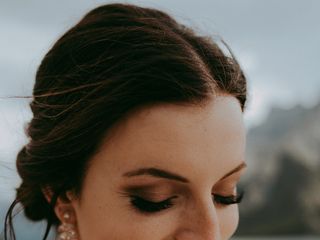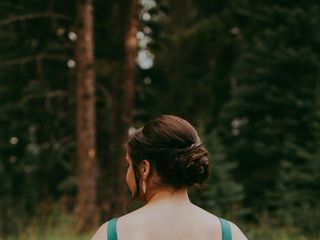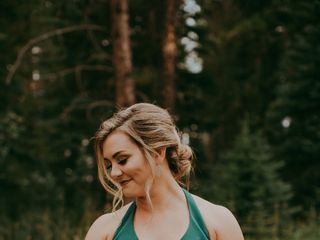 Jackie · Married on 07/04/2017

I literally could not be happier with Jordana's work and professionalism. I was really vague about how I wanted my hair, but she listened carefully to what I was hoping for and came up with a style that far exceeded my expectations. She is also such a warm person, I really valued her presence when I was getting ready for our private ceremony. I would hire her again in a heartbeat!

Sent on 11/01/2018

Lilies and Lace Beauty Co.'s reply:

Awe thanks so much Jackie! So happy I was able to be your stylist and work with you to get the look you were after :) Congratulations again and I hope your enjoying married life!

Ashley Sceviour · Married on 18/03/2017

Working with Lilies and Lace was an absolute pleasure. From our first contact I felt that Jordanna actually cared about our wedding. Though she was not available another stylist (Candice) and makeup artist (Nicole) became part of our team. The trials were fantastic. I was unclear as to what I wanted for both hair and makeup however both Candice and Nicole provided guidance on my "wedding look". They were spot on!

I also love the care Nicole took in making sure my makeup worked for me (I suffer from allergies). I ended up purchasing some of my own product but Nicole was able to use it no problem. I had no reactions on my wedding day - and the look lasted forever!

The mother-of-the-bride and mother-of-the-groom (and some guests) also got their hair and makeup done. They looked fantastic and I heard nothing but great things from everyone (and they are picky).

I should make clear that on our wedding day we had a heavy snowfall in the morning and monsoon rain the afternoon .... the hair and makeup of everyone held up great!!

Working with Lilies and Lace was so good - they are doing my sisters wedding later this year!

Sent on 07/05/2017

Lilies and Lace Beauty Co.'s reply:

Thanks so much Ashley! We truly love what we do and feel privileged to help brides like yourself feel absolutely like a princess on their day. Looking forward to seeing you again later this year at your sisters wedding!

Sheena Wheadon · Married on 28/01/2017

Jordanna and her team were so wonderful on my wedding day. They arrived early, got set up, and were so efficient! They made sure we were happy with our hair and makeup and made us feel so beautiful and confident. My makeup felt light and looked amazing.
They were super organized to schedule with as well.

Thank you to Lilies & Lace!!



Sent on 05/03/2017

Lilies and Lace Beauty Co.'s reply:

Thanks so much Sheena! We enjoyed our time with you, your family and friends and are so happy to have helped you on your big day!

Michelle Macneil · Married on 25/01/2017

Jordanna did my hair as well as my bridesmaids hair for my wedding day. She did a phenomenal job. She was extremely professional and showed up on time and ready to go. She did exactly what we asked for and was even flexible on the day of and let us add an extra girl. I would highly recommend Lillies and Lace Beauty Co. to anyone looking to have their hair done for any event.

Sent on 25/01/2017

Lilies and Lace Beauty Co.'s reply:

Thank you Michelle! I had a great time with you an your friends and family. Congratulations again and enjoy married life!

Maree Ngaia · Married on 22/12/2016

Jordanna was amazing!!
We had traveled all the way from New Zealand to Canada to elope. With no time for a trial and just a photo to work from she absolutely nailed it!! My hair was perfect! Hard to keep it that way in the falling snow but it held up pretty good!
With trying to organize everything over email only Jordanna was wonderful to deal with.
And she was absolutely lovely on the day. I even thought about convincing her to move to New Zealand just to be my hairdresser haha.
I would definitely recommend her!!!
(photo cred www.melissaraephotography.ca )

Sent on 01/02/2017

Lilies and Lace Beauty Co.'s reply:

Thank you so much for your kind words Maree! I really enjoyed my time with you and hope your wedding was as magical as you had wanted.

Karuna Duggar · Married on 09/10/2016

I recently had my make up and hair done by Lori and Candice from Lilies and Lace. I had an engagement shoot and was looking for something different. I've never had my hair or make up done professionally. It was quite the experience! Not only did they make me feel comfortable, they worked efficiently and well together. Candice did a beautiful job on my waterfall braid, and Lori did a great job applying the make up but keeping it subtle. She even applied false eyelashes and walked me through the process of getting used to them! I couldn't have co-ordinated meeting these talented ladies if it wasn't for Jordanna. She was prompt in her replies and didn't pressure me to go with one service over another. I would recommend them to anyone, whether it's a special event or their wedding day! Thank you again ladies.

Sent on 18/02/2016

Lilies and Lace Beauty Co.'s reply:

Thanks Karuna, We were happy to do what we love for you and glad you had a great experience with our team!

[Anonymous]

Jordanna and her team are excellent. Very organized and professional. She met with me early on to help me figure out what I wanted and was flexible with some of her pricing based on what I wanted, that was a big help. She was easy to work with and on the day it was just fun to sit with my girlfriends and have someone make us all look so beautiful. Thank you Jordanna!

Sent on 10/02/2017

Lilies and Lace Beauty Co.'s reply:

Thanks so much, we appreciate your kind words! Glad we were able to help make your day fun and stress free.

Pamela Shwetz · Married on 17/09/2016

The girls did a wonderful job! I live in Australia so trying to plan my wedding overseas in Canada was difficult. The girls at Lilies and Lace were very quick to respond to emails which made at least one aspect of the wedding planning much easier! I didn't have time to have a trial, I was only able to show them pictures of what I wanted done with my hair and makeup, but the girls nailed it! Couldn't have been happier with the result! The morning of the wedding was stress free because the girls were on time, and finished doing the hair of my bridal party in good time with it still looking great.

Sent on 10/03/2017

Lilies and Lace Beauty Co.'s reply:

Thank you Pamela for taking the time to review us! We really enjoyed meeting you and spending the morning getting everyone ready. Hope your wedding day was amazing!

Lindsay Cashio · Married on 07/09/2016

Thank you to Jordanna of Lilies & Lace! Since I was planning our wedding remotely (we live in Florida and planned a destination wedding at Moraine Lake near Banff), our photographer recommended them, and I'm so glad she did! Jordanna arrived right on time, and with minimal direction (just a few simple photo examples) she and her team did my hair & make-up, along with my mother's. Worried about the weather outside, she set me at ease and even played some music on her phone to lighten the mood (I was having trouble with the wifi). My hair and make-up looked perfect and stay put all night! Thank you so much, Lilies & Lace, I'm so glad you were there for us on our big day!

Sent on 14/12/2016

Lilies and Lace Beauty Co.'s reply:

Thank you for taking the time to write a review for us! We enjoyed our time getting to know you and your family and we're happy to help. Congratulations again!

Krista · Married on 27/08/2016

Jordanna of Lilies & Lace was so wonderful to work with! From the trial to the day she did an amazing job helping me decide what to do with my hair. She was very professional and was very prompt with her responses. She arrived at our hotel room right on time and did an amazing job on everyone's hair. It lasted all day, even with the wind! Would highly recommend!

Sent on 10/01/2017

Lilies and Lace Beauty Co.'s reply:

Thanks so much Krista!