Reviews for Lilies and Lace Beauty Co.
Awards

63 User photos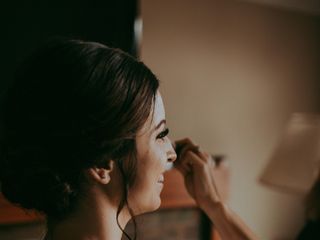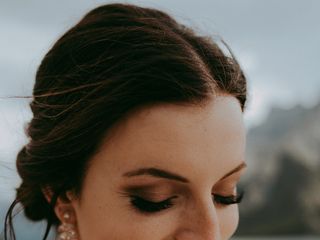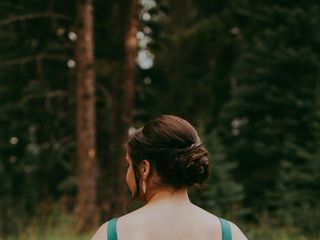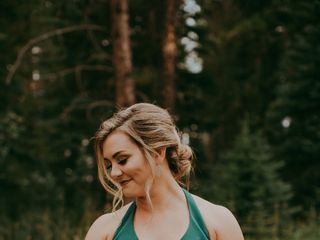 Naomi Davis-Crane · Married on 20/09/2018

Perfectly Professional

Lilies & Lace helped make our wedding day in Banff the perfect occasion we had hoped for. Coming from the UK, all the preparation for the wedding had to be done across time zones but Lilies & Lace always responded to our questions quickly, engaged in discussions about hair/make up options, and on the day produced stunning results.

Sent on 19/12/2018

Lilies and Lace Beauty Co.'s reply:

Thanks Naomi, happy to have helped and been a part of your big day. Congratulations and we hope your Canadian wedding was everything you'd hoped for.

Kimberly Regush · Married on 21/08/2018

Great experience!

Lilies and Lace were amazing to work with! Great communication leading up to the wedding day. It was so nice to find a company that will come to you on your wedding day. It was completely stress free! The ladies were professional and everything ran smoothly and on time! Natalia and Lori were amazing, and we all looked fantastic!!

Sent on 01/12/2018

Lilies and Lace Beauty Co.'s reply:

Thank so much Kimberly, glad to have been able o help on your big day & we wish you all the best in married life.

Samantha · Married on 18/08/2018

Absolutely Amazing!

The Lilies and Lace Beauty Co. team was amazing!!! Jordanna and the office team were fantastic at quickly answering any questions I had through the planning process. There studio for hair and make up trails is so easy to get to and beautiful!
Christina and Lori were the hair and make up team for our bridal party. Both ladies did a wonderful job! They both arrived early and did a fantastic job making all of us ladies look beautiful, Christine had a few extra minutes and curled my mom's hair as well. Our hair and makeup lasted all day with no problems and we received so many compliments! I would highly recommend the Lilies and Lace team for your special day!

Sent on 02/01/2019

Lilies and Lace Beauty Co.'s reply:

Thanks Samantha! Christine & Lori enjoyed their time with you all and we wish you all the best in married life!

Ashley Dack · Married on 17/08/2018

Amazing and stress free.

Let me say from the start that If you are looking for an extraordinary team that does amazing work with hair and makeup, you really can't go wrong with lilies and lace.

I had contacted lilies and lace several months in advance to do my hair, my bridesmaids hair, and my two mothers' makeup for my upcoming wedding. Since I'm not from the Canmore area I had contacted a few people/businesses, but Jordanna, Owner & Lead Stylist, was so responsive and informative that it was an easy decision. I really didn't have much of a clue about the whole process, timelines and travelling, but Jordanna was patient in answering my questions, and set my mind at ease that I had made the right decision. I was booked in with stylist Natalia for my bridal hair - amazing so many comments on how awesome my hair looked! Yuki the other hairstylist took care of some bridesmaids and gave them exactly what they wanted. Nicole the MUA for my mother and mother in law really showcased their natural beauty. Their makeup was put to the test with lots of happy tears, warm weather and dancing, midnight came and a flawless look still graced their faces.

These three ladies sure made myself and my bridal party shine, we felt relaxed (as much as possible on one's wedding day), and pampered.

Since I spent most of my time with Natalia I just want to say that she is very detailed, thorough, and a true professional. There were multiple distractions during the morning of getting ready, but Natalia stayed on track. and unflustered. I looked amazing, I felt amazing, I look back often on the day and can truly say that there is not one thing that I would change! I wholeheartedly recommend her.

Sent on 26/12/2018

Lilies and Lace Beauty Co.'s reply:

Thank you Ashley! We we're happy to be a part of your day and help keep things running smoothly for you. Thanks again for having us and we wish you all the best!

Vivian · Married on 10/08/2018

Beautiful Make-Up and Hair for Wedding Photoshoot

I was looking for a hair and make-up studio near Banff as we were traveling there for a wedding photoshoot. Though I'm not local to the area, Lilies and Lace (Jordanna and Melissa) were quick to respond and provided ease and comfort throughout the process. As I wasn't staying in the Canmore/Banff area, I was able to meet the team at their Canmore studio where Nicole and Natalia worked their magic! They did a fantastic job at listening to the style I was envisioning and then bringing it to life! Once the hair and make-up was complete, I was able to change into my wedding dress to take off for some great photos in the beautiful mountains! Thank you to the Lilies and Lace team for making me look beautiful and for helping me with some of the logistics! Highly recommended!

Sent on 05/09/2018

Lilies and Lace Beauty Co.'s reply:

Thank you Vivian! We were happy to be a part of your photoshoot and help as we could to make the process as easy as possible for you. Natalia & Nicole really enjoyed their time with you and we hope you had a great time in the mountains!

Nicole Pfeiffer · Married on 09/08/2018

My big day

Natalia was amazing! The customer service was right on! Best of all she knew what she was doing!!! Everyone's hair turned out beautiful!!! If I'm in the area I will be using her for anything I need. I would totally recommend her for you big day!

Sent on 03/09/2018

Lilies and Lace Beauty Co.'s reply:

Nicole, thanks so much for taking the time to write this beautiful review. Natalia truly is amazing and we're lucky to have her on our team. All the best in married life and we hope to hear from you again!

Courtney Sieben · Married on 22/07/2018

The perfect team!

Jordanna and Lori were the perfect hair and makeup team for my four bridesmaids, my mom and I. With different hair colours, lengths, and hair types, they were able to customize the styles for each girl, yet keep with the overall vision that I had in mind. I was very happy with Lilies and Lace and would definitely recommend their services to others!

Sent on 21/10/2018

Lilies and Lace Beauty Co.'s reply:

Thank you Courtney, we had fun with your and your girls on the morning. And I loved being able to play with so many different hair textures to help with your vision. All the best and thanks again!

Kelly · Married on 03/07/2018

Just Beautiful!

I cannot say enough amazing things about Jordanna and Natalia. I communicated back and forth with Jordanna to plan for the wedding - quite a bit since I live in New York City and was going to Canmore as a destination wedding! I have had my hair done for a lot of weddings and as the bride this time, of course I got some extra attention, but even the bridesmaids' hair styles were just incredible!! We were all so happy with how they turned out. My mom has very fine, baby-like type hair that is very short. Natalia was able to make it look stunning - my mom was so shocked!
I highly recommend Lilies and Lace for anyone getting married or needing a nice hairstyle for a different event. They were incredibly easy to work with and always responded very timely.

Sent on 19/07/2018

Lilies and Lace Beauty Co.'s reply:

Thank you Kelly! It was a pleasure being a part of your special day and getting to make everyone feel their best. Congratulations again and wishing you all the best in the future!

Stephanie · Married on 30/06/2018

Amazing people and service :)

I would absolutely recommend Lilies and Lace to anyone! Jordanna and the whole team were very responsive and accommodating, it was so easy so set everything up! Natalia did an AMAZING job on my bridal and bridesmaids hair, it totally exceeded my expectations and Natalia was amazing to work with :) Thank you so much!!!

Sent on 13/12/2018

Lilies and Lace Beauty Co.'s reply:

Thanks you Stephanie! We're lucky to have Natalia on our team and happy to help. Thanks for trusting us in your big day and all the best in married life!

Nicole Krysta Elizabeth Sieusahai · Married on 28/06/2018

Professional, Friendly, and Skilled!

Lilies and Lace were incredible! They did my bridal hair and makeup, as well as my sister-in-law's hair. As a business, they were very responsive to my emails and requests and great with communication. As for skill, their work was wonderful! Lori and Yuki were very friendly, professional, and talented, and they helped keep me calm when my wedding nerves kicked in. I highly recommend them!

Sent on 23/10/2019

Lilies and Lace Beauty Co.'s reply:

Thank you Nicole! Glad to have helped on your big day! You look so happy and beautiful in your photos, makes us smile to see. Hope your enjoying married life!