Reviews for Knot Your Average Styles Makeup + Hair
Awards
7 User photos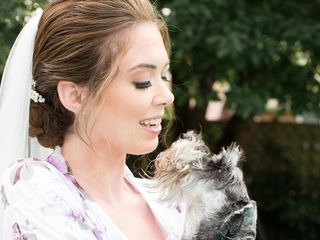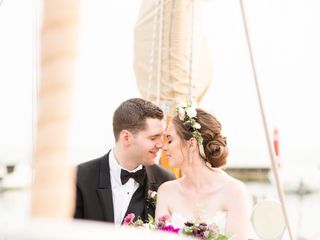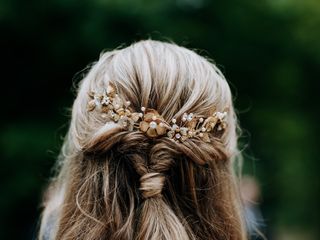 Veronica · Married on 24/05/2019

Absolutely Amazing!

Cortney was absolutely amazing from the moment I messaged her for information! She was so kind and quick to respond. During my trial she gave me so many tips for my wedding day and was so personable. She did my hair, four bridesmaid, mother-in-law and flower girl. All the girls absolutely loved having her there the morning of the wedding, they said she was so kind and helpful! I would absolutely 100% recommend Cortney, everyone was so happy with their final look!

Sent on 29/05/2019

Caitlin M. · Married on 14/10/2018

My wedding hairstyle was a work of art

I'm so glad I found Cortney for my wedding hair! She got up at 3:30 in the morning to get me ready for my wedding day, and my hair was exactly what I wanted! Beyond that, she was such a fun, calming presence while getting ready, and you can totally tell that she loves what she does. She helped our photographer set up the "getting ready" shots, she helped my sister get into her dress, improvised a solution when a piece of jewelry broke, and was overall just an absolute gem.

You can tell that Cortney is a perfectionist about her work, and her attention to detail is impeccable!

Sent on 23/10/2018

Knot Your Average Styles Makeup + Hair's reply:

Thank you for this beautiful review Caitlin! So glad we could be of such a big help for your big day!

Kait · Married on 24/08/2018

Thoroughly Impressed!

Cortney is an absolute sweetheart! I hired her for my wedding and she did a fabulous job on myself, MOH, groom, and mother! She is flexible, caring, personable, and very talented! She went above and beyond to ensure I was comfortable and satisfied with my hair, and I received so many compliments!

I would 100% recommend her services! Thank you so much Cortney ❤️

Sent on 26/08/2018

Knot Your Average Styles Makeup + Hair's reply:

Kait, Thank you so much for taking the time to write this beautiful review for others to read! You were so calm on the morning of! I will forever think of you when I watch Modern Family!LOL

Kim B. · Married on 18/08/2018

Excellent Choice

I found Cortney here on wedding wire! What an amazing find! I booked her almost a year before the wedding.

Her sweet and caring personality was just the tip of the iceberg when it came to how supportive and amazing she was to have there with me on the morning of the wedding.

I actually had two trials with her to get my look right. I was so grateful for her patience with me and my indecisiveness with how I wanted my hair to look. I got SO many compliments on my hair throughout the entire wedding day and the photos we have gotten back so far continue to show how exquisite my hair was.

She brings with her so much experience in wedding hair as well as general hair care knowledge. She was super helpful with my mom and bridesmaids in choosing styles that would suit them and hold for the entire day (hot summer august weather). She also gave me so many tips for things that weren't hair related, like how to hold my veil and giving my groom my lipstick which goes to show you how much she genuinely cares about her clients.

I would absolutely recommend her over and over, was definitely an excellent choice!

Sent on 06/09/2018

Knot Your Average Styles Makeup + Hair's reply:

Kim, I don't even know where to begin to thank you for this beautiful review! We love what We do and are genuinely grateful to be included in someones wedding day! You were amazingly calm and Collected on your wedding day! Can't wait to see your photos!!

Michele M. · Married on 11/08/2018

Extremely Impressed!

I randomly found Cortney via google searching. I scoped out her instagram and liked her work, then read her great reviews so I shot her an email. Booking her was super easy and the best decision! She is so easy to work with, and gets back to your emails. She sends out instructions for how the girls should have their hair prepped. The day of the wedding, she arrived early to setup. She stayed on-time with getting all the girls done before the photographer arrived (4 bridesmaids, the mom, and me!). She even stuck around a little longer to help get my veil on! She is super sweet and listens to exactly what you want for your hair. Everyone was happy with how their hair turned out... including me!!! My hair lasted all day... which is what you want during a hot summer day. I would highly recommend her to anyone! Thanks again Cortney

Sent on 23/08/2018

Knot Your Average Styles Makeup + Hair's reply:

Thank you so much for this kind and detailed review Michele! You and your ladies were lots of fun that morning! It was a pleasure to be on Team Michele! Thanks for having us to be part of your day!

Courtney G. · Married on 30/06/2018

Amazing experience!

Cortney is amazing! She is so talented and managed to take my head of tangles and turn it into a beautiful style that lasted all night (even in the extreme heat). She listened to everyone's personal visions for their hair and did an amazing job. Everyone looked so beautiful! She was also so friendly and fun! Planning was incredibly easy and she was very flexible with start time & adding in additional services last minute. I highly recommend Cortney to anyone looking for a beautiful hairdo and an overall amazing experience.

Sent on 05/07/2018

Knot Your Average Styles Makeup + Hair's reply:

Thank you Courtney for this amazing review! It's always nice to hear we help brides in all of those professional little ways that make the day easier! Our experience both professionally and personally always help! Thanks so much Court! Your photos were stunning!

Pauline U. · Married on 23/06/2018

Courtney is wonderful

Courtney was great! Leading up to the day she was flexible, knowledgeable, kind, and great to be around. The day of of the wedding, Courtney was attentive and listened to my bridal party, gave recommendations and I believe the end results were beautiful!

Sent on 30/09/2018

Knot Your Average Styles Makeup + Hair's reply:

Pauline!!! Look at these gorgeous photos!!!! I love them! Thank you so much for the beautiful words and your kind & honest review! So nice for other brides to read! We wish you so much love & happiness!

Lydia M. · Married on 10/06/2018

Knot Your Average Styles Made Me Look Flawless on my Wedding Day!

Relax and get your hair done for your wedding...that's what I did with Knot Your Average Styles and I'm so happy I made that decision! It was quite last minute when I decided to look for a hairstylist for my wedding day and after many rejections, Cortney and her team came to the rescue! She answered all my questions promptly and provided all the information I needed and more. I was a little worried about not booking a bridal hair trial prior to the wedding, but Cortney assured me that her senior stylist would make me look amazing for my wedding day, and she did! I was so pleased with my wedding day hair, it completed my modern day princess look. Her stylist was on time and took the time to really understand what I wanted and the look I was trying to achieve. Many thanks to Cortney and her team for being a part of my special day. Would highly recommend :)

Sent on 23/06/2018

Knot Your Average Styles Makeup + Hair's reply:

Thank you for your gorgeous Review Lydia! Susan had a lot of fun with you that morning! She is a truly talented artist! Thank you for having us as part of team Lydia!

Heather F. · Married on 26/05/2018

I've Never Felt So Pretty!

Cortney and her associates Sarah and Susana were an absolute pleasure to work with - I had the most wonderful experience having them do hair and makeup for myself and my wedding party - everyone looked stunning! Sarah and Susana were both extremely accommodating and helpful when it came to planning my look. For someone who feels completely out of her depth when it comes to makeup, I really appreciated the creative suggestions and advice. They both made the whole experience so much fun! My wedding party all looked gorgeous on the big day and throughout the entire process, Cortney was in constant communication, checking in and making sure everything went smoothly. Thank you so much to all of you! :D

Sent on 06/06/2018

Knot Your Average Styles Makeup + Hair's reply:

Hi Heather! Thank you so, so much for your kind words and thoughtfulness to write such a beautiful review. It's so important for other brides to read. susana and Sarah had lots of fun with you as well!

Prudence · Married on 12/05/2018

Work with Cortney! She makes you look good & feel good!

It was such a pleasure to work with Cortney. She is positive, full of ideas, and just makes you feel/look really good on your wedding day. I showed her a few pictures of styles and she was able to incorporate it into my look. I was in downtown Toronto, she showed up early and had me ready within an hour. We discussed ideas of how to preserve my flower crown and she even had a mini gift bag ready for my big day! Would recommend her to anyone and I hope I'll be able to work with her again if I have any formal events coming up!

Sent on 21/03/2018

Knot Your Average Styles Makeup + Hair's reply:

Prudence,

Thank you so much for the very, very kind words and choosing us for your big day! Your dress and flower crown were the perfect combination for your wedding setting! You made one gorgeous bride!