Reviews for Bridal Hair Boss
3 User photos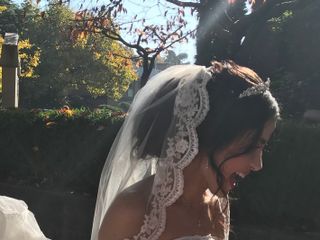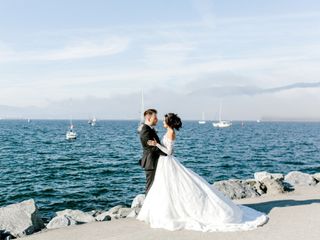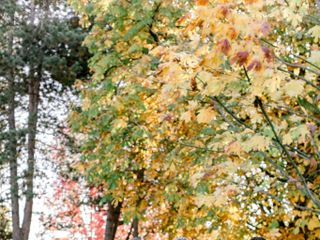 Erica · Married on 10 of May of 2019

Angelina is lovely & she does amazing hair!

Angelina was amazing; she managed to fit me in with only a couple weeks to spare, and went out of her way to fit me in for a trial. Her response time is almost instant - I never had to wait for more than a few hours to hear from her. She asked for a couple of examples of hair and make up we wanted and she replicated the look perfectly. Angelina contacted me the day before the wedding to confirm location & the time she would be arriving, and have a few tips on how to prep skin care and hair care the evening before and in the morning on the day of the wedding. We got married out near Hope so it did involve some travel costs; Angelina was in the mid-range for quotes for travel, and the hair & make up outlay were also inline with a lot of the other quotes we received. I can only say how glad we were we went with Angelina; I'm not a big make up person & relied a lot on her knowledge. She was patient, listen & adapted to feedback. She got on well with those in the wedding party and coped amazingly well with the chaos that comes with the hours just before the wedding. The hair styling is her specialty (and she is pretty fabulous with it!) and I was super pleased with the make up (she has a make up artist who works with her but she was not available on the day.) Thank you, Angelina, you took everything in your stride and I loved the whole look!

Sent on 28/06/2019

Bridal Hair Boss's reply:

Hi Erica,

Thank-you so much for the beautiful review, and taking the time to write that! I am so pleased with your experience and wish you all the best in the future.

Angelina

Karen Patterson/ Oyoque · Married on 20 of October of 2018

Bridal Hair and Bridesmaids

The services were great! She is sweet, super creative and very professional. She was on time for the trial and the Day off she also provides other hair services. Everyone loved my hair and it held up all thru out the night. Will use her again for other events! #HAIRBOSS

Sent on 30/10/2018

Bridal Hair Boss's reply:

Thankyou so much for your thoughtful review Karen! I look forward to doing your hair again. Congrats!