Reviews for Popis Flowers & Boutique
Awards
7 User photos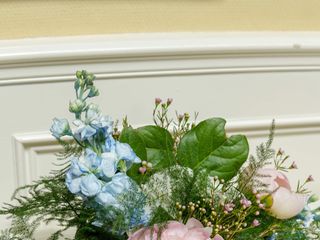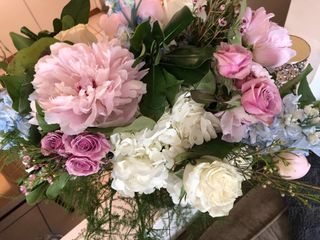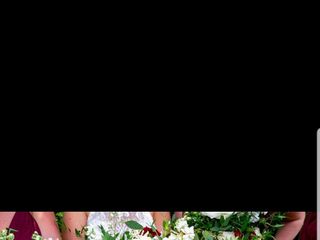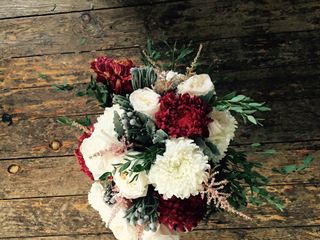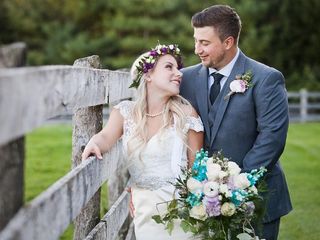 Kristina

Bridal Shower Bliss

Andrea was fantastic throughout the entire planning process. She personally delivered the center pieces/bouquets and ensured they were placed perfectly. Appreciative of the time she took to honestly go over pricing and seasonal flowers to help keep my budget and vision a reality.

Sent on 08/05/2019

Shawna Schillinger · Married on 03/08/2019

Amazing!!!

We married on Saturday August 3rd. Everything was absolutely beautiful. The entire team was so professional, knowledgeable and friendly. We would recommend Popis to anyone. We really we're so lucky to have found such a great team of people. Thank you for all your hard work.
Mark and Shawna

Sent on 06/08/2019

Ashlynn · Married on 27/07/2019

Our flowers

We got our bouquets and boutonnieres for our wedding from Popi's and they were absolutely stunning! They were everything i had imagined and more!

Sent on 06/08/2019

Kaaleen · Married on 08/06/2019

Prompt and pretty

Popis flowers were fantastic! They arrived on time ready to go. Explained who gets what very easily. I would both hire them again and recommend them!

Sent on 09/06/2019

Kate-Lynn Bylsma · Married on 13/10/2018

Amazing!! More than you could expect

I got married in Port Carling on October 13th 2018 this year and I had hired Andrea from Popis Flowers back in 2017. She was extremely knowledgeable, and flexible. She helped me work inside my budget by suggesting flower options that were very similar just cheaper in price.
I worked with her through email she was always very responsive.
Meeting her for the first time on my wedding day she was on time, and set everything up where we had discussed, and I was blown away with the floral arrangements I had received, they were beyond my expectations and so Gorgeous! She certainly pays very close attention to detail, and helped make my vision a reality for a great price!
I can not recommend her enough! Amazing work talent and service. So again THANK YOU ANDREA

Sent on 14/11/2018

Liron Deline · Married on 28/07/2018

You don't always get what you pay for...

Andrea, from Popis Flowers & Boutique, was very easy to work with from the start and was extremely accommodating to all my many requests. She was very responsive to all my e-mails and seemed rather knowledgeable about her craft. She also came at a great price. I would have given her 5 stars, if it were not for my bridal bouquet. Mind you, my bridesmaids bouquets all looked great! It was with mine that the disappointment came. All of the orchids were closed/buds. Not one of them was bloomed. Even the blue roses were not fully open although they did look beautiful with the gems inside. The stems were also too long on my bouquet - they were not cut short and were all uneven, I could hardly hold it properly in front of me. It was supposed to be a cascading bouquet, but it did not really cascade at all. All in all, it was a very pretty floral arrangement that looked natural, earthy and green... but that is not what I wanted or what I was expecting. It was supposed to be full of white orchids, white snap dragons and royal blue roses - not green vines, leaves and some blue. It did look nice when set on the head table with all the other bouquets... but as a stand alone piece it was certainly lack luster. Furthermore, the snapdragon stems on my bouquet and my husband's boutonniere were also all closed/buds. I would have thought that a professional florist would have had a plan B, C and D for a situation like what occurred. Andrea had enough time to contact me beforehand and let me know that the buds are simply not blooming - not to deliver it like that on the day of and say nothing. I would have been more than happy to discuss things and change to a different flower of the same colour if I had been given the option to do so ahead of time. In the end, Andrea was genuinely apologetic for the mess up and offered a 50% refund - which was appreciated.... but such a blunder should have never happened in the first place.

Sent on 18/08/2018

Viktoriya Zabigaylo · Married on 23/06/2018

Beautiful Bouquets!

Popis flowers was the best decision I made for my bridal party bouquets, hands down! They were everything I had asked for - big, luscious and beautiful. I had also asked for a few flowers on the side to add to our hairstyles, which turned out great. Andrea was wonderful to work with, very accommodating, friendly and flexible. Thank you to Popis flowers for making my wedding day that much more beautiful and special!

Sent on 13/08/2018

Ashley B · Married on 15/10/2016

Popis Flowers did an amazing job! I had gone to another florist and they didn't seem to understand my vision and were very overwhelming! Popis Flowers was easy to work with and fully understood exactly what I wanted (non fall flowers...in the fall!). Their prices were amazing & the flowers themselves were beautiful! We received so many compliments on the bouquets, centerpieces,corsages & boutineers. I literally cried the day of our wedding when I saw how beautiful the flowers were! Popis was super easy to deal with (thank god because I changed my mind about 20 times) and I would highly recommend them to anyone!!

Sent on 02/11/2016

Popis Flowers & Boutique's reply:

Hi Ashley,

We had a blast designing your wedding floral and are so happy you loved the floral. We hope to work with you in the future.

Popis Flowers

[Anonymous]

I sent a few pictures of what I wanted and the flowers delivered were exactly as pictured! Couldn't have been happier.





ooooooooooooooooooooooooooooooooooooooooooooooooooooooooooo


Sent on 24/10/2016

Siera · Married on 24/09/2016

Popis flowers did the flowers for my wedding and they were beautiful. I had requested additional flowers very close to the wedding date and Popis flowers made everything happen. Sia is very easy to work, very friendly and welcoming. I had requested a large amount of flowers for my wedding in a very difficult location and everything turned out perfect. We had a minor panic day of the wedding with my flower halo and it was dealt with like a pro by Popis Flowers.

Sent on 26/10/2016

Popis Flowers & Boutique's reply:

Hi Siera,

Thank you for the great review, we enjoyed working with you and hope we can work together in the future.