Reviews for One Love One Dream
Awards
8 User photos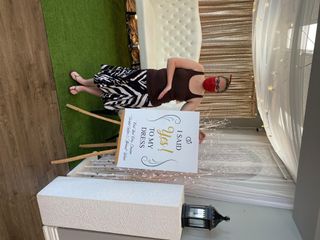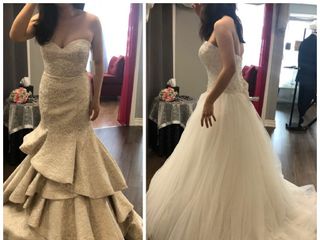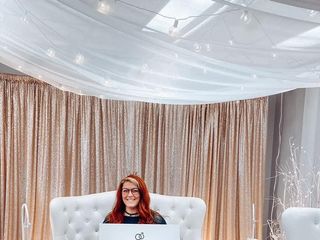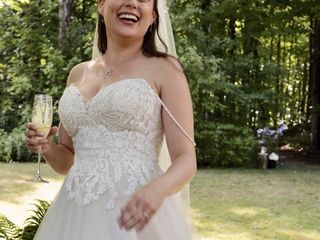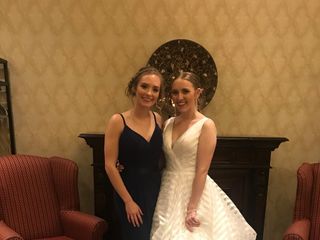 Jenna M. · Married on 14/09/2019

Great experience!

Janet and the team at One Love provided me with an amazing, personal experience. They were prompt and knowledgeable to answer all my enquiries. The staff is extremely friendly and helpful. I bought my dress off the rack and Janet had my dress cleaned before my second visit and fixed a few loose threads for me on site before leaving with my new dress (which I love!). Overall a great experience and I would highly recommend this shop!

Sent on 24/10/2018

One Love One Dream's reply:

Thank you, Jenna. We pride ourselves in offering top-notch customer service. You looked stunning in your wedding gown and I know you will 'WOW' the assembled guests on your wedding day. Keep us in mind for other wedding day fashions your party may require.

Chelsea · Married on 01/09/2019

Amazing Customer Service

Janet is amazing! Even though I was a walk-in she made time for me and was so attentive and knowledgeable I ended up purchasing my dress that day! The whole team made me feel welcome and special providing options that suit my style and budget and I would recommend them to anyone.

Sent on 18/12/2018

One Love One Dream's reply:

Thank you, Chelsea. We want to make every bride's experience the very best it can be, whether you are a drop in or have a full appointment. Can't wait to see you again and thank you for your kind words.

Amanda E. · Married on 17/08/2019

Wedding Dress

Very happy with my choice! Very accommodating and great service. Walked in without an appointment and they were very helpful and saw us right away. Plenty of time provided, I never felt rushed. Very knowledgable. I ended up finding the dress I love!

Sent on 06/09/2018

One Love One Dream's reply:

Thank you, Amanda. We accommodate and welcome anyone to our store with an appointment or not. Look forward to seeing you when your perfect dress arrives.

Breigh · Married on 26/07/2019

Busy but smooth

This vendor is very busy but you can tell all staff is working their butt off to give you the best service possible. I had 5 bridesmaids, all with different style dresses but within the same designer. There was definitely room for error with mixups between the girls calling in their measurements, me paying for a portion of the dresses and then of course the different styles. My worst nightmare was then getting mixed up - but it went very well! I made sure all confirmations go through me and the staff was kind and always willing to help. Great experience!

Sent on 13/08/2019

Sia T. · Married on 22/06/2019

Amazing! I said yes to the dress!

Wow wow wow! Julie was very helpful and caring!
My dream dress

Sent on 14/05/2019

One Love One Dream's reply:

Hello Sia,

Thank you so much for your kind words! So happy you found your dream dress! Have a fantastic wedding day!

Kelsea M. · Married on 19/05/2019

Amazing amazing amazing!

I emailed with Janet a lot, and ended up buying bought a beautiful essence of Australia dress for a phenomenal price, made to feel like a princess, such a special experience, so accommodating, even took out the dress for me to make sure i could try it on properly ensuring it was "the one" before purchase! my mother in law is buying her dress there today and im going back for my bridesmaids! I CANNOT SAY ENOUGH WONDERFUL THINGS ABOUT THIS STORE ITS STAFF AND OWNER. Thank you to Janet, Rayvnne, and Natasha for helping me find my dream gown and being so so wonderful!

Sent on 09/07/2018

One Love One Dream's reply:

Your gown is so beautiful, Kelsea. So happy that you said "YES" and can't wait to see you again with your bride tribe.

Sarah · Married on 17/05/2019

Great Experience

I have visited One Love One Dream Bridal 3 times now and I have had a wonderful experience each time. The staff members are so friendly and helpful! I would recommend Alison - she was so helpful and really listened to me and made me feel comfortable.

Sent on 10/07/2018

One Love One Dream's reply:

Thank you so much, Sarah, for your review!

It has been wonderful working with you. So happy you found a dress that is perfect for your day!

Angela D. · Married on 13/04/2019

Nice people, but they were unable to measure well or order the right size dresses

I did like the store, the dress, and the people. They were very nice. This is my first ever negative online review. The store does not alter, so the one thing they do is help you find the right dress and order it in the right size. They were unable to do a good job of measuring my party well and, of the five of us, ordered one wrong size all together, two right because we measured ourselves and asked for a size up to be ordered, and two very tight...but able to be let out in time for the wedding day. The dress size challenges made it very difficult to be ready on time for my big day, but we made it. It was not an enjoyable experience and it added stress leading up to the wedding for all of us.

I'm sorry to have to write this...my advice check your measurements and make sure you see the size chart for your dress and that the right size is ordered.

Sent on 22/04/2019

One Love One Dream's reply:

I appreciate having the opportunity to address your facts for inaccuracies. All bridesmaids were measured on Dec.13 by myself and I have 40 years tailoring experience. No measurements were submitted to us, where your girls measured themselves "correctly". We have contracts signed by all our clients who agree to colour, size and we looked over the size chart with each bridesmaid. Your daughter's dress fit perfectly, ML wanted a very snug fit, her dress came in too tight and I altered it to a perfect fit (in 13 days for no additional cost). LH phoned us on Dec.14, one day after I measured her, requesting me to order her 1 size down from what she signed the contract for. I clearly outlined to her the risk of the dress being too tight (and indeed it was). This was her specific request, this is a fact that you may not be aware of. TK said that she was intending on losing weight after Christmas, unfortunately the dress was too tight in February and I re-ordered her a larger dress (at no additional cost). There was added stress and challenges to get the dresses ready on time because you moved your wedding date up by one month, due to unfortunate circumstances. Our store will continue to provide the best service possible and will continue advising our clients to check the manufacturer's size charts at time of ordering.

Lindsay · Married on 01/12/2018

Fantastic experience!

I was very apprehensive about shopping for a dress, and was worried I wouldn't find anything to try on in my size. Lindsay from One Love helped me find several dresses to try and I walked away with my dream dress!!!

Sent on 07/05/2018

One Love One Dream's reply:

Thank you, Lindsay. It was wonderful working with you, we value your business and look forward to seeing you soon.

Stephanie D. · Married on 17/11/2018

Highly Recommend

One Love One Bridal dressed my bridesmaids, my mom, and myself, and I could not have been happier with the experience! They were the third bridal studio we visited and by far the best in customer service and dress options. From the moment we walked in those doors, the staff worked on creating a relaxing and joyful experience for our shopping. The staff made the entire process run seamlessly. I will definitely be recommending One Love One Bridal to all my engaged friends.

Sent on 24/11/2019

One Love One Dream's reply:

Thank you for your kind words, Stephanie. It's in our nature to provide top-notch customer service. It was a pleasure to meet you and work with your entire bridal team and we would love your recommendations.