Reviews for One Love One Dream
Awards
8 User photos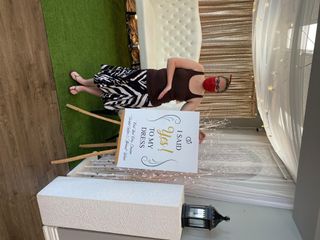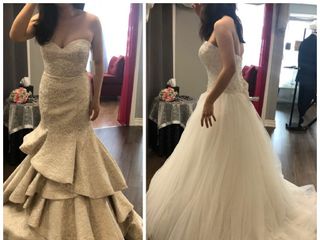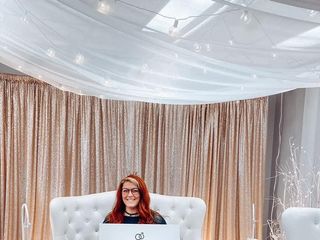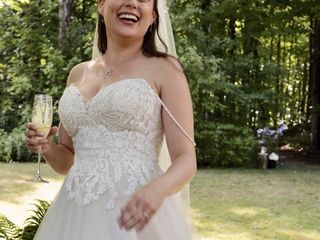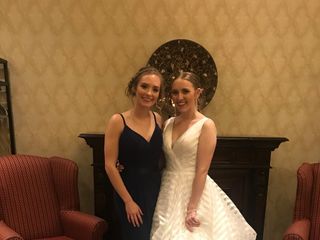 Kaitlin · Married on 05/10/2019

Dream Dress for Fall Wedding

Staff was friendly and fun to work with! I said yes to my dream dress and the price was amazing too! Location is easy to get to and when I emailed to book an appointment I heard back right away. It was an amazing experience and I would highly recommend.

Sent on 17/07/2018

One Love One Dream's reply:

We can't wait to see you again for your bridal party fashions. We also rent suits for the gentlemen.

Rebecca · Married on 04/10/2019

Absolutely amazing

I had such a wonderful time dress shopping here! Janet was honestly the best! She was so helpful and positive! She helped me find the perfect dress, I couldn't be happier! I highly recommend going here!

Sent on 29/12/2018

Ainsley · Married on 28/09/2019

Great experience!

I had a wonderful time at One Love One Dream Bridal! There was a beautiful variety of dresses at great price points! All of the staff were extremely helpful and made the experience so easy!

Sent on 29/04/2019

One Love One Dream's reply:

Thank you, Ainsley for your review. Glad you enjoyed your time here and can't wait to see you again, soon.

Bonnie Moss · Married on 28/09/2019

Great Experience

I bought the dress of my dreams that I kept trying on and comparing every other dress I tried on to. The owner of the store was able to give me a generous price for the dress as she saw that I had tried it on several times. She definitely made my dreams come true!

Sent on 22/04/2020

One Love One Dream's reply:

Thank you for your review, Bonnie. Your dress is absolutely gorgeous!

We hope you are enjoying married life.

Britt stuart · Married on 14/09/2019

Alison is amazing

They were so sweet here , we were a walk in appointment ; my mom bought her dress here way back so she wanted to just check it outs! Alison was super patient and understanding she listened to my needs and let me put on as many dresses as needed ; as many times as needed . I went to just see what style I wanted and ended up falling into love with my dress and bought it . It was a clearance dress on the end of it all and they still treated me like I bought their most expensive dress , they also offered Champaign and complimentary alterations to a few tiny things we noticed on the dress.
10/10 would recommend

Sent on 26/06/2018

One Love One Dream's reply:

WOW! Thank you so much Brittany!

Alison loved working with you and your family.

Can't wait to see you in again to try it on after it is fixed up.

All the best with your wedding planning.

Jenna Mcdonald · Married on 14/09/2019

Great experience!

Janet and the team at One Love provided me with an amazing, personal experience. They were prompt and knowledgeable to answer all my enquiries. The staff is extremely friendly and helpful. I bought my dress off the rack and Janet had my dress cleaned before my second visit and fixed a few loose threads for me on site before leaving with my new dress (which I love!). Overall a great experience and I would highly recommend this shop!

Sent on 24/10/2018

One Love One Dream's reply:

Thank you, Jenna. We pride ourselves in offering top-notch customer service. You looked stunning in your wedding gown and I know you will 'WOW' the assembled guests on your wedding day. Keep us in mind for other wedding day fashions your party may require.

Chelsea · Married on 01/09/2019

Amazing Customer Service

Janet is amazing! Even though I was a walk-in she made time for me and was so attentive and knowledgeable I ended up purchasing my dress that day! The whole team made me feel welcome and special providing options that suit my style and budget and I would recommend them to anyone.

Sent on 18/12/2018

One Love One Dream's reply:

Thank you, Chelsea. We want to make every bride's experience the very best it can be, whether you are a drop in or have a full appointment. Can't wait to see you again and thank you for your kind words.

Amanda Errington · Married on 17/08/2019

Wedding Dress

Very happy with my choice! Very accommodating and great service. Walked in without an appointment and they were very helpful and saw us right away. Plenty of time provided, I never felt rushed. Very knowledgable. I ended up finding the dress I love!

Sent on 06/09/2018

One Love One Dream's reply:

Thank you, Amanda. We accommodate and welcome anyone to our store with an appointment or not. Look forward to seeing you when your perfect dress arrives.

Breigh · Married on 26/07/2019

Busy but smooth

This vendor is very busy but you can tell all staff is working their butt off to give you the best service possible. I had 5 bridesmaids, all with different style dresses but within the same designer. There was definitely room for error with mixups between the girls calling in their measurements, me paying for a portion of the dresses and then of course the different styles. My worst nightmare was then getting mixed up - but it went very well! I made sure all confirmations go through me and the staff was kind and always willing to help. Great experience!

Sent on 13/08/2019

Sia The Bride · Married on 22/06/2019

Amazing! I said yes to the dress!

Wow wow wow! Julie was very helpful and caring!
My dream dress

Sent on 14/05/2019

One Love One Dream's reply:

Hello Sia,

Thank you so much for your kind words! So happy you found your dream dress! Have a fantastic wedding day!