Reviews for One Love One Dream
Awards
8 User photos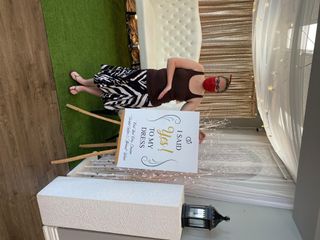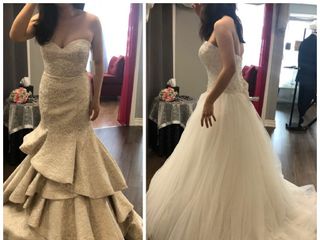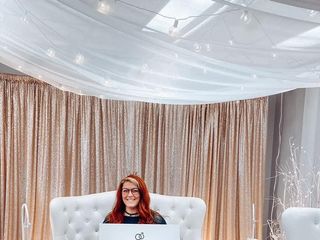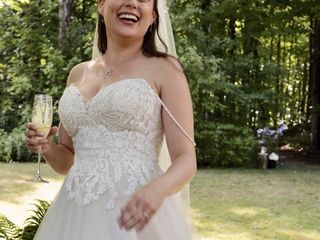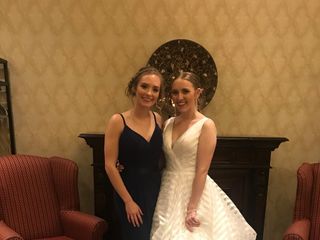 Nicole M. · Married on 25/07/2020

Great experience(s)!

I went to One Love One Dream three times before buying my dress there on Saturday. Each time I went, the staff was patient, stuck within my budget and gave me lots of options. I didn't find them pushy and I never felt pressured to buy, unlike how I felt at some other stores in the Durham area. Make sure to check them out!

Sent on 07/10/2019

One Love One Dream's reply:

Thank you, Nicole, for your recommendation. We believe in no-pressure sales and no customer is ever on the clock for how long they take or how many times they return. We love to see you each and every time you come through the door. See you again, soon.

Stephanie · Married on 18/07/2020

Amazing!!!

I absolutely loved my experience here. This was my 6th bridal boutique, I definitely saved the best for last. I had almost given up and was entirely frustrated with the dress hunting process, until I came here. From my first phone call I had an amazing feeling and I found my dress. They took their time with me, made sure I was comfortable, provided input into dresses I was looking at and even arranged to have additional samples brought into the store for my visit. Their staff also knew their inventory. They had a room and samples ready for me when I got there and they have a huge selection of dresses.
The only bad thing I have to say about my experience is I fell in love with 2 dresses :)

Sent on 23/08/2019

One Love One Dream's reply:

We are so excited that you saved the best til the last. We do pride ourselves with a large selection of wedding dresses and special occasion dresses for the entire wedding party. See you again, soon.

Katrina B. · Married on 22/02/2020

Amazing experience!

Has an amazing experience at one love one dream bridal. Their prices were competitive and they offered a discount for purchasing both my dress and veil through them. Really happy with my experience and would recommend anyone to check them out. They have a great selection and wonderful staff.

Sent on 01/02/2019

One Love One Dream's reply:

Thank you so much Katrina for your kind words.

Can not wait for your wedding gown and veil to arrive!

Laura S. · Married on 07/02/2020

A wonderful bridal shopping experience!

It was such a pleasure shopping for my wedding dress at One Love One Dream Bridal. Janet was amazing and made the experience so much more enjoyable! There was no pressure at all to purchase the dresses I tried on and the atmosphere was so comfortable and laid back compared to some of the other bridal shops I visited. I returned to One Love One Dream the day after my appointment and purchased my dress. They were so accommodating to me and so welcoming. So nice to have this gem so close to home. I will also be purchasing my daughter's flower girl dress here and my mother bought 2 dresses for the wedding here as well. We plan to return to look at bridesmaids dresses too! A great selection. Thank you, Janet for your wonderful service.

Sent on 18/04/2019

One Love One Dream's reply:

Laura, it was such a pleasure working with you and your Mom and we look forward to seeing you in the near future for more bride tribe shopping. The dress of your dreams looks so gorgeous on you, I couldn't picture you in anything else.

Rebecca T. · Married on 19/10/2019

Great experience

This was the first store I went to and had a fantastic experience! They gave myself and my party a private room for trying on dresses which made it more intimate. They had lots of dresses to choose from in multiple budgets. I was lucky and found my dress the first time around. The consultant wasn't pushy and made sure it was exactly what I wanted. Happy with my experience!

Sent on 26/10/2019

One Love One Dream's reply:

Thank you, Rebecca for your comments. We are pleased that you chose us to find your dream wedding dress. Congratulations and wishing you a life filled with love and happiness.

Kaitlin · Married on 05/10/2019

Dream Dress for Fall Wedding

Staff was friendly and fun to work with! I said yes to my dream dress and the price was amazing too! Location is easy to get to and when I emailed to book an appointment I heard back right away. It was an amazing experience and I would highly recommend.

Sent on 17/07/2018

One Love One Dream's reply:

We can't wait to see you again for your bridal party fashions. We also rent suits for the gentlemen.

Rebecca · Married on 04/10/2019

Absolutely amazing

I had such a wonderful time dress shopping here! Janet was honestly the best! She was so helpful and positive! She helped me find the perfect dress, I couldn't be happier! I highly recommend going here!

Sent on 29/12/2018

Ainsley · Married on 28/09/2019

Great experience!

I had a wonderful time at One Love One Dream Bridal! There was a beautiful variety of dresses at great price points! All of the staff were extremely helpful and made the experience so easy!

Sent on 29/04/2019

One Love One Dream's reply:

Thank you, Ainsley for your review. Glad you enjoyed your time here and can't wait to see you again, soon.

Bonnie M. · Married on 28/09/2019

Great Experience

I bought the dress of my dreams that I kept trying on and comparing every other dress I tried on to. The owner of the store was able to give me a generous price for the dress as she saw that I had tried it on several times. She definitely made my dreams come true!

Sent on 22/04/2020

One Love One Dream's reply:

Thank you for your review, Bonnie. Your dress is absolutely gorgeous!

We hope you are enjoying married life.

Britt S. · Married on 14/09/2019

Alison is amazing

They were so sweet here , we were a walk in appointment ; my mom bought her dress here way back so she wanted to just check it outs! Alison was super patient and understanding she listened to my needs and let me put on as many dresses as needed ; as many times as needed . I went to just see what style I wanted and ended up falling into love with my dress and bought it . It was a clearance dress on the end of it all and they still treated me like I bought their most expensive dress , they also offered Champaign and complimentary alterations to a few tiny things we noticed on the dress.
10/10 would recommend

Sent on 26/06/2018

One Love One Dream's reply:

WOW! Thank you so much Brittany!

Alison loved working with you and your family.

Can't wait to see you in again to try it on after it is fixed up.

All the best with your wedding planning.