Reviews for One Love One Dream
Awards
4 User photos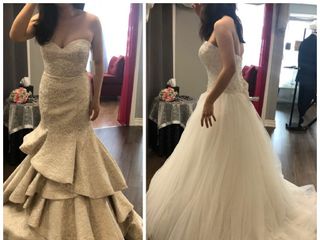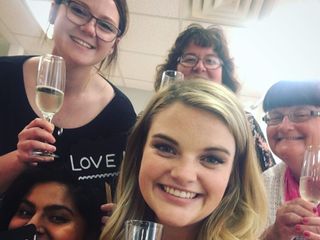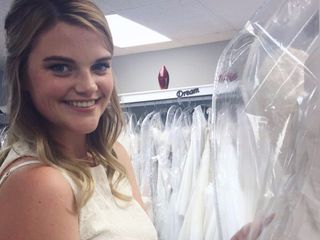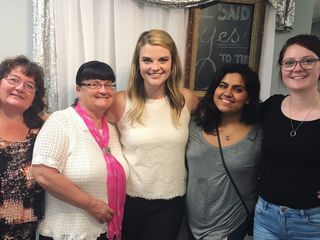 Angela Draskovic · Married on 13 of April of 2019

Nice people, but they were unable to measure well or order the right size dresses

I did like the store, the dress, and the people. They were very nice. This is my first ever negative online review. The store does not alter, so the one thing they do is help you find the right dress and order it in the right size. They were unable to do a good job of measuring my party well and, of the five of us, ordered one wrong size all together, two right because we measured ourselves and asked for a size up to be ordered, and two very tight...but able to be let out in time for the wedding day. The dress size challenges made it very difficult to be ready on time for my big day, but we made it. It was not an enjoyable experience and it added stress leading up to the wedding for all of us.

I'm sorry to have to write this...my advice check your measurements and make sure you see the size chart for your dress and that the right size is ordered.

Sent on 22/04/2019

One Love One Dream's reply:

I appreciate having the opportunity to address your facts for inaccuracies. All bridesmaids were measured on Dec.13 by myself and I have 40 years tailoring experience. No measurements were submitted to us, where your girls measured themselves "correctly". We have contracts signed by all our clients who agree to colour, size and we looked over the size chart with each bridesmaid. Your daughter's dress fit perfectly, ML wanted a very snug fit, her dress came in too tight and I altered it to a perfect fit (in 13 days for no additional cost). LH phoned us on Dec.14, one day after I measured her, requesting me to order her 1 size down from what she signed the contract for. I clearly outlined to her the risk of the dress being too tight (and indeed it was). This was her specific request, this is a fact that you may not be aware of. TK said that she was intending on losing weight after Christmas, unfortunately the dress was too tight in February and I re-ordered her a larger dress (at no additional cost). There was added stress and challenges to get the dresses ready on time because you moved your wedding date up by one month, due to unfortunate circumstances. Our store will continue to provide the best service possible and will continue advising our clients to check the manufacturer's size charts at time of ordering.

Lindsay · Married on 01 of December of 2018

Fantastic experience!

I was very apprehensive about shopping for a dress, and was worried I wouldn't find anything to try on in my size. Lindsay from One Love helped me find several dresses to try and I walked away with my dream dress!!!

Sent on 07/05/2018

One Love One Dream's reply:

Thank you, Lindsay. It was wonderful working with you, we value your business and look forward to seeing you soon.

Rima · Married on 29 of September of 2018

Great experience finding my dress here! Staff very helpful and the owner is customizing my veil! :) recommended for bridal gowns, and accessories! Alterations as well as the owner does alterations herself!

Sent on 08/01/2018

One Love One Dream's reply:

Rima, it was our pleasure meeting you and your family. Your gown is stunning and the customized veil will be a perfect compliment to your bridal vision. Thank you for your recommendations.

Alison Hapon · Married on 28 of September of 2018

Great experience and service!

I purchased my wedding dress with One Love, One Dream this past weekend with my mom, sister, and cousin. It was an awesome experience. Janet was so accommodating. We did not book an appointment, hoping to be squeezed in, but were surprised to have an entire room complete with a couch for the bridal party, a large fitting room, and podium to try on your dress with mirrors surrounding. Janet was very helpful and even suggested adding tulle to the shoulders of my dress to add a little something different and unique to my dress. When I had decided on my dress, we were given champagne and a sign with I said yes to the dress! for pictures. It was a great experience and I cannot wait for my dress to arrive. I will be recommending One Love, One Dream to everyone looking for bridal dresses and prom! Alison

Sent on 17/01/2018

One Love One Dream's reply:

Thank you, Alison. It was wonderful working with you and your family. Can't wait to see you in the dress of your dreams. So happy to be just a little part of your big day.

Alexandria Mckay · Married on 24 of August of 2018

I recently found my dress at One Love One Dream. I went in there a bit embarrassed as my budget wasn't very big, but the consultants were amazing to work with and found me an amazing deal on a beautiful dress. It wasn't anything like I had originally planned for myself, but Janet really knows what she's doing! I would definitely recommend any future bride to come here for her dress

Sent on 31/10/2017

One Love One Dream's reply:

Thank you so much, Alexandria for your kind words! Your dress is absolutely perfect for an August wedding! Looking forward to seeing you again soon!

Elizabeth Avery · Married on 11 of August of 2018

I had an absolutely amazing experience at One Love One Dream Bridal! Since the very beginning when I first inquired about making an appointment I have received top-notch customer service. I messaged the Facebook page two separate times with questions and both times their responses were prompt and thorough. The online booking system on the website made it easy for me to schedule the appointment when it was convenient for me, and I received a confirmation email the following day (which I gathered to be from an actual human instead of an automated response). I wanted trying on wedding dresses to be a fun and special day for me and my group of girls and One Love One Dream definitely exceeded my expectations. We had our own private room with chairs and snacks and a consultant working with us exclusively which made me feel important and that they value my business. The shop is beautiful, clean and organized. Our consultant Amanda was friendly and knowledgeable - she was so helpful through the whole process, answering questions, making suggestions, and having fun with us. They provided champagne when I said "yes" to the dress and let us have our own little celebration, I was never rushed out of the store or to the cash. In all the excitement, I left my wallet in the store and I didn't even know it, and they gave me a call to let me know they found it and that it would be waiting there safe and sound for me whenever I could come get it. I bought a sale dress off the rack that requires a couple of small repairs and I received a follow up email to assure me that it is being taken care of for me! We could not have asked for a better experience. It is so great to have such a big part of the wedding planning taken care of - and to have had a totally painless, stress-free experience. Thank you so much!

Sent on 28/09/2017

One Love One Dream's reply:

Thank you, Elizabeth for your kind and heartfelt words. We loved working with you and can't wait to see you again, soon.

Travis · Married on 21 of July of 2018

On Friday, October 27th I visited One Love One Dream for my bridal gown. The ladies there were so wonderful. Before attending my appointment a was involved in an accident, therefore for my appointment I was wearing a knee brace and was on crutches. The ladies were so helpful and accommodating with everything to do with my appointment. I had an idea of what I was looking for in a dress prior to my appointment, the girls really brought my vision of my perfect dress to life. When I said yes to the dress I was treated by all the girls and champagne to celebrate. I am so happy with my dress and extremely excited to wear it on my wedding.

Thank you One Love One Dream for making this experience so special.


Sent on 31/10/2017

One Love One Dream's reply:

Thank you so much for your kind words! The dress is made for you and you are going to be a gorgeous bride! All the best for a speedy recovery! Hope to see you again soon for anything else you may need for your wedding day :)

Sarah Choy · Married on 06 of July of 2018

They have such a great selection of gowns and all reasonably priced. They offer amazing customer service. Allowed me try on and retry on as many gowns as I wanted until I found the perfect one. When I found the right dress they brought champagne to celebrate and took pictures for us. It was the best bridal experience I've had so far!

Sent on 27/07/2017

One Love One Dream's reply:

Thank you very much, Sarah, for your kind words. We loved working with you! Can't wait to see you again when the beautiful dress comes in!

Cheryl M · Married on 10 of March of 2018

I have only 3 months to plan my wedding (short engagement). When I went to 3 other bridal boutiques in late Dec, I was panicking and felt so upset when I couldn't find dresses for my 6 bridesmaids that was flattering, would arrive in less than 2 months, and fit in our "under $200 per dress" budget. One of my friends recommended "One Love One Dream". I called 10 mins after they closed, and Janet's friendly, kind voice put me to ease instantly, and I booked our 2:00 appointment for the next day (Sat. Jan. 6, 2018). My girls and I were shown different dresses within our budget, and we were able to take our time looking at colours, styles, tried dresses on, and for 3 hours we had so much help from the staff. Janet in particular was extremely helpful. I was so happy and relieved when she helped my bridesmaids to all get a gorgeous dress style that was flattering for a variety of sizes, plus was "nursing-bra-friendly", AND was able to help us order our dresses with plenty of time to still make alterations if needed. Janet went above and beyond to fit our budget and tight-timeline, and was kind, patient, knowledgeable, enthusiastic, and just is amazing at her job. I couldn't be happier! My 6 bridesmaids and I are recommending One Love One Dream to everyone we know!!

Sent on 08/01/2018

One Love One Dream's reply:

So happy to be able to assist you in your wedding day planning.

The dresses will look awesome, can't wait to see the colours co-ordinating.

Kelsie Burnley · Married on 25 of November of 2017

I tried on a dress in toronto at one of those tiny bridal shops on st.clair
The dress i fell in love with was so insanely priced that i didn't want to spend the money without shopping else where. my friend told me to look at one love one dream because they have the same designer and they have store sales. I was so extremely lucky to go in when they were having their discounted dress sale because i found the exact same dress for 1/4 of the price. the lady who helped me was extra sweet and instead of telling me to take the dress off i stayed in my wedding dress for 90 min while my mom tried on mother of the bride dresses. I would highly recommend checking this place out before purchasing a dress in toronto!

Sent on 06/07/2017

One Love One Dream's reply:

Thank you, Kelsie, for your review. Customer service is #1 and it is our mission to provide affordable and fairly priced fashions to our consumers.

Thank you for your business and we look forward to seeing you again, soon.