Reviews for Sound Of Harmony
Awards
10 User photos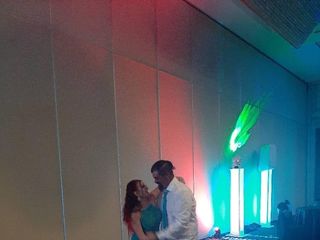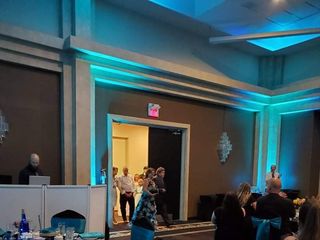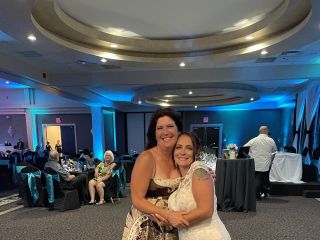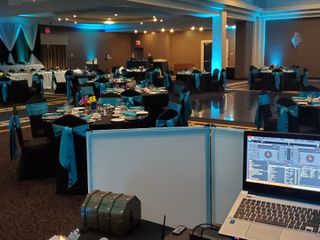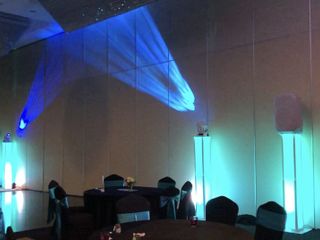 Caterina · Married on 24/08/2019

Great service and awesome party

We used Sound of Harmony for our wedding DJ. Great service overall! We had a bit of a challenging wedding set-up where we had 2 tents (one for dinner and one for reception), but Sound of Harmony knew exactly how to deal with getting it done right. Everything ended up being set up perfectly and the party was definitely going until the end. DJ Ross even got an encore and played an additional song since people did not want to leave. I also highly recommend the DJ lighting...we were told it would be a game changer for our tent venue and it definitely was! Thank you again for everything!

Sent on 12/09/2019

Sound Of Harmony's reply:

Thank you Caterina!

You and Dan are an amazing couple! Thank you so much for the wonderful review and we hope to see you on the dance floor again at a future event!

Amanda R. · Married on 19/07/2019

Fantastic DJ

Shane did an amazing job handling the DJ and MC duties at our outdoor wedding. He was able to play any song requested and kept everyone out on the dance floor from the end of dinner until close even in a record-breaking heat. The games he incorporated throughout the evening were a big hit with our guests. Unbelievable job, we would 10/10 recommend for weddings and all events.

Sent on 05/08/2019

Katie C. · Married on 16/06/2019

We love Sound of Harmony!!

Shane and Ross were an absolute dream to work with. We used Sound of Harmony for DJ and MC Services and we could not be happier! Shane is the perfect MC with his timing and ability to go with the flow. Everybody had such a fun time on the dance floor - they even brought leis and lightsabers which was a surprise that all of our guests loved. The games Shane suggested were a hit and executed smoothly. He always made himself available for questions or changes when needed. HIGHLY recommend their services!!!!

Sent on 17/07/2019

Sound Of Harmony's reply:

Katie! Thank you for you wonderful words! You and Scott are so awesome!! I can't wait to see you two again soon!!

Danielle M. · Married on 15/06/2019

The best ❤️

We had the honour of having Shane and Steve from Sound of Harmony be our DJ and MC for our wedding. Everything that we asked for they were able to make happen. They kept us and our guest entertained from their speeches, games and music. They seemed just as excited to be there as we were and the excitement rubbed off on our guests. Everyone is still talking about it being such a great party with amazing music and a hilarious MC; they clearly made an impression. If you want your wedding day or event to be nothing but perfect make sure to include Sound of Harmony ! We can't wait to have another party with them.

Sent on 13/07/2019

Sound Of Harmony's reply:

Thank you so much Danielle! You and Lisa are such a perfect couple!! Your friends and family are absolutely amazing as well!! We had so much fun!

Erica P. · Married on 04/05/2019

Incredible Wedding Experience

Shane from Sound of Harmony was absolutely fantastic from day one. It was very early on in our wedding planning process that we decided to book with Shane. I remember calling several DJs one evening to inquire about prices. I called quite late, and was not expecting my calls to be returned until the next day. Shane was the only DJ who called me back at 9:00pm, which showed his commitment and loyalty. My husband and I met him at Starbucks and were certain within the first 5 minutes that we would sign with Shane to be our DJ for our wedding! Shane was extremely friendly, and asked us several questions to determine what we wanted out of the night, and provided us with various options as to what he was able to offer us within our budget. We had our own MC, so Shane was willing to provide us with several coloured lights, in replacement of the MC in his package. We told him at our first meeting that we wanted a good party, and wanted to make sure that everyone was dancing and having fun all night.
Our colour was blue, so Shane brought several blue and white lights and placed them around the room to make it look breathtaking! He played classic/jazz music during the cocktail hour, and dinner to provide nice background music. He had a few games which were super fun, and was sure to communicate with us, and my father (the MC) throughout the night. After dinner, he did an awesome job at reading the crowed, and selecting music that would please almost everyone at our wedding. The dance floor was full all night until 1:00am, and we received nothing but amazing feedback from our guests. Everyone had a blast!
We would highly recommend Shane to be a DJ at any event! It is so important that you have great vendors at your wedding so that there is one less thing that you need to think about that day. Shane made an effort to go out of his way throughout the night and chat with us, our wedding party, and our families to ensure that everyone was comfortable and happy all night!

Sent on 16/05/2019

Team · Married on 02/03/2019

Ain't no party like a Sound of Harmony party

Oh Shane. Where do we begin? What a journey we've been on. From the moment we met at Starbucks, we knew Sound of Harmony was the one. Your creativity, open-mindedness and understanding with our demands proved how committed you were to making our day extra special. You were excited for the ideas we presented, some of which were different from what you had heard before, and were all in. Thank you, and Ross, for helping our dream wedding come to fruition and making the night one that no one will forget anytime soon. We appreciate everything you've done for us and are happy you're a member of #TeamRilPhon! We'll be seeing you, with the glitter cannon, at many events in the future.

Sent on 07/04/2019

Sound Of Harmony's reply:

Ron & Phil! Thank you so much for your kind words! You were such a pleasure! Ross and I are still talking about how fun it was!! Thank you for choosing Sound Of Harmony!!

Zoe E. · Married on 08/02/2019

Ellis/Willick Wedding - Feb 8th, 2019

We loved working with Shane and his team for our wedding in Febraury. Always professional but fun, and he had great ideas to include in our big day. We had so many compliments on the choice of music for both the ceremony and reception, and the games were a huge hit with our guests. We highly recommend Sound of Harmony!

Christopher and Zoe Willick

Sent on 07/05/2019

Sound Of Harmony's reply:

ZOE! Thank you so much for your wonderful review!

You and Chris are were such a pleasure! We hope to see you soon at more events! Thank you!

Danielle · Married on 13/10/2018

Phenomenal!

DJ Shane & Dj Luke - I can NOT even begin to express how amazing you guys were! From the time I did my initial DJ interviews a year ago, to the day of my wedding - Sound of Harmony was open to listen, help and give me advice with all of my "New Bride" jitters!

3 days later, I'm still hearing from guests about you guys! You gave that venue a whole new level of personality! You were upbeat, personable, friendly and you interacted with kids and adults as if you had known them your entire lives!

Thank-you so much for making an already amazing day, even more awesome!

To anyone looking for a DJ - I don't have enough room on this review form to tell you all of the positives, but I can tell you - there wasn't a single negative, or hiccup with them. Look no further!

Sent on 15/10/2018

Sound Of Harmony's reply:

Thanks so much for your kind words Danielle! We really enjoyed everything about your wedding! You and Ryan are a ton of fun!! Thanks!!!

Leeann M. · Married on 08/09/2018

Amazing Services !

We can't thank Shane and Luc enough for everything they did for our wedding ! Everything went great because of them. They had everyone up and dancing and we are still getting comments on how fun the wedding was. Highly recommended!! Thanks so much Shane and Luc.

Sent on 11/09/2018

Sound Of Harmony's reply:

Thank yo so much for your ind words Leeann!

You and Jordan are an amazing couple! We had a lot of fun ourselves! I'll never forget your dad dancing to spice girls!!

Cheers!

Katrina A. · Married on 01/09/2018

Highly Recommend!

DJ Shane and DJ Ross did an amazing job at our wedding! They had everyone dancing and played a great variety of music.
They answered all our questions in a timely manner and listened to what we wanted.

I would definitly recommend Sound of Harmony!

Sent on 18/09/2018

Sound Of Harmony's reply:

Thanks Katrina! You and Mark are such an amazing couple! It was our pleasure to be apart of your wedding and I'll never forget the amazing speeches! (Greg's was especial memorable)

Great Party!!