Reviews for Liquid Entertainment
Awards



22 User photos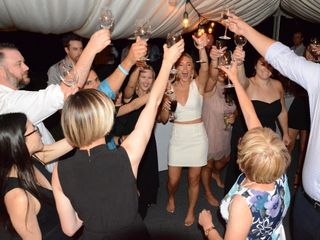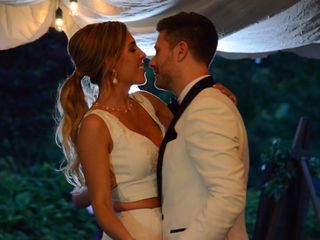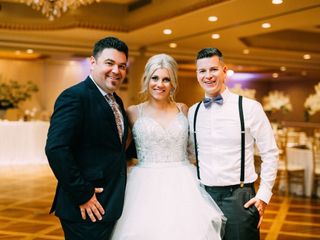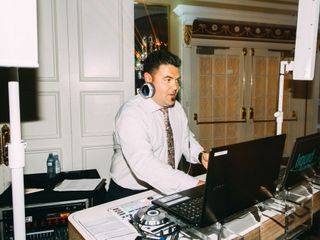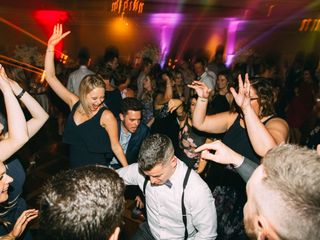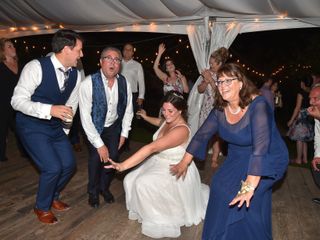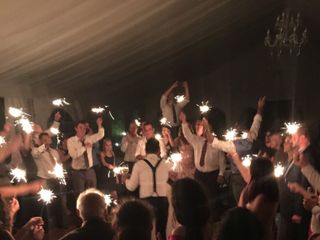 Vanessa Stephenson · Married on 29/06/2018

Kurtz Orchards June 29th

Patryk is AMAZING. Both my husband and I knew as soon as we met him that he had to be our DJ for our wedding. He kept the party going all night, ans we haven't stopped getting compliments on him since our wedding. We chose to use the headphones for the silent disco and it was the best decision we had made for our wedding day. They were the biggest hit and everyone partied, sang, and dance all night long! Thank you to Liquid Entertainment for making our wedding dreams come to life! Patryk and his team are more than highly recommended by us.

Sent on 05/07/2018

Kelly · Married on 23/06/2018

Over 4 hours of dancing on our wedding!

Patryk did an amazing job! He kept our wedding dance floor full for over 4 hours. Our dinner music was perfect and he also did a great job of guiding our MC's, I can see why he makes an amazing MC himself. No complaints, except that my legs hurt from so much dancing! lol

Sent on 26/06/2018

Brittany Young · Married on 09/06/2018

Best dj/mc in the biz

Look no further than Liquid Entertainment for your wedding entertainment needs! They are the complete package!! Patryk had the the role as MC on top of DJ at our wedding and we could not have picked a better person. He goes above and beyond for all his couples and helped us out throughout the planning process to ensure we had everything we needed for our day. The huge music selection and tailoring everything to our taste was just perfect. The dance floor was always full and it was the best party ever. Patryk was like family that day and I highly recommend booking with him ASAP to avoid disappointment. PS - they have a new live edge DJ table which fit our winery themed wedding decor perfectly!

Sent on 05/07/2018

Chris Cooling · Married on 02/06/2018

Queens Landing Wedding

We really enjoyed having Patryk be part of our special day at the Queens Landing Imperial Ballroom. His DJ & MC skills were great, he was attentive and it was fun to watch him get everyone involved & on the dance floor.
Thanks buddy!

Sent on 20/06/2018

Liquid Entertainment's reply:

Thank you, Thank you, Thank you. The dance floor was on hopping all night. Hope you got our I Phone pics and videos from the big day. Enjoy the married life and please keep in touch.

Miranda C · Married on 02/06/2018

A night of a lifetime!

Our experience with Liquid Entertainment was beyond amazing. Patryk and Charles were fantastic to work with. Within moments of meeting Patryk I had complete faith that he and his team would be the perfect team to make our dreams come true. DJ Charles created an energetic, positive, and fun environment from the minute he was on the microphone. The evening was seamless and the set up was beautiful (live edge table). Our dance floor was packed all night and Charles kept the party going all night, with ease!! Thank you Charles for being a part of our picture perfect wedding!! For anyone looking for a fun, humorous, and energetic DJ, we highly recommend DJ Charles for your wedding.

Sent on 23/06/2018

Liquid Entertainment's reply:

Thank you so much for the awesome review. It was a pleasure to work with both of you. The energy on the dance floor was on fire. Just want to know when we can add hubby to the Liquid DJ roster team :-). Enjoy the married life and please keep in touch.

Mary Hutton · Married on 26/05/2018

Couldn't have asked for a better DJ/MC

From the start Patryk was easy to contact and have my questions answered. When we decided to book with Liquid Entertainment, we were given a comprehensive website to fill out for all of the little details they make so special. Jonathan and Elie were fantastic throughout my entire wedding day and made sure everything ran smoothly. My ceremony went off without a hitch and everything was on time and perfect. Transitioning from ceremony > cocktail hour > reception was very smooth. Jonathan was super adaptable as my MC when things didn't go exactly as we had planned for the timeline, and I was so glad at that moment that I had chosen them as our entertainment service.

I 100% recommend Liquid Entertainment to any bride or party planner looking for a professional company that knows how to do it right.

Sent on 04/06/2018

Liquid Entertainment's reply:

Thank you Mary! You guys were an awesome couple to work with! I am so happy that I got to be a part of your special day :) From the point of meeting yourself and Rob, I knew we had a great connection. I know the two of you will have a long ever-lasting relationship full of love and joy for many years to come!

Warm Regards,

Jonathan Blaney

Casey Kehoe · Married on 26/05/2018

Amazing job!

Booking with Liquid Entertainment was hands down one of the best decisions we made. The first meeting with DJ Patryk was great! He sat us down to learn more about us as a couple, and to learn more of the type of atmosphere we wanted for our wedding. Patryk is extremely friendly, and very easy to deal with. The online client portal is well organized and thought out. Throughout the months leading up to our big day, Patryk kept the line of communication open, and was always on top of things. Our wedding reception was perfect, and was everything that we dreamt of! Patryk did an outstanding job as our MC, getting the guests involved dancing or playing the kissing game. Hands down the best company for any event you may be planning !! Thank you Liquid Entertainment for all your planning and help throughout the months leading to the big day!! We will recommend you over and over !

Sent on 12/07/2018

Laura Martin · Married on 05/05/2018

Exceptional Service

Patryk and his team at Liquid Entertainment are phenomenal. They are smart, talented and amazingly easy to work with. Patryk is the consummate professional. His knowledge of music is as impressive as his public speaking skills, kindness, patience and understanding. I received several emails after my wedding. They all started with "who was your DJ/MC He was excellent" My wedding was flawless thanks to Patryk, Evan and Liquid Entertainment

Sent on 08/05/2018

Liquid Entertainment's reply:

Thank You Laura & William it was our pleasure to be part of your big day. You guys have an amazing love story that started over the grossest beer on the planet. LOVE IT. Please keep in touch.

Stephen Mcmahon · Married on 28/04/2018

Just amazing!

Patryk provided a DJ and MC service for our wedding on April 28, 2018. He was beyond excellent. He helped our very special day by spreading great vibes all around and a DJ set that will for sure get you groovin' on the floor. We highly recommend him and Liquid Entertainment!

Sent on 13/05/2018

Brandi Mitchell · Married on 14/04/2018

Dynamite company!

From the very first time I contacted Liquid Entertainment (patryk) he was very easy and professional to deal with. I was very unsure as to where to begin planning music, scheduling, creating a time line, picking good song choices, etc. and he knew exactly what to do. He explained everything very simply and was very fun to work with.
Our meeting with DJ Luka and MC Dan, just made things even better. The organizational skills both these men showewd was unbelievable. Every thing i said was taken in to consideration and kindness. I never felt out of control for what i wanted, but they showed and expressed postive changes where needed (and thankfully with their experience, it paid off!). Our wedding was an absolute hit all thanks to Liquid Entertainment. Our dance floor was JAMMED and so much fun. Best wedding reception ever! THANKS SO MUCH LIQUID ENTERTAINMENT. I've already got new brides asking for your number to book you!

Sent on 30/04/2018

Liquid Entertainment's reply:

From all of us at Liquid Entertainment THANK YOU for this awesome review. You guys were amazing to work with. We shall see you at the next Wedding.