Reviews for Dynamic Weddings - DJ services
Awards



10 User photos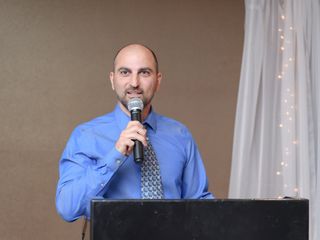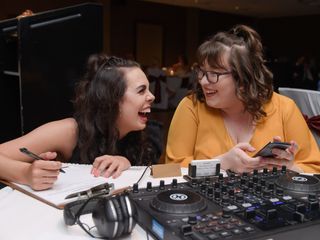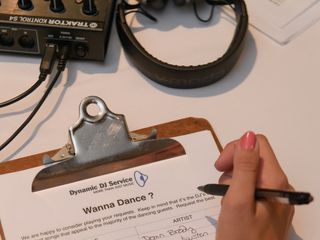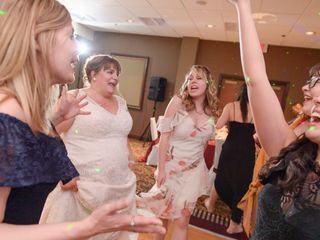 Timothy · Married on 24 of August of 2019

Excellent DJ

Very organized; DJ read crowd well. Used our requested songs. Had everyone on the dance floor. Was descrete as we asked.

Sent on 05/09/2019

Dynamic Weddings - DJ services's reply:

Thanks so much Timothy. Appreciate the 5 star review. We had a great time as your wedding DJ. We appreciated your earlier feedback of "Our DJ was awesome. Read the crowd. Played the rights songs. Spoke when necessary but not too much." Amazing day and such a great celebration at the lovely Hycroft Manor. All the best to you both.

Caitlin · Married on 24 of August of 2019

Dance all night long!

We were blown away by the quality of service we had from Dynamic weddings, and are truly grateful we chose to include the DJ. Our DJ provided a beautiful atmosphere for our ceremony with seamless transitions between songs, and fantastic fade outs when music was no longer needed. We were also incredibly impressed with how quickly our DJ was able to transition from our outside ceremony site to our indoor cocktail hour/reception. Finally, our DJ had our dance floor PACKED from the moment we finished our combined mother-son, daddy-daughter dance to our last song. We had a number of friends and family comment on how fun and upbeat the wedding was! The DJ helped create the perfect setting for wedding and made it a night we will truly remember for the rest of our lives.


Sent on 07/09/2019

Marcog@novatrans.ca · Married on 24 of August of 2019

Music Makes the Party!!

My husband-to-be was thrilled to have found a team of wedding professionals under one umbrella as he saw a huge benefit in coordination and communication, but I was hesitant to hire an entire team of professionals without meeting everyone individually ahead of time and solely based on the company's amazing online reviews. In the end, we hired the team and didn't look back. Dennis and his team were fabulous!
Justin was our MC and DJ. Did very well on all accounts providing introductions etc. when required as well as coordinating our background and dance music. Good consultation ahead of time along with a good understanding of the various genres as well as being responsive to the crowd helped make the party!!

Sent on 22/10/2019

Jim Mitchell · Married on 03 of August of 2019

Fantastic experience

The night that we had with DJ Trent was perfect. With his professionalism, music knowledge and his ability to keep the dance floor full, this made our experience so much more enjoyable. Trent was able to keep up with all the requests that we had and able to change genres to keep the party going.

Dealing with Dennis before hand was so smooth and enjoyable and set our minds at ease with all the planning.

Thank you Dynamic Weddings for a wonderful day and a wonderful experience.

Sent on 15/09/2019

Dynamic Weddings - DJ services's reply:

Thank you very much. I'm very happy that you had a great celebration and that you loved your DJ. He had a great time playing a wide variety of dance song requests for you and your guests. Thank you very much!

Sagan · Married on 22 of June of 2019

Wedding DJ

We were very happy with our DJ from Dynamic weddings. We had a small-ish wedding (62 guests) and he was able to keep the dancing going until the end of the night. He was great at playing our requests as well as taking guest requests. The owner of the company, Dennis, was easy to communicate with over email and checked in after the event to make sure everything went smoothly which we appreciated.

Sent on 08/07/2019

Dynamic Weddings - DJ services's reply:

Hi Sagan, Thanks so much for the review. We're delighted that you had such an amazing time with your wedding celebration. We were happy to play all your requests along with our selections which filled up and kept the dance floor hopping all night long. I loved how your guests were changing "One more song, One more song!" at the end of the night which is always a great thing. Congrats to you and thanks for putting your trust in Dynamic Weddings DJ Service!

Kelsey Jay · Married on 15 of June of 2019

Amazing company!

We hired dynamic for photo, video, DJ and photo booth over a year and a half before our big day last month and they were all overall amazing! We had a consultation with Dennis and he was very friendly and communicative regarding pricing. Punctual, professional, great communication, very friendly with great photos and video. We wanted a lot done in 8 hours and they managed to capture everything perfectly. Highly recommend them and would use again for other events - thanks Dennis and team

Sent on 23/09/2019

Tamara Suttis · Married on 25 of May of 2019

Oustanding

We used Dynamic Weddings as our DJ for our wedding. Dennis the DJ was outstanding. He kept the party going until the end. His music choices and selection was fantastic. Played requests and knew what would keep the guests dancing. Thank You Dennis for making our day so special and memorable.

Sent on 02/07/2019

Dynamic Weddings - DJ services's reply:

Hi Tamara, Thanks for giving us such trust to act as your MC and DJ for your wedding. We were also your Wedding Planners, Day of Coordinators, Photographers and Photo Booth so we were able to create a large impact for you. I loved how your wedding was full of fun, joy and lots of laughter. The dance segment was a huge hit. Allowing your Dynamic DJ to act as your MC was a huge advantage as I was able to interact and engage with the guests from an early stage which really has a positive impact on the dancing later on. I loved how many of the guests from the wedding across the hall left that wedding to dance to our music. LOL. Great times and lots of memories to share.

Gilda Fernandez Concha · Married on 04 of January of 2019

Great experience!

We had a great time in our party with this guys. The DJ was great and the photo booth really fun! Highly recommended.

Sent on 15/01/2019

Dynamic Weddings - DJ services's reply:

Hi Gilda, Glad you all had an amazing time. Thanks for writing a 5 star review. You guys sure rocked it! Wow, so much fun. Loved it!

Katherine Costa · Married on 08 of December of 2018

Thank you for making our night so special!

We couldn't have done it without you! Thank you for being so flexible, professional, and fun! We had a wonderful evening and all of our guests had an amazing time. We would highly recommend you to anyone that needs a DJ service!

Sent on 17/12/2018

Dynamic Weddings - DJ services's reply:

Hi Katherine, Thanks so much. Yes, it was a lot of fun, especially playing the mixture of music genres including your cultural music. Thanks so much and glad you had a great time!

Derek Weeres · Married on 22 of September of 2018

Dennis and Dynamic Weddings kept the dance floor rockin' all night!

Dennis Bellia and the whole Dynamic Weddings & Events team were such a pleasure to work with. We enlisted Dynamic to help us with:
- Wedding Planning
- Day of Coordination
- Photography
- Videography
- DJ Services
The level of service that we received throughout the entire process was exceptional. With the help of Dynamic Weddings, we put together a timeline of deliverables so that our planning process was smooth and stress free. It was ensured that our photographer who worked with us for our engagement photos was working with us at our wedding as well which gave us a sense of comfort. The biggest thing we heard throughout the wedding planning process from anyone who's gotten married was "be prepared for something out of your control to go wrong". My wife and I laugh at this now because with the guidance and care that Dennis and Dynamic showed us, our special day went off without a hitch and I think that's the biggest compliment we could give! Thanks Dynamic, our special day wouldn't have been as special as it was without all of your help!

Sent on 16/04/2019

Dynamic Weddings - DJ services's reply:

Hi Derek, We absolutely loved everything about your wedding. First off, you were such an amazing couple and totally worked well with our team. You were so open to our ideas and expertise and it all flowed so smoothly. We were so much more effective by having the majority of our services working for you at the same time. It was truly excellent experience for us all. Finally, you totally ROCKED it on the dance floor!!!!!! Congrats!