Reviews for Dynamic Weddings - DJ services
Awards



2 User photos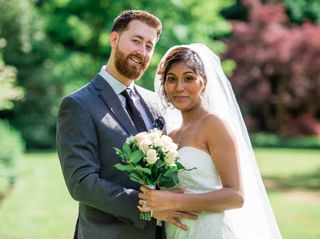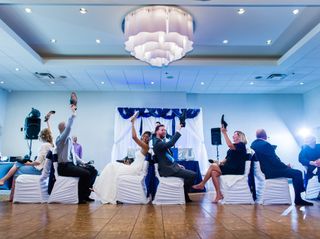 Sagan · Married on 22/06/2019

Wedding DJ

We were very happy with our DJ from Dynamic weddings. We had a small-ish wedding (62 guests) and he was able to keep the dancing going until the end of the night. He was great at playing our requests as well as taking guest requests. The owner of the company, Dennis, was easy to communicate with over email and checked in after the event to make sure everything went smoothly which we appreciated.

Sent on 08/07/2019

Dynamic Weddings - DJ services's reply:

Hi Sagan, Thanks so much for the review. We're delighted that you had such an amazing time with your wedding celebration. We were happy to play all your requests along with our selections which filled up and kept the dance floor hopping all night long. I loved how your guests were changing "One more song, One more song!" at the end of the night which is always a great thing. Congrats to you and thanks for putting your trust in Dynamic Weddings DJ Service!

Tamara Suttis · Married on 25/05/2019

Oustanding

We used Dynamic Weddings as our DJ for our wedding. Dennis the DJ was outstanding. He kept the party going until the end. His music choices and selection was fantastic. Played requests and knew what would keep the guests dancing. Thank You Dennis for making our day so special and memorable.

Sent on 02/07/2019

Dynamic Weddings - DJ services's reply:

Hi Tamara, Thanks for giving us such trust to act as your MC and DJ for your wedding. We were also your Wedding Planners, Day of Coordinators, Photographers and Photo Booth so we were able to create a large impact for you. I loved how your wedding was full of fun, joy and lots of laughter. The dance segment was a huge hit. Allowing your Dynamic DJ to act as your MC was a huge advantage as I was able to interact and engage with the guests from an early stage which really has a positive impact on the dancing later on. I loved how many of the guests from the wedding across the hall left that wedding to dance to our music. LOL. Great times and lots of memories to share.

Gilda Fernandez Concha · Married on 04/01/2019

Great experience!

We had a great time in our party with this guys. The DJ was great and the photo booth really fun! Highly recommended.

Sent on 15/01/2019

Dynamic Weddings - DJ services's reply:

Hi Gilda, Glad you all had an amazing time. Thanks for writing a 5 star review. You guys sure rocked it! Wow, so much fun. Loved it!

Katherine Costa · Married on 08/12/2018

Thank you for making our night so special!

We couldn't have done it without you! Thank you for being so flexible, professional, and fun! We had a wonderful evening and all of our guests had an amazing time. We would highly recommend you to anyone that needs a DJ service!

Sent on 17/12/2018

Dynamic Weddings - DJ services's reply:

Hi Katherine, Thanks so much. Yes, it was a lot of fun, especially playing the mixture of music genres including your cultural music. Thanks so much and glad you had a great time!

Derek Weeres · Married on 22/09/2018

Dennis and Dynamic Weddings kept the dance floor rockin' all night!

Dennis Bellia and the whole Dynamic Weddings & Events team were such a pleasure to work with. We enlisted Dynamic to help us with:
- Wedding Planning
- Day of Coordination
- Photography
- Videography
- DJ Services
The level of service that we received throughout the entire process was exceptional. With the help of Dynamic Weddings, we put together a timeline of deliverables so that our planning process was smooth and stress free. It was ensured that our photographer who worked with us for our engagement photos was working with us at our wedding as well which gave us a sense of comfort. The biggest thing we heard throughout the wedding planning process from anyone who's gotten married was "be prepared for something out of your control to go wrong". My wife and I laugh at this now because with the guidance and care that Dennis and Dynamic showed us, our special day went off without a hitch and I think that's the biggest compliment we could give! Thanks Dynamic, our special day wouldn't have been as special as it was without all of your help!

Sent on 16/04/2019

Dynamic Weddings - DJ services's reply:

Hi Derek, We absolutely loved everything about your wedding. First off, you were such an amazing couple and totally worked well with our team. You were so open to our ideas and expertise and it all flowed so smoothly. We were so much more effective by having the majority of our services working for you at the same time. It was truly excellent experience for us all. Finally, you totally ROCKED it on the dance floor!!!!!! Congrats!

Chris Bamford · Married on 25/08/2018

A wonderful experience

Trent at Dynamic Weddings did a wonderful job DJing our special day this past August. He has excellent taste in music, great energy and can really work with a crowd. I was amazed when Trent managed to get my 90-year-old grandma up on the dance floor! We could not have been happier with the service.

Sent on 31/10/2018

Dynamic Weddings - DJ services's reply:

Hi Chris, Thank you. HYCROFT Manor is such a lovely venue but the love and positive energy shared at your magical wedding was priceless. One of the best yet!

Gloria Mak · Married on 18/08/2018

Amazing crew for a fabulous day!

Had the absolute pleasure of working with Dennis and his team of talented individuals! From the planning stages to the execution of our wedding, Dennis was beyond organized, professional and just awesome to work with!

We used the services of his photographers, videographer and DJ for our wedding and would recommend his crew to anyone who is wanting a professional, caring, and easy-going team of dedicated individuals who are going to make your wedding day that much more excellent!

Received our photos and video a few days prior and as expected, the picture and video turned out amazing! Kudos again to Dennis and his awesome team!

Sent on 04/11/2018

Dynamic Weddings - DJ services's reply:

Hi Gloria, it was so great seeing you out there on the dance floor celebrating your wedding. I knew you guys would be rocking it despite it being a luncheon wedding and daylight out. It was so great that you felt free to take off your wig and express yourself despite loosing your hair due to your chemo treatment. You are so brave and I'm so happy that we were able to help you through the planning process and celebration during your difficult illness. All the best and congrats!

Liz Goba · Married on 11/08/2018

Fabulous DJ and MC

Got Married August 11th 2018, and Dennis was our DJ and MC and he did a fabulous job. My family members are very particular and their music and Dennis was able to make a fan out of all of them. Dance floor was busy the entire night. He played songs that all age groups enjoyed. As for an MC, he did a fantastic job, and kept everyone entertained. Couldn't of asked for a better DJ/MC

Sent on 21/08/2018

Dynamic Weddings - DJ services's reply:

Hi Liz, thanks for your review on my (Dennis') DJ and MC at your wedding. It was a challenge I really enjoyed. Playing African cultural songs for a large portion of the evening along with the usual hits required a careful analysis of the guests participation with appropriate adjustments along the way. I'm glad my experience and skill was a large asset in such a difficult situation but it totally paid off because the dance floor was absolutely packed the entire night and everyone had a blast! The MC component was really fun for me. It felt like I knew everyone and made friends with them so easily. We had to move a few things around so they flowed better and that we could eat the food while it was hot so it all worked out. Overall, I could not have imagined the day to go any better. It really was amazing! Thanks so much and all the best!!!

Meghan Gates · Married on 08/07/2018

Awesome dj

Very accommodating and very professional. Awesome selections and reads a crowd fantastically! So impressed at the awesome service. It was a tab pricey but I believe worth every penny as everyone was asking for our playlists and info

Sent on 10/07/2018

Dynamic Weddings - DJ services's reply:

Hi Meghan, I'm glad you had an amazing experience. We focus on quality and don't cut corners which enables us to provide you with the amazing service you received.

Cameron White · Married on 30/06/2018

Far beyond our expectations!

Dynamic Weddings, and DJ Dennis in particular, were absolutely fantastic! We had a tough job for him, as our main goal in hiring a DJ was to keep the dance floor full all night, yet our two families have very different musical tastes. One side is Chilean and loves latin classics, and the other side is from small-town Canada and are primarily country/two-step fans. Dennis knocked the request out of the park in playing a mix of country, latin, and just overall well-known songs that kept everyone going from start to finish. We had Chileans learning how to two-step and chicken dance, and Canadians dancing to their first Cumbia. He started the night off with an ingenious game which got literally every single guest moving and on the floor, and kept it going from there. We also hired him as an MC, and having him perform both roles worked seamlessly. He has a great sense of humour and is able to improvise jokes on the spot based on our guests and the toasts they gave. There were some Chilean wedding traditions we incorporated such as a father/daughter waltz, and a dance with all the parents, and he was excellent at letting the Canadians know what was happening and why, so everyone could appreciate the traditions. Throughout our whole wedding planning process, Dennis was a key resource in helping us put together the itinerary of the day and providing advice and ideas on everything based on his vast experience. His communication was always quick and helped to reduce a lot of stress. We received a ton of comments from our guests that it was one of the funnest weddings they had ever attended, and the most they had ever danced in a night. That is solely due to Dennis' understanding and reading of the crowd and skill at choosing songs that will keep everyone happy. Can't recommend him enough!

Sent on 07/07/2018

Dynamic Weddings - DJ services's reply:

Hi Cameron, thanks so much. It was truly Epic given the broad range of music, not to mention well over 4 1/2 hours of solid dance music! This one will go down as one of the best!