Reviews for Airwaves Music
Awards
8 User photos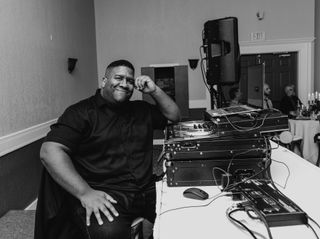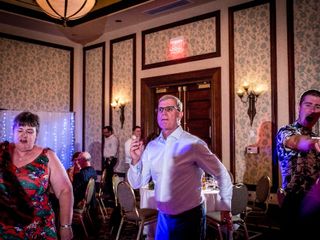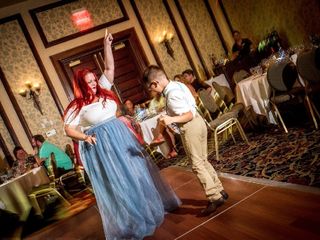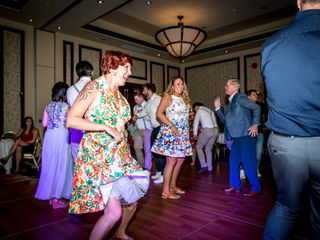 Allie Engel · Married on 22/06/2019

Great time

Had a great experience with DJ Beau at our wedding. We met the week before the event and everything was smooth the day of. Great transitions and I don't think the dance floor was empty all night!

Sent on 01/07/2019

Airwaves Music's reply:

Thanks so much for the awesome review for Beau, Allie! So great that you had a great experience with him. (He is awesome). Congrats and thanks for working with our team here at Airwaves Music!

Madeline Moir · Married on 15/06/2019

Great experience!!!!

DJ Amanda was everything we could have hoped for, and more! I got married June 15, 2019 at an all-outdoor venue in Kelowna, BC and from the pre-event coordination by Waira and Danice, to the prep and day-of experience with DJ Amanda, we couldn't have hoped for a more smooth and enjoyable experience.

DJ Amanda was so flexible on the day of our wedding when we had some minor changes to our day-of schedule (not doing a bouquet toss, doing our first-dance with short notice when the lighting ended up being just perfect, and playing a family-favourite "must-play" on super short notice when the dance floor was hot) and she went with the flow.

DJ Amanda was SO approachable to our guests and we heard many comments about how awesome the dance floor was (which was important to us!). She "read the room" and kept the dance floor going all evening, taking requests and timing upbeat songs perfectly, without my spouse or I having to ask her to switch things up.

I strongly recommend using Airwaves DJs (especially DJ Amanda in Kelowna/Okanagan) for both your ceremony and reception! We are over the moon and everything music-related went off without a hitch.

Sent on 18/06/2019

Airwaves Music's reply:

Thanks so much for the amazing testimonial Maddy! So amazing that you and Hannah loved DJ Amanda and working with our team! All the best to you both!

Samantha Duffin · Married on 15/06/2019

Great Experience

Our DJ Patrick was awesome! All the guests at our wedding commented on how great the music was and the dance floor was busy all night.

Sent on 19/06/2019

Airwaves Music's reply:

Thanks so much Samantha for the awesome review for Pat and thanks for having our team out at your wedding! :) All the best!

Elizabeth · Married on 25/05/2019

Excellent DJ

We had Amanda for our wedding DJ and she was amazing. She was very accommodating and helpful as we had difficulty coming up with a first dance song. She offered some suggestions and even made sure she had all of the songs available that we were debating between. She worked with us even on some last minute requests for the bridal party entrance and then had everyone dancing all night long. She was very professional and a pleasure to work with. Airwaves music did a great job of responding promptly to emails and I would highly recommend them.

Sent on 25/07/2019

Airwaves Music's reply:

Thanks so much Elizabeth for taking the time to leave Amanda and our team a review, we really appreciate it. :) All the best to you and thanks for the recommendation!

Stephanie Graham · Married on 19/05/2019

Great experience

We love airwaves! - Dj Andy was awesome! He was on top of everything during the entire process. He was prompt to reply, organized, connected with my other vendors and was super friendly and had great energy!

Highly recommend :)

Sent on 21/05/2019

Airwaves Music's reply:

Thanks so much for the great review Stephanie. Our team had a great time working with you and Bob and are thrilled that everything went perfectly. All the best to you both, enjoy the honeymoon!

David Ward · Married on 19/05/2019

Fantastic, friendly & fun!

We were lucky enough to have DJ Josephine at our wedding - she was an absolute gem, and perfectly ran the soundtrack to our special day. We had quite a long list of potential songs for the dance floor, and she made some inspired choices in her ordering to keep people dancing and energized. Would highly recommend her for anyone out there!

Sent on 21/05/2019

Airwaves Music's reply:

Thanks so much Dave for the awesome review for Josephine! We're so glad that your dance party was so epic (we saw some awesome footage). All the best to you and Dan and thanks so much for choosing to work with Airwaves DJs!

Kayla Martin · Married on 18/05/2019

DJ/MC John made the night!

DJ/MC John Bird was fantastic! He had music for all ages and backgrounds, and it melded so seamlessly. We had line dancing and hip hop, classics and throwbacks, something for everyone! Just as I wanted. He also kept the night's events on track for me. I'd hire him again in a heart beat!

Sent on 21/05/2019

Airwaves Music's reply:

Thanks so much for the amazing review for John, Kayla. He is truly an awesome DJ and we're thrilled that he nailed it for your wedding. Congrats to you both! :)

Philippa Hall · Married on 07/03/2019

Winter wedding

Dj Pat did a great job with our wedding and would highly recommend airwaves to anyone

Sent on 09/05/2019

Airwaves Music's reply:

Thanks so much for the great review Philippa, our team is stoked that you had a blast with Pat! :) All the best to you!

Alice Joel · Married on 11/01/2019

Supported an event

Thanks DJ Andy for supporting 4 party events with up to 650+ guests!

- Andy arrived early for set-up throughout the weekend and communicated well with the AV technician beforehand
- He read the crowd and maintained the high energy on the dance floor for the duration of all the events, including "Buffer Zone" which had 650+ pumped up students in attendance, ready to party
- was attentive to details in the planning and maintained an upbeat positive vibe with the guests
- provided easy communication and follow-up leading up to the event with the organizer; flexible when scheduling phone meetings prior to the events
- was able to take spontaneous requests from delegates during the party
- was able to adapt to last minute changes in the timeframes of the program throughout the event, which was vital to the success of our events
- Offered great lights / sound set-up to best support the scale of the event

Sent on 19/01/2019

Jason Bonham · Married on 20/10/2018

Amazing Service

We booked months before our wedding and the company checked up with us numerous times, provided us a very thorough pre event checklist (maybe too much LOL), and Andy was great!

Super easy to deal with, Andy is so honest that he tried to give his gratuity back to us!

Would recommend this company to anyone getting married in Vancouver!

Sent on 23/10/2018

Airwaves Music's reply:

Thanks so much for the great review Jason! Awesome that you and Keira found Andy easy to work with, we love him too! Also, sorry for being possible a little too thorough with the planning forms (LOL), when it comes to your wedding day we gotta be comprehensive ya know? Congrats to you and all the best!