Reviews for Airwaves Music
Awards
8 User photos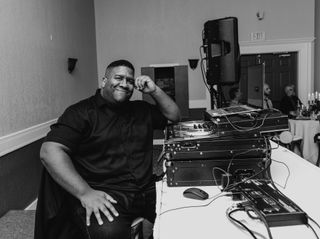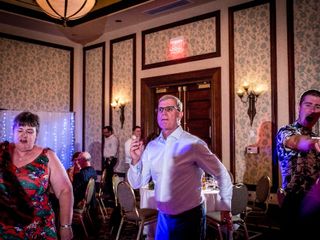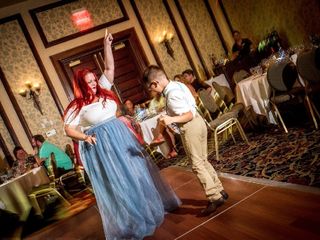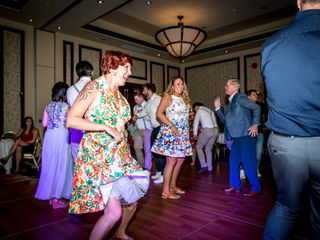 Breanne Wiebe · Married on 17/08/2019

Great Experience

Airwaves Music was amazing to work with for our wedding last August; their portal was easy to use and helped us plan our music and timeline. They had great response time and set us up with DJ Beau who did a fabulous job. He did the music for our entire day and was amazingly quick at getting music playing during our cocktail party between the ceremony and reception. He was so good with us and our guests during the reception and was able to modify the timeline on the fly when dinner started late so the photographer could capture the first dance photos before she left. We definitely recommend Airwaves Music and DJ Beau Loomer.

Sent on 28/01/2020

Michael Brunschweiler · Married on 09/08/2019

DJ Scott Rocks!

Very fast and professional correspondence prior to the event. On the nights, DJ Scott was great, included all our wishes, and gave the event his special twist!

Sent on 13/08/2019

Airwaves Music's reply:

Thanks so much Michael for the great review for Scott, he's a good one! :) Congrats and all the best to you!

Kaila Stewart · Married on 20/07/2019

Excellent DJ

Airwaves Music was professional from the very beginning! They have an easy to use website to add your information at your leisure. The event manager was quick to respond to any questions and sent reminder emails about the event. On the evening of our wedding, our DJ was a wonderful addition to our team. He checked in with us a few times in the evening to make sure that we were happy.

Sent on 23/07/2019

Airwaves Music's reply:

Thanks Kaila for the amazing review! We appreciate it. :) Congratulations on behalf of our entire team here at Airwaves.

Heather Hunter · Married on 20/07/2019

Awesome DJ

Airwaves did an amazing job! From the first inquiry to the first dance. Thy did a great job communicating and were always very professional and organized.

Sent on 14/08/2019

Airwaves Music's reply:

Thanks Heather! We really appreciate it! So great that Beau nailed it for you at the wedding and so happy you appreciated our communication leading up to the big day. Congrats to you and Rory!

Karly Edmonds · Married on 12/07/2019

Nothing but awesome

It's hard when you've never booked a DJ before, especially when it's for your wedding. I searched around with a few companies but found that the level of communication with Airwaves was amazing. They responded right away and made us feel like we were valued costumers and not just another client. Our DJ himself, Brad, was fantastic. He kept everyone dancing all night and we had many people say how well he was killing it all night. Thanks Brad! And thanks Airwaves!

Sent on 19/07/2019

Airwaves Music's reply:

Thanks so much for the amazing words about Brad and our team Karly! Our entire team had a blast working with you. Congrats! :)

Jessica Aiken · Married on 06/07/2019

No worries


I filled the forms and Dj Les took care of the rest... the music fit the wedding perfect and everyone was dancing all night long!!!

Sent on 12/07/2019

Airwaves Music's reply:

Thanks Jessica for the awesome review for DJ Les, glad to hear that all of your guests were dancing all night! All the best to you!! :)

ashley m marcoux · Married on 06/07/2019

Such a blast!!

All the guests loved the DJ and all the music and song choices!! Not a single compaint!! Definitely worth it to just relieve the stress of worrying about it! They had constant reminders which was awesome because so much was happening planning our wedding to keep up with it all! Thank you do much for being a highlight of our night!!

Sent on 20/07/2019

Airwaves Music's reply:

Thank you Ashley for the amazing word! Glad that you loved the reminders to keep you on track, that's what we're here for. All the best! :)

Brandon Leitch · Married on 30/06/2019

Amazing! Professional! Great value!

DJ Les was incredible. He had everyone dancing all night. Airwaves online platform was easy to use and they were in touch with us throughout the entire process! Highly recommend!

Sent on 04/07/2019

Airwaves Music's reply:

Thanks Brandon for the great review for Les & our team. So glad that everything went well. :) Take care!

Allie Engel · Married on 22/06/2019

Great time

Had a great experience with DJ Beau at our wedding. We met the week before the event and everything was smooth the day of. Great transitions and I don't think the dance floor was empty all night!

Sent on 01/07/2019

Airwaves Music's reply:

Thanks so much for the awesome review for Beau, Allie! So great that you had a great experience with him. (He is awesome). Congrats and thanks for working with our team here at Airwaves Music!

Madeline Moir · Married on 15/06/2019

Great experience!!!!

DJ Amanda was everything we could have hoped for, and more! I got married June 15, 2019 at an all-outdoor venue in Kelowna, BC and from the pre-event coordination by Waira and Danice, to the prep and day-of experience with DJ Amanda, we couldn't have hoped for a more smooth and enjoyable experience.

DJ Amanda was so flexible on the day of our wedding when we had some minor changes to our day-of schedule (not doing a bouquet toss, doing our first-dance with short notice when the lighting ended up being just perfect, and playing a family-favourite "must-play" on super short notice when the dance floor was hot) and she went with the flow.

DJ Amanda was SO approachable to our guests and we heard many comments about how awesome the dance floor was (which was important to us!). She "read the room" and kept the dance floor going all evening, taking requests and timing upbeat songs perfectly, without my spouse or I having to ask her to switch things up.

I strongly recommend using Airwaves DJs (especially DJ Amanda in Kelowna/Okanagan) for both your ceremony and reception! We are over the moon and everything music-related went off without a hitch.

Sent on 18/06/2019

Airwaves Music's reply:

Thanks so much for the amazing testimonial Maddy! So amazing that you and Hannah loved DJ Amanda and working with our team! All the best to you both!