Reviews for 808 Entertainment
Awards
4 User photos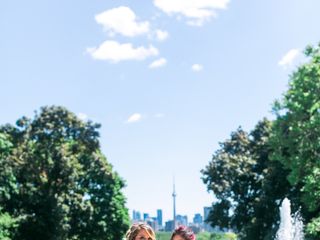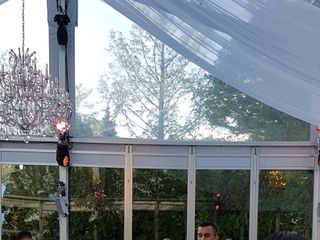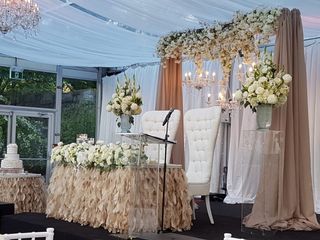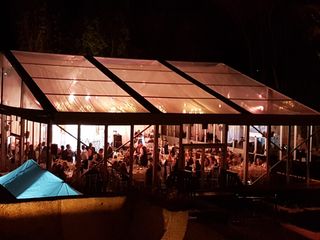 Ambika · Married on 18/10/2018

DJ Baba Kahn

DJ Baba Kahn was amazing!!!! All our guests had a tremendous time and everyone danced the night away. Big thanks to Baba for making our event such a success!! His company also provided the mirror photo booth which was also a big hit!

Sent on 23/10/2018

Sabrina C. · Married on 01/09/2018

Amazing DJ!!!

Aly and I wanted to let you know how amazing vicious was at our wedding tonight!!! He literally had EVERYONE on the dance floor ALL NIGHT until the lights went on!!! He was soooooo amazing!! Thanks again,
Sabrina and Aly

Sent on 02/09/2018

Nazia P. · Married on 18/08/2018

Simply amazing

He accommodates to the crowd despite wide range of music taste and age. He is honest and provides useful feedback on sound setup and music selection. He is trustworthy, reliable, quick to respond to emails or texts. He even offered to help navigate other vendors as needed and on request. He was able to mix our song choices for entrances and was able to work alongside live musicians and a singer. We were lucky to book him - Babakhan is UNIVERSALLY known and of course famous. There is no better. Your crowd will leave wanting more and he will help make your wedding EPIC.

Sent on 29/08/2018

Sabrina S. · Married on 18/08/2018

Gives you what you want and more!

I've had the pleasure of working with DJ vicious twice. I hired him for my birthday and wedding reception. Both events he had the crowd jamming to tunes we all loved. My guests loved the choice of DJ and I wouldn't hire anyone else but him for my future events.

Sent on 10/09/2018

Pavin S. · Married on 05/08/2018

Loved working with DJ Vicious!!!!

Had Dj Vicious host my wedding! The man was great, reached out to me very early, asked me what particular music I wanted (which included a genre he wasn't too familiar with - south Indian music) but Vicious executed beautifully. Played all the south Indian songs we requested (about 20-30 songs) and made it sound incredible. All the other genres he was already very familiar with ( north Indian, hip hop, dance hall, chutney, soca, rnb, etc.)

I had lots of last minute changes as well and he handled my requests with full professionalism and courtesy. A very skilled dj who kept the dance floor live the whole night, thanks Vicious!



Sent on 24/09/2019

Shama M. · Married on 04/08/2018

One of the best choices we made for our wedding!!!

Baba Kahn (with 808 Entertainment) was awesome to work with. We booked him as soon as we had our date as we were already fans of his work. He was friendly, flexible and easy to plan with. All of our guests had an amazing time and couldn't stop raving about the music. As per our request, he played a mix of different genres of music and played to the tune of the crowd. Music was extremely important to us when it came to our wedding so we wouldn't have gone with anyone else! Our party turned out exactly as we envisioned. Thank you Baba Kahn :)

Sent on 17/08/2018

Rebecca · Married on 29/07/2018

Compliments on the music all night long

My husband and I love music - so it was important to us that the music at our wedding was amazing. Not only for us - but for our diverse group of guests as well. 808 did a great job of catering to our audience and making sure that everyone was on their feet the whole time. We had compliments all night long - people thoroughly enjoyed the night and the music played a big role for that. Thank you so so so so much 808.

Sent on 28/09/2018

808 Entertainment's reply:

Congratulations once and again and thank you so much for the great feedback. We're very happy to hear everyone had a great time.

Ashley · Married on 28/07/2018

Best DJ ever :)

Baba Kahn was AMAZING to work with. What took me over a year to plan out our reception Itinerary, took him literally 15 minutes to help us plan it all out. My husband and I were absolutely more than happy with the service. Baba has helped us out with so much to make our day awesome! We can't thank him enough for the awesome hard work he has put in for us.

We are definitely going to be requesting for him again in the future! The experience was more than what we could have asked for and we would highly recommend him to anyone out there. We had a Punjabi and West Indian wedding and he caterer to both cultures amazingly!! Couldn't have been more happy :) Our friends and family all had a blast and he had everyone out on the dance floor.

Great personality, positive vibes, hard working, and very dedicated to his customers. Thanks so much again Baba Kahn :) ! from Ashley&Amonty 2018

Sent on 17/08/2018

Shayan W. · Married on 02/06/2018

808 Entertainment is the best!

808 entertainment is the best in the business. We hired them for our wedding and they did a phenomenal job. Our guests also told us how much they enjoyed the event and especially the music. Music is one of the key components of a memorable wedding. Do your self a favour and choose 808! I would hire them again in a heart beat.

Sent on 17/08/2018

Rahul · Married on 21/05/2018

May Wedding at Casa Loma

I've come across many DJ's and their companies over the years. These guys are consummate professionals.They deliver on their promise, and then some. Perfect music mix, old and new, kept the dance floor packed!! Will always recommend.

Sent on 31/08/2018

808 Entertainment's reply:

Thank you very much for your feedback was a pleasure being part of your special day. Congratulations to both of you again.