Reviews for Savoury City Catering & Events
Awards
22 User photos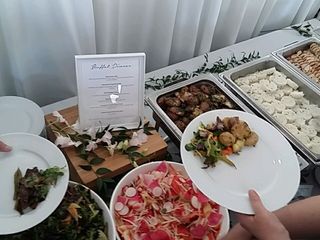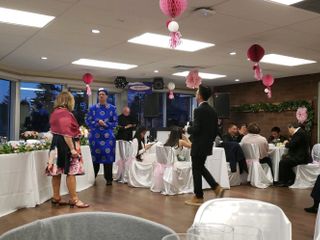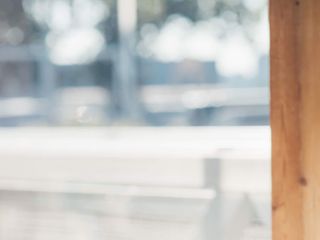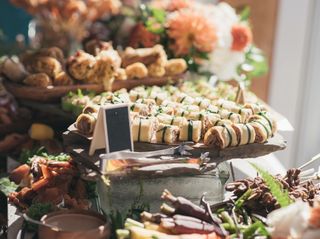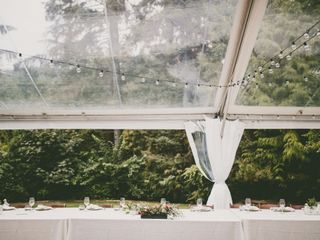 Coco H. · Married on 15/07/2017

Donna was amazing, she took the most detailed notes the first time we met. Our tasting was fabulous, we got to taste everything and we liked every single item! She has a great team and they provided excellent service, and she went above and beyond to make sure our reception is worry free for me on my big day :) Definitely recommend Savoury City if you are looking for one of a kind menu, and absolutely delicious food.

Sent on 20/09/2017

Savoury City Catering & Events's reply:

Hi Coco,

Oh thank you so much to you and Dylan, and your wedding was a true feast! Lets see...where to start? A family style dinner that included Pacific Ling Cod, Braised Lamb Shoulder, 'Chick-Etta', Rosemary Roasted Potatoes, Grilled Polenta, Deconstructed Lasagna...finishing with Fruit Crumble, Earnest Ice Cream and Iced Limoncello. Wow! And you know I loved talking food with everyone!

It was such an honor to be a part of your wedding, and I truly felt like part of the family. It was pretty special, so thank you for all the fabulously fun times along the way. Big love to you and Dylan and your respective families!

Erin F. · Married on 28/05/2016

Thank you Donna and the team at Savoury City for making such delicious food! The family style meal, appetizers, desserts and service were impeccable. Your attention to detail, (right down to the special salmon dish, just for my grandma) made our hearts and tummies smile! Xx

Sent on 02/06/2016

[Anonymous]

Savoury City was amazing! Donna went above and beyond and was so helpful with every aspect of the process. She helped design the perfect menu that suited our guests array of dietary preferences and restrictions. Everything was delicious and perfect! Donna helped us not only with the food, but with all the rentals and drinks. I would highly recommend Savoury City!!

Sent on 24/10/2016

Jennifer B. · Married on 07/11/2015

I can not speak highly enough of Donna and her team. We booked with Savoury City for our November wedding almost a year in advance and are so thankful that we did. Donna was my rock through out the planning year and was always ready with helpful advice and kind words. Her team did an exceptional job putting together a tasting for my fiance and I when we flew out to Vancouver and then blew us out of the water when we returned for the actual wedding day several months later. We wanted something custom and unique and step by step Donna worked with us to update and revise our menu to ensure that we included not only amazing food but a menu that spoke to who we were as a couple. I was beyond thrilled with the grazing station style that we chose and all of our guests raved about the food. I must say the butternut squash ravioli was a huge favourite. From start to finish we were extremely happy to have Donna on our team and our wedding day truly would not have been the same without her.

Sent on 26/11/2015

[Anonymous]

Savoury City catered a cocktail party the night before our wedding. The food was excellent (many guests complimented it) and there was a very good variety of hors d'oeuvres, and the servers were very professional. They were also very responsive and flexible in terms of the planning of the event. I would definitely recommend them, and would use them again in the future.

Sent on 22/04/2015

Leslie B. · Married on 14/09/2014

Donna and the team from Savoury City provided the yummy food for our outdoor wedding event. The food was absolutely delicious and we had so many compliments from our guests. Some of the favourites were the grilled cheese sticks with the shot of tomato soup and the fish and chips served in the newspaper cone. Foods were hand served on beautiful platters and the servers were very professional and knowledgeable. The bartender that was also provided was very friendly and went out of his way to bring drinks to those that had more difficulties with mobility, so very thoughtful. I would highly recommend Savoury City to anyone! Thank you again Donna and team!



Sent on 16/02/2015

[Anonymous]

We are so happy that we chose Savoury City to cater our wedding. The food was absolutely amazing - all of our guests were really happy. Donna and the team obviously have a passion for the industry, and we had such a great time picking out our menu. They were happy to make changes, and really worked with our vision and budget. I emailed them a million times, and they were always so prompt and professional and energetic. They came out to our venue for a site inspection, and even though the girl we'd been planning with left the company mid-way through the planning (we had a two year engagement), on the day-of everything went really smoothly. I think that really speaks to how organized and professional they are. It was such a pleasure working with them, and I would recommend them a million times over.

Sent on 27/01/2015

Goldis C. · Married on 15/06/2013

Savoury City catered our wedding at the UBC Boathouse in Vancouver in 2013. To say that Savoury City helped us do a significant amount of the planning, coordinating between vendors, and logistical trouble-shooting on top of actually catering our wedding would not be an understatement. Working with Savoury City was the best wedding-related decision we made (besides marrying each other, of course!), because they were an absolute pleasure to work with, and they made planning other parts of our wedding easier as well.

Savoury City was fabulous from the start all the way through to the finish. Donna Wadsworth, 'Head Honcho', worked with us to carefully put together a menu that would appeal to our diverse set of guests. She took our family recipes and incorporated them into the menu, as well as tailored dishes that we had tried at various local restaurants to fit our theme. Our planning included multiple meetings with Donna, as well as several tastings to ensure that everything would taste great and be presented the way we wanted on the day of the wedding. Donna also arranged for the three of us to meet with our venue to ensure that all of the logistics were sorted out for the day of the event.

The result was a beautiful, hearty West coast/mediterrenean feast that our guests loved (and in fact went back for seconds and thirds of!). Donna even helped us find our cake vendor, Sweet Thea, who also delivered a gorgeous and extremely tasty raspberry lemon curd cake.

We absolutely adore Donna and her team, and would not hesitate to recommend them to others planning weddings and other events (they've also catered fabulous backyard barbeques, corporate affairs, and parties). Thank you, Savoury City, for a meal that our guests won't forget, and for being a wonderful company to work with!

Sent on 06/10/2013

Joshua

From the moment we walked into the office, we knew that this experience was going to be different. Donna has a passion and genuine love for both the people around her and her work. She is incredibly patient, professional and imaginative. She was with us throughout the entire planning process- giving us valuable help and support not only around the food but many other aspects of our wedding. And life in general...

We had a loose vision of what we wanted for food at our wedding, and Donna and her team took those ideas and exceeded our expectations at every turn creating a fabulous menu that was integral to the experience. They coined it "Nantucket Italian," and it was those two words that would set a theme for our day. And, when it came to the big day the experience was perfection. The fabulous, fresh and locally sourced grazing table, the bespoke cocktails and epicurean styled dinner with all of our favorite things were all perfect start to finish. To this day, our friends comment that the food at our wedding was some of the best that they have ever enjoyed at a wedding (or otherwise!). The support staff on the day of were so warm, friendly, funny and efficient. They were lovely to us and our guests and professional throughout.

It's hard to put into words how we feel about Donna and the Team at Savoury City in a such a short review.

-If you're looking for incredibly creative, custom styled food: this is your vendor.
-If you're looking for a team that will treat you like you are their only customer: this is your vendor.
-If you're looking for a company that will do whatever it takes to save your wedding when things go sideways: this is your vendor.*
-If you're looking to work with people you can call family: this just isn't your vendor, they will be so much more.

We wholeheartedly recommend the Savoury City team!!! It was an absolute privilege working with them.

*Our wedding did go sideways, they were integral to saving our day, and we didn't even find out until after it was all done!




Sent on 18/09/2017

Savoury City Catering & Events's reply:

Hello Josh & Adela,

Two of my favourite people in the world and one of my favourite weddings of the summer! Thank you so much for this, and you know it was absolutely my pleasure to be on that journey with you. We all shed some tears that day, but we also all had some great laughs. But when you asked me if I had seen Adela arrive...and I just had...well, I was speechless. So utterly beautiful and I was crying, and I wasn't you waiting to see Adela for the first time that day. But best of all is the love between you two 'hipsters trapped in brainy bodies' as I so fondly coined you both. Thank you again for everything, and time to celebrate with you both again soon!