Reviews for Mooch: Custom Confections
Awards
53 User photos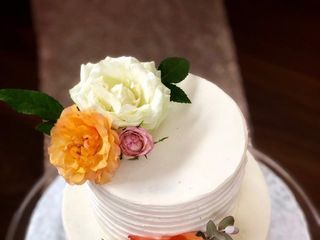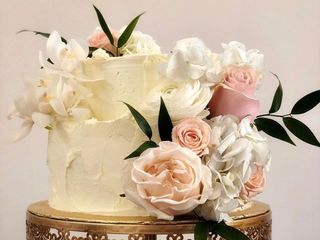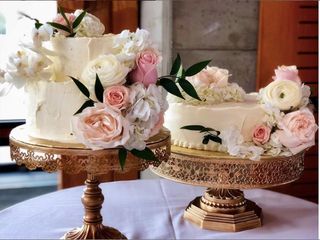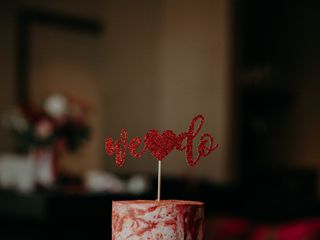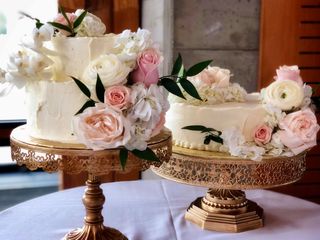 Lea Tremblay · Married on 08/06/2019

Beautiful and delicious cupcakes

Megan is truly amazing! We booked her with pretty short notice before our wedding. We wanted four different flavours for 90 cupcakes and she was happy to do that. I was really indecisive about flavours and she was very patient and helped me chose the best combinations and let me change my mind several times. She answers back all questions really quickly (usually within the hour!). Megan goes above and beyond. I asked her on the day of cupcake pick up if she could make little flavour cards for the cupcakes, and she said yes right away. She forgot to include them with the order since my request was so last minute, and she arranged to meet up with another guest who brought them to my reception. The cupcakes were absolutely stunning and delicious and exceeded my expectations. I don't have photos yet but check out her IG @moochbymegan. Thank you so much Megan!

Sent on 10/06/2019

Mooch: Custom Confections's reply:

Thank you, Lea and Mitch! Working with each couple makes every project unique, just like your relationship. I'm happy that everything worked out perfectly for your wedding day, and that the cupcake spread was a hit! I can't wait to see the professional shots.

Vanessa A · Married on 25/05/2019

Amazing tasting cupcake!

Thank you Megan for making our wedding cupcake tower! We ordered 100 cup cakes and they were gone in MINUTES! Every guests at the wedding said the cupcakes were amazing! We discovered Mooch through word of mouth and I am so glad I went ahead and ordered my cake from Megan @ Mooch. From the very first contact, to the cake tasting, and to the delivery of the actual cake, Megan was quick at responding text/emails , professional, and flexible!
We were suppose to have our cup cake tower at an outdoor ceremony but due to last minute weather change, we had to switch the cake cutting to our dinner reception which is at a different location/time. Megan was very understanding and was willing to accommodate this last minute change which we really appreciate! I would highly recommend Mooch to anyone who is looking for their wedding cake or even a custom party cake!

Sent on 28/05/2019

Mooch: Custom Confections's reply:

It was such an honour to be part of your wedding day. Thank you for giving Mooch the opportunity to create something special for you and your now Husband!

Jessica Sutherland · Married on 20/04/2019

Amazing dessert with vegan and gluten free options

Megan from Mooch: Custom Confections is amazing. She made my now-husband's 35th birthday cake and created our whole wedding dessert table. Communication was fast and friendly and Megan is a cake genius- as well as so reasonably priced. If she's not already booked, I would recommend her 100%

Sent on 28/07/2019

Mooch: Custom Confections's reply:

Thank you for your review, Jessica! I'll always remember how your wedding date kicked off the rest of my season. It was a pleasure working with you and Adam to create a gluten-free, vegan, and even paleo friendly spread!

Jessica Smith · Married on 20/04/2019

Simply the best!

Megan was such a fantastic vendor to work with leading up to our wedding day. We were so appreciative of her ability to fit us in to her schedule on a busy weekend but she was extremely flexible and delivery went so smoothly! Our guests continue to give compliments about the taste and presentation of our cake as it perfectly matched our vision and was so delicious! We would confidently recommend Megan as she provided exceptional service and outstanding dessert!

Sent on 04/08/2019

Mooch: Custom Confections's reply:

Thank you for sharing your experience! I loved every moment of the creating process, from the first day we emailed back and forth to seeing the beautiful photographs after. Thank you for letting me be part of your wedding day, and if you or your guests ever need a reminder of what your wedding cake tasted like- you know where to find me!

Erinn Parson · Married on 07/10/2017

Professional & Delicious

We gave Megan the difficult task of creating a gluten, dairy, and egg free wedding cake due to my allergies. Not only did she accomplish this for us, but provided suggestions along the way as to what would work best. The result was beautiful, unique, and the best tasting allergen free cake I've ever had.

Sent on 04/06/2019

Mooch: Custom Confections's reply:

Thank you so much for the review, Erinn! It was an amazing learning experience working with the different dietary restrictions, thank you for coming along for the ride.