Reviews for Mooch: Custom Confections
Awards
53 User photos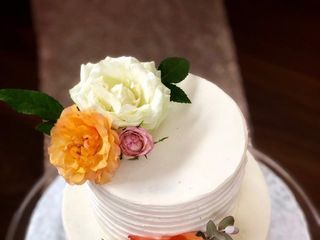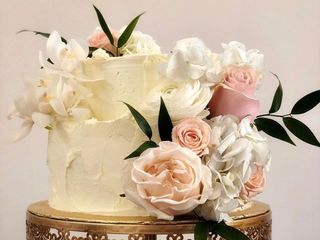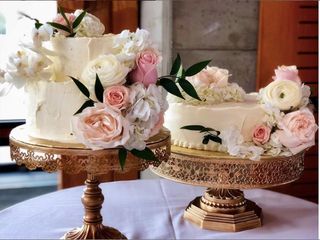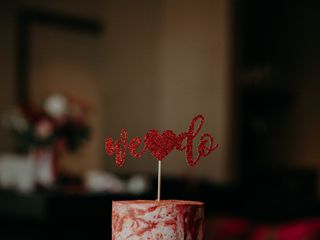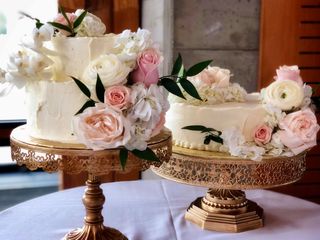 · Married on 09/08/2019

Beautiful cake with incredible flavor made by an amazing baker/artist!

This review is long overdue! I have absolutely no words to describe how beautiful our cake was. I was speechless when I saw it. The fresh flowers, the carving of our initials---it was perfect! Honestly, it turned out better than I could have ever imagined and to my complete amazement it was even better than the pictures I had sent Megan. And to top it all off, it tasted amazing!

I've been to weddings that have had beautiful cakes but that do not taste as great as they look but I loved the flavor and buttercream of the cake and received so many compliments about the flavor as well.

Megan out did herself in every way. First of all, she was the easiest person to communicate with. She would reply so quickly to any message I sent. I was doing most of my planning from the US, so communication was key. She listened to all my ideas and gave great suggestions on how to incorporate the ideas I had. Second, I told her about flavors I thought I would like but she made it all a reality. I am no expert in cakes but she made the experience so much fun! Planning from out of town, also meant that we did not go for a tasting but we had so much trust from our chats with her that everything would be amazing. Third, she came to the venue to set up the cake, so she just made the entire experience so effortless. She is not the type of vendor you have to check on, she set up everything on time and was so professional.

Megan thank you so much for being a part of our day :) I cannot wait to have another event to order another one of your cakes!

Sent on 21/11/2019

Kelsey Brailsford · Married on 26/07/2019

Megan is a gem

Megan was so amazing to work with. Right from the start she was so supportive of our vision and also our budget. It was very clear how passionate she is about the work she does. She was so easy to talk to and I especially appreciated how I could send her a picture on instagram and right away she'd be available to chat about ideas and make edits to the cake we planned together. The day of the wedding arrived and the cake was absolutely stunning and exactly how my husband and I imagined. It was light and delicious, and it also held up amazingly well, just like Megan said it would, because we had it displayed all evening before cutting it that night. Megan arranged the fresh florals and greenery beautifully on the cake and it all looked amazing. We're super excited for our first anniversary, so we can have some more of the top tier that we're saving. Megan is wonderful, and so talented, and we highly recommend her.

Sent on 02/08/2019

Mooch: Custom Confections's reply:

Thank you for sharing your experience, Kelsey! It was my pleasure to be part of your wedding day. Thank you for trusting Mooch to execute your vision! I absolutely LOVED how you and Luke made the cake a showpiece at your wedding and created a focal point for your guests. Congratulations, Newlyweds!

Carolina Heimann · Married on 21/07/2019

Simply delicious

Our wedding cake was absolutely delicious - we got so many great comments for it. It was a pleasure to work with Megan - she's so responsive and flexible, and super open to trying new things out. The cake was also GORGEOUS as she used fresh florals! Loved it.

Sent on 01/08/2019

Mooch: Custom Confections's reply:

I absolutely LOVED your cake, it certainly came with unique challenges re: getting it up the Sea to Sky Gondola, but it was so worth it. Thank you for trusting me to make your wedding cake, it was a beautiful ceremony and my honour to be part of your special day!

Jennifer Kobelt · Married on 19/07/2019

Gluten free cake of my dreams!

When I found Mooch, I couldn't believe the pricing! Megan was willing to make me a gluten free cake for less than half of what everyone else wanted to charge. The outcome was perfect! She made me two faux layers and then a real top layer that I shared with my bridal party at the head table - they all loved it! (even though they can eat gluten)
I also worked with Megan for my wedding shower cake, and again all the guests couldn't stop saying how much they loved it and that it was the yummiest gluten free cake they'd ever had.
Megan is amazing and I highly recommend her :)

Sent on 22/08/2019

Mooch: Custom Confections's reply:

It was such an honour to be part of your wedding day, in more ways than one. I am pleased to hear you and your gluten-loving guests enjoyed the gluten-free cake! Thank you for giving me the opportunity to create something special for you and Anthony.

Katie Frees · Married on 13/07/2019

Wedding Cake

Just wanted to say how amazing Megan was since the beginning of asking her if she could make my bestfriends wedding cake. She went above and beyond for us and made a beautiful cake! I recommend 10/10!!! You wont be disappointed!

Sent on 15/07/2019

Mooch: Custom Confections's reply:

Thank you for the kind words! It was so much fun creating this woodland themed cake. I loved the little details of having Ashley & Kyle's initials carved into the cake! Thank you for choosing Mooch.

Sarah Lysakowski · Married on 13/07/2019

Megan is the best!

Megan was so great to work with because she was so fast to respond and kept checking in with me along the way. She was so supportive and adapted to some last minute changes! The cake was delicious and looked great. Thanks Megan!

Sent on 30/07/2019

Mooch: Custom Confections's reply:

Thanks for the review, Sarah! I'm sorry you didn't feel I was a 5/5 on my flexibility and value. Please let me know how I could improve.

Michael Matheson · Married on 12/07/2019

Creative and Delicious

We are very happy with our wedding cake from Mooch. It wasn't a very easy task as we weren't very sure of what we wanted but Megan was able to help get some ideas flowing. We had aeroplanes to match the travel theme from our seating chart, silver ferns to represent the groom being from New Zealand and Maple leafs to represent the Canadian bride. The most important part, it tasted delicious, we had salted caramel flavour. It was a hit. Would highly recommend Mooch.

Sent on 05/08/2019

Mooch: Custom Confections's reply:

Thank you for sharing your Mooch experience! It was so much fun creating this design to represent your relationship and the love between you two. We managed to navigate the major time differences between me in Vancouver, and you two in Australia- thank you for trusting the creative process and giving me the opportunity to create something very unique. Safe travels and best wishes on your newest adventure as Mr. & Mrs.!

Kelly K · Married on 01/07/2019

Great customer service and very prompt responses!

I had originally planned to go with another vendor for my wedding cake but they could not make my cake the way I wanted, so as my wedding day got closer and with it being prime wedding season, I had to find another vendor quickly. Thankfully I come across one of Megan's cakes here on Wedding Wire and it was just what I wanted! I reached out to Megan and within an hour I got a response from her, and Megan remained very prompt with all subsequent communication after, both by phone and email. The cake itself was beautiful and I'm glad we found Mooch :)

Sent on 27/07/2019

Mooch: Custom Confections's reply:

Thank you for taking the time to write a review, Kelly! I am thrilled that you loved the cake and all of those hand piped roses. I can't wait to see the photos!

Steph Stardom · Married on 22/06/2019

Awesome customer service!

It was a pleasure working with Megan. She worked within our budget to provide us with a beautiful, delicious cake! She stayed in touch with updates and was flexible with pickup time. I'd order my next cake from Megan 100%!

Sent on 15/07/2019

Mooch: Custom Confections's reply:

Thank you for the review, Steph! I'm so happy to have been part of your intimate celebration. I was filled with joy when I saw the photos of you and Graem's first "bite" of cake- I love a good cake smash!

Madison Philps · Married on 22/06/2019

Megan at Mooch is AMAZING!

Initially unsure if we wanted a traditional cake, we last minute decided that we needed to have one. Needless to say, two weeks before our Canada Day weekend this was no easy feat. A cousin recommended Mooch to us, and we can honestly say it was one of the best decisions we made. Megan created a beautiful cake for us that truly represented our love story and us as a couple. We gave her free reigns with the exception of it being white and she out-did our expectations. It was simple, elegant and absolutely delicious - exactly what we wanted. I had the pleasure of meeting Megan in person when she dropped our cake off (hand delivered on Canada Day to our venue) and she is as kind, caring, hardworking and passionate as she sounds online. She truly loves what she does and this comes across in every one of her creations. I cannot recommend Mooch enough, thanks so much Megan!

Sent on 29/07/2019

Mooch: Custom Confections's reply:

Thank you so much for the heartfelt words, Maddie! I had so much fun hearing about your love story and taking inspiration from it. Thank you for choosing Mooch.