Reviews for Melanie's Cakes
Awards
23 User photos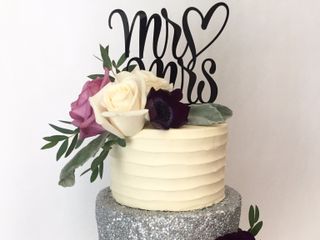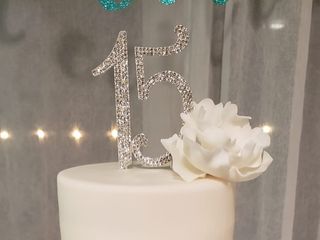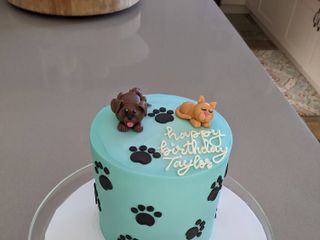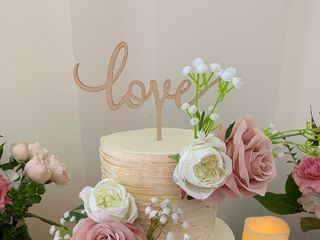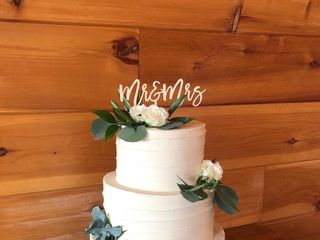 Elodie C. · Married on 06/07/2018

Delicious and very pretty cake

We decided on cupcakes and a small cutting (rainbow) cake. The cupcake flavors were really hard to choose because they were all so good.
The cake was elegant and excellent.
Plus it is always nice to support a growing business lead by a young woman!


Sent on 10/07/2018

Melanie's Cakes's reply:

Thank you so much Elodie and Sarah! It was a pleasure working with you and creating something that brought so much joy to you both!

Pauline U. · Married on 23/06/2018

We can't stop eating this cake

Melanie is incredibly kind and professional. On top of that, her cake tastes amazing. We haven't been able to stop eating it since our wedding. We are so pleased that we picked her to make our wedding cake!

Sent on 27/06/2018

Melanie's Cakes's reply:

Thank you Pauline for the sweet review! You and Bill are so perfect together and it was a pleasure to work with you both.

Tanya · Married on 22/06/2018

Beautiful and Delicious! :)

The cake was not only beautiful but it was delicious. We opted for a vanilla and a lemon layer. Our guests couldn't stop talking about how delicious the cake was. Can't wait to eat the top tier at our 1 year anniversary!

Sent on 01/10/2018

Melanie's Cakes's reply:

Thank you, Tanya! That is so great to hear that everyone loved the cake. I hope to see you again in the area and create more cakes for you in the future!

All the best!

Lauren M. · Married on 16/06/2018

Fantastic!

Melanie was such a pleasure to work with! Not only was the cake delicious, it was so beautiful. Would highly recommend Melanie's Cakes! Have already had her do a birthday cake as well! Thank you Melanie!

Sent on 11/07/2018

Melanie's Cakes's reply:

Thank you Mark and Lauren! I loved creating your dessert display and wedding cake.

Your barn wedding was beautiful! I wish you both all the best.

Laura B. · Married on 09/06/2018

Beautiful AND Delicious!

Melanie provided the cake and favours for my bridal shower, as well as my wedding. She was patient and happy to discuss my ideas to ensure that she captured my vision. Most importantly everything was SO tasty. I am definitely picky when it comes to sweets, and she absolutely blew me away! Almost every slice of cake at the wedding was gone by the end of the night, which is so rare, but people loved it! They also RAVED about the macaroons she did as the party favour. They were truly the freshest, tastiest ones I'd ever had. Couldn't have been happier.

Sent on 27/06/2018

Melanie's Cakes's reply:

Laura!! I was so happy to be a part of Your big day! Everything was so so beautiful including yourself. You have amazing taste and that just makes my job so much easier!

Best wishes to you and Jordan!!

Christina · Married on 02/06/2018

Melanie's cake

What an amazing experience Melanie offers her customers no matter how small an order it may be. Her attention to detail, sweet demeanour and love for baking made our wedding day truly incredible and tasty. Thank you

Sent on 27/06/2018

Melanie's Cakes's reply:

Thank you Christina for choosing me as your go to cake person! I loved following your journey from bridal to wedding. Your wedding was the most beautiful I have ever seen and it was a true honour to be a part of it!

Thank you for your kind words and I know you and Adam will have a sweet and happy life together.

Alisha S. · Married on 26/05/2018

Best cake ever!

Not only does Melanie offer fantastic service, but her cakes taste amazing! We purchased a top tier and mini cupcakes to create a cupcake tower. Guests loved all the flavours we ordered including carrot cake, banana and vanilla. Melanie also offered to purchase the cake flowers for us which was great, and she delivered right to our venue in Toronto. My mom says Melanie's cakes offers the best cake she's ever had in her life!

Sent on 17/07/2018

Melanie's Cakes's reply:

Thank you to you and your family's kind kind words!! It was a great pleasure to be apart of bringing your families together and being able to coordinate so seamlessly even from afar. All the best!

Tania · Married on 18/11/2017

Nov 18, 2017 Wedding

We had the pleasure of working with Melanie for our wedding. She responds right away to her emails and was very easy to work with. We told her the design we wanted for our wedding cake and she did exactly that. Our cake was chocolate cake and many of our guests really enjoyed the cake! Thank you Melanie for making our day special!

Tania and Martin

Sent on 16/03/2018

Melanie's Cakes's reply:

Thank you so much Tania and Martin for the lovely review! Your wedding was so elegant and you both looked amazing. It was a real pleasure working with you and your family!

Best wishes :)

Janet M. · Married on 07/10/2017

Our cake was absolutely beautiful and everyone commented on it. It tasted great and Melanie was a great help in us deciding the right size and she came up with the right colour to match our decor. All in all it was a great experience and I would recommend Melanie's cakes to everyone!

Sent on 07/11/2017

Melanie's Cakes's reply:

Thank you so much Janet for your kind review! You were so great to work with and I am glad we found a wonderful cake to work off of as inspiration.

I hope you enjoyed your special day!

Jennifer G. · Married on 01/10/2017

Melanie was so great and worked with us to create the most beautiful cake to go along with our navy blue, blush and gold theme. She was so easy going and created the most delicious gluten free cake, we couldn't have asked for more. We would definitely recommend Melanie to anyone looking for a fantastic cake!

Sent on 08/11/2017

Melanie's Cakes's reply:

I am so glad that I was able to make you a beautiful cake for you that also accommodated your dietary restrictions.

You are one of the kindest brides I have ever worked with. It was a great pleasure. Thank you so much and I wish you and Ren a lifetime of happiness!