Reviews for Melanie's Cakes
Awards
17 User photos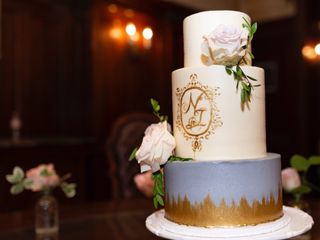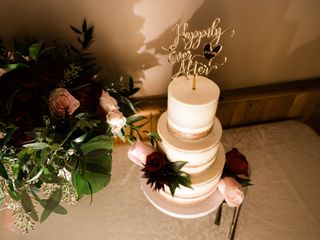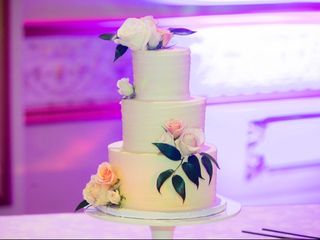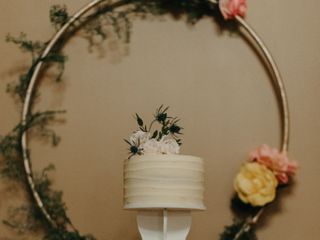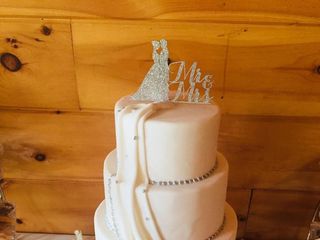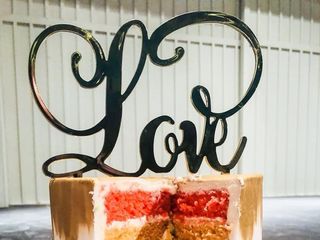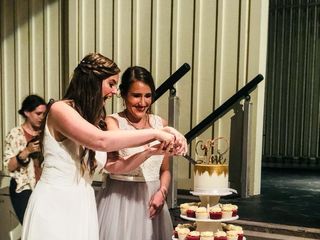 Stephanie Brown · Married on 30/09/2017

Melanie was excellent at communicating with us, answered all our questions and provided us with a delicious mini cake and cupcakes in multiple flavours for our wedding. We definitely recommend working with her!

Sent on 20/10/2017

Melanie's Cakes's reply:

Thank you, Stephanie. You and Doug are so sweet and a dream to work with.

I wish you all the best!

Simone Williams

Melanie's Cakes is amazing. I sent her some photos of the cake I wanted and added some of my own ideas, and from that she made my wedding cake better than I could have ever imagined. Not only did it look absolutely stunning, but it was absolutely delicious as well. On top of baking the perfect cake, she really helped me out last minute with providing a cake stand and a cake topper to go along with it. She picked up the flowers from my florist on the day of my wedding and she dropped the cake off at the venue. I asked Melanie to send me a picture of my cake when it was ready so I could see it before dinner, and when she did that morning I screamed with Joy at how beautiful it was.

I would recommend Melanie's Cakes 100% to take the stress of your back and handling everything, as well as helping your dream cake come to life.

Sent on 15/08/2017

Melanie's Cakes's reply:

Thank you so much Simone!! Your kind words are why I love what I do.

I was so happy with how the cake turned out, it was really a pleasure working with you. You have a great eye.

I wish you and Brad all the best in your future together!

Hanna Wickstrom · Married on 13/08/2017

Melanie was an absolute dream to work with! She is very accommodating, has wonderful ideas, and is filled with creativity. She created a beautiful garden themed cupcake tower for our wedding. It was gorgeous and delicious! Our only regret is that we wished we ordered more cupcakes! Our guests LOVED them. We would definitely recommend Melanie and her cakes!

Sent on 17/08/2017

Melanie's Cakes's reply:

Your vision was spectacular and I am happy I could execute! I can't wait to see some photos of the whole day.

Thank you for being a joy to work with! All my best to your life together!

Joanne · Married on 09/07/2017

If you are looking for quality cake that looks beautiful and tastes great for reasonable price, then you are in the right place. Plus great Service we're lucky to find Melanie. We will be regular customer from now on :)

Sent on 11/07/2017

Melanie's Cakes's reply:

Thank you so much Joanne! I look forward to working with you again. Your wedding cake was definitely one of my favourites. Everything set up at the Doctor's House was truly beautiful!

Felicia Jones · Married on 08/07/2017

Melanie was so professional and easy to work with. Always responded to me quickly and very flexible and helpful! My cake was exactly what I asked for and it was DELICIOUS!!! I would and will definitely recommend melanie to all my friends and family :) thank you SO much melanie!!!

Sent on 12/07/2017

Melanie's Cakes's reply:

Your welcome Felicia! :)

I am so glad everything turned out as you pleased. You were a very easy going bride to work with and it was a pleasure! I look forward to seeing all the photos. Thank you!

Donna Pfefer · Married on 04/06/2017

Melanie was very professional, reliable and flexible to work with; but most importantly, the naked cake she baked for our wedding was absolutely delicious (as were the additional gluten free and dairy free cupcakes). I would not hesitate to recommend Melanie and her cakes:)

Sent on 11/07/2017

Melanie's Cakes's reply:

Thank you for the review Donna! I was very happy to be able to help and accommodate all of your and your guests' needs.

All the best in your life together!

Samantha H. · Married on 29/04/2017

Melanie was amazing for our wedding! She made cupcakes for our guests & a small cake for my husband & I. I have celiacs disease & Melanie made a gluten free cake for me so that I could enjoy a treat on my wedding day. She made the cupcakes exactly how we had pictured them. Our guests couldn't wait to eat them! I would highly recommend Melanie!

Sent on 09/05/2017

Melanie's Cakes's reply:

I am so glad the cupcakes were a hit and I was able to make a cake you could enjoy with the rest of your family and friends! It was a pleasure working with such a fun-loving, beautiful couple.

Thank you and all the best! I hope to work with you both again in the future.

Beth Hancox · Married on 18/09/2016

The cupcakes were awesome and Melanie added her own touch when it came to presentation that I would never had thought of.
She delivered them well in advance to the party and set them up herself. The colour of the icing was pefect.

Sent on 28/02/2017

Melanie's Cakes's reply:

Thank you so much Beth and Bruce! So glad you loved the cupcakes and cake, it was my pleasure to make them for you, your family and friends!

I am so happy for the both of you!

Amy Smith · Married on 23/07/2016

We recently got married (July 23rd, 2016) and had the privilege of getting Melanie to create our wedding cake. I typically don't even enjoy cake and I found it phenomenal. We had alternating layers of chocolate cake with oreo frosting and red velvet with cream cheese frosting. So many of our guests made a point to tell us how lovely our cake was. Melanie was also very accommodating in terms of dietary restrictions, communicating and linking up with our other vendors and being so easy/flexible overall with her services and receiving payments. Our cake was also breath taking in terms of what it looked like. The value for the price was more than reasonable and the frosting coating which I always hate, I both ate it and enjoyed it! I will definitely be continuing a relationship with Melanie by getting more cakes made by her in the future!

Sent on 03/08/2016

Melanie's Cakes's reply:

Amy and Mamoun, it was more than a pleasure to work with both of you! You are the sweetest couple and I wish you the best in your life together.

I am so thrilled you and your guests enjoyed the cake both in appearance and taste. It was one of my favourite to make by far! We will definitely continue a relationship and I would be happy to serve all your future cake needs!

Marcella Guldimann

I had the great pleasure to order 2 cakes from Melanie; one for my daughter's engagement party and one for her shower. Melanie was a true pleasure to work with and we were very happy to support her new business. She had great ideas on how to match the cakes to the invitation cards and the look of the party. The cakes left nothing to be desired, both cakes not only looked great but they were among the best tasting cakes we ever had. Not one crumb was left!
We will definitely order from her again.

Sent on 27/05/2016

Melanie's Cakes's reply:

It was a great pleasure working with you and your daughter! I love the freedom to be creative and come up with designs that are truly custom to your events.

I am so glad you love the designs and more importantly the taste! I cannot wait to work with you and your family again.