Reviews for Melanie's Cakes
Awards
22 User photos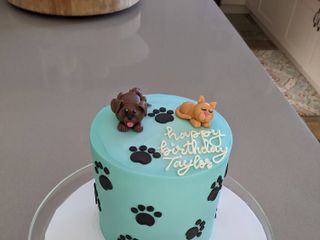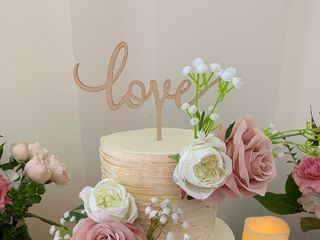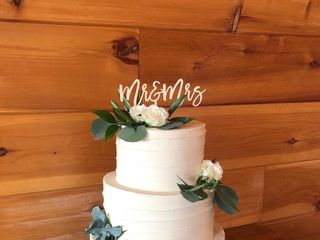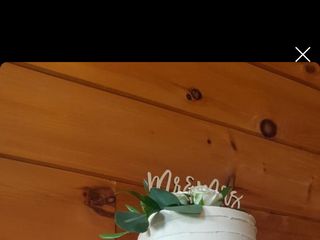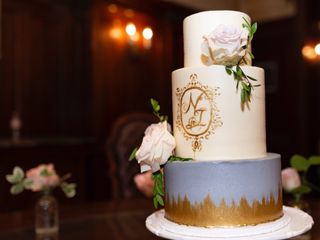 Tina · Married on 06/07/2019

Wedding cake

Beautiful cake! Guests loved it!

Sent on 11/07/2019

Melanie's Cakes's reply:

Thank you Tina for your review! Glad your cake was a hit and everyone enjoyed it! Hope you had an amazing day and all the best in your marriage.

Susie M. · Married on 08/06/2019

We loved our wedding cake so much!

Thanks to Melanie for making the most beautiful wedding cake I have ever seen! She made the whole experience so easy and fun. We loved our tasting appointment and she created a cake that absolutely exceeded all expectations. She delivered and arranged everything on site leaving us nothing to worry about. Thank you Melanie!

Sent on 10/07/2019

Melanie's Cakes's reply:

Thank you Susie and Paul! You were a dream couple to work with and I wish you truly the best in your long life together. Your cake was one of my favorites by far and thank you for allowing me to be creative in the design.

Stephanie D. · Married on 17/11/2018

Gorgeous and Delicious Cake

Melanie provided us with an absolutely beautiful wedding cake. She completely matched our vision of a simple but elegant looking cake. Melanie even worked with us to find the perfect flavor combination for my now-husband and I, as we have very different interest in taste. It turned out to be an absolutely delicious cake! I couldn't have asked for a better experience.

Sent on 24/11/2019

Melanie's Cakes's reply:

I am so pleased I could provide you with a wonderful cake experience and a cake you enjoyed! Thank you for the lovely review Stephanie!

J & S. · Married on 21/10/2018

Great service and amazing cake!

Melanie was easy to work with and her cake looked and tasted amazing!

Sent on 15/01/2019

Melanie's Cakes's reply:

Thank you Bree and Jaime! It was a pleasure working with the both of you as well. Best wishes in your life together!

Geoff N. · Married on 12/10/2018

We loved her!

We loved our cupcakes from Melanie. She was professional and delivered quality cupcakes. She also worked with our decorator to make sure the display was beautiful at our wedding. Lastly, we needed vegan options and she supplied us with a recommendation. We would recommend her to anyone!

Sent on 17/12/2018

Melanie's Cakes's reply:

Thank you Geoff and Brianne for the kind review! It is a pleasure to work with various vendors on such a beautiful wedding. I look forward to sharing your photographer's amazing photos with all my followers.

Loretta L. · Married on 23/09/2018

Amazing and Delicious

Melanie was such a please to work with! Her cakes are absolutely stunning! We first met Melanie at a small bridal show in Thornhill, she had some samples at her table. Her cupcake and cookies looked so good we had to try some right away! They tasted AMAZING! We knew we had to book her for our wedding cake. Melanie is very quick to answer email correspondences and was so accommodating, especially when I kept changing my mind about what I initially wanted. The cake that she made for us turned out so beautiful, and she even added more sugar flowers to the designs than we had previously discussed just so the cake would look closer to what we had originally envisioned! We are so happy we decided to go with Melanie! We definitely would recommend her to anyone looking to get cakes and cookies for any occasion!

Sent on 13/10/2018

Melanie's Cakes's reply:

Thank you so much Loretta for the lovely review! I am so happy I was able to create your dream cake and make your special day just a little sweeter.

I wish you and Jason an amazing life together!

Elaine X. · Married on 02/09/2018

Amazing experience!

It was a pleasure to work with Melanie for our wedding day! We didn't want a traditional wedding cake, and opted instead for a small one-tiered cake (to cut) and lots of mini cupcakes so that our guests could have a taste of many different flavours. We have some "foodie" friends, who all raved about the taste of her cupcakes. She brought everything on time, and was super easy to communicate with. We would certainly recommend her to anyone else!

Sent on 16/12/2018

Melanie's Cakes's reply:

Elaine, your words make me smile! Once again, I am so glad your foodie friends enjoyed the cupcakes, and I am so happy I was able to make your wedding cake experience stress-free!

Wishing you and Adam a beautiful and happy life together!

Donna F. · Married on 04/08/2018

Our wedding cake

Amazing. Talented. Patient. Yummy. Mel took my design I gave her and made it beautiful. She Is so great we went twice to taste cake. She added cookies and found stamp that matched my image I had from invitation to my cake and cookies. She helped in the design of our cake topper helped me with my vision. We love her and wish her much success and will use her for all our milestones in life. You will not be disappointed if you hire Melanie.
Thank you again

Sent on 11/08/2018

Melanie's Cakes's reply:

Donna and Abs, you are the most amazing couple! You were so fun to work with along our journey of discussing the original design down to the small details. Your supports means so much to me and I wish you both an amazing life together. Thank you and I look forward to creating more cakes for you and your family in the future!

Elodie C. · Married on 06/07/2018

Delicious and very pretty cake

We decided on cupcakes and a small cutting (rainbow) cake. The cupcake flavors were really hard to choose because they were all so good.
The cake was elegant and excellent.
Plus it is always nice to support a growing business lead by a young woman!


Sent on 10/07/2018

Melanie's Cakes's reply:

Thank you so much Elodie and Sarah! It was a pleasure working with you and creating something that brought so much joy to you both!

Pauline U. · Married on 23/06/2018

We can't stop eating this cake

Melanie is incredibly kind and professional. On top of that, her cake tastes amazing. We haven't been able to stop eating it since our wedding. We are so pleased that we picked her to make our wedding cake!

Sent on 27/06/2018

Melanie's Cakes's reply:

Thank you Pauline for the sweet review! You and Bill are so perfect together and it was a pleasure to work with you both.