Reviews for Annapolis Basin Conference Centre
Awards
4 User photos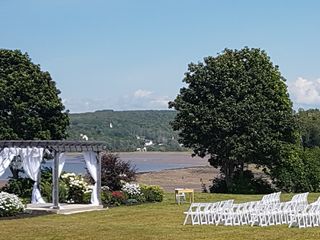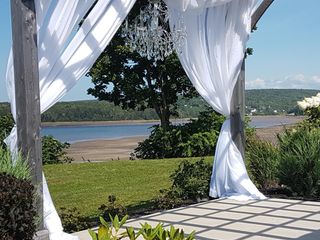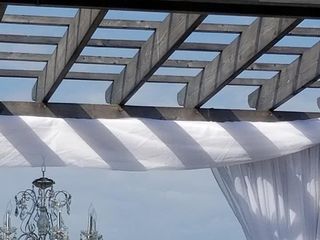 Featured

Rachel B. · Married on 04/08/2021

Wedding at Annapolis Basin Conference Centre

We had our wedding at Annapolis Basin Conference Centre. The venue is stunning. The pergola location for the ceremony is beautifully located to capture the Bay of Fundy and is also framed by a stunning garden. The staff were phenomenal and professional, and also made me, my husband, and our guests feel welcomed and special.
Tamara, the wedding coordinator, worked with us to answer all questions and made the day flow effortlessly. We opted to use the venues decorations for the hall and pergola and they exceeded all of our expectations. Tamara ensured that I was kept in the loop and had the final say on all decoration choices.
We loved that there was a separate bar area for guests to mingle and the use of the outdoor patio and fire pit made sure there was plenty of space. The guest rooms in the north building had everything we could need. We loved that guests had access to a full kitchen and lounge area during down times.
The food for breakfast and dinner was delicious. We decided to have a buffet and there was more than enough food for everyone. The serving staff were great ensuring tables were cleared promptly.
We could not have hoped for a better location or atmosphere for our wedding!


Sent on 06/08/2021

Annapolis Basin Conference Centre's reply:

Rachel and George,

Thank you for your kind words! All of us at ABCC had a joyous time hosting your wedding celebration; we're so pleased that the experience was memorable and meaningful.

The two of you were wonderful to work with, and the love shared by the two of you was radiating throughout your celebrations. You and your guests were gracious and fun - thank you for allowing ABCC to be a part of your special day.

Wishing you a lifetime of happiness,

Tamara and the team at ABCC

Tanya M. · Married on 17/08/2019

Amazing experience

Quiet, beautiful surroundings. Friendly, helpful staff that went above and beyond to help. The food was phenomenal, and the pricing very reasonable. Overall an amazing experience. We will be planning a trip back for our anniversary!

Sent on 26/08/2019

Annapolis Basin Conference Centre's reply:

Hi Tanya,

The love story that you and Brady share is truly inspiring, and it was an honour to be a part of your wedding day! You were an incredible couple to work with, and brought our staff much joy. We wish you a lifetime of happiness, and are so excited to welcome you back to celebrate your anniversary!

- Tamara and the team at ABCC

Erin M. · Married on 25/08/2018

Great spot for a wedding

The staff were great to work with, made sure everything was perfect leading up to and during our wedding day. Tamara made sure everything was flawless. Food was excellent and plenty of it. Beautiful spot on the water. Much less expensive than other all in one venues I looked at. Rooms on site were very clean.

Sent on 01/10/2018

Annapolis Basin Conference Centre's reply:

Hi Erin:

Thank you so much for allowing us to be a part of your special day! We very much appreciate your feedback and for taking the time to leave a review. Wishing you and Michael a lifetime of happiness together!

-Annapolis Basin Conference Centre

Ella · Married on 02/08/2018

Nice service and pretty place!

Generally speaking, I am happy with the experience here. Nice view around, especially with the sea surrounded. I was pretty busy that day, and most things are very good. I am just gonna share a few thing that I wish I could have avoid. They have a preparation room for the bride. It's good but not very big, I'll say just for the bride. (This part is just for photo purpose, if you want pretty pictures about your nice wedding dress, you should do that somewhere else) The preparation room is not meant for nice pictures though. However, the Lady's room downstair is very pretty and with a very big mirror! I am a little bit disappoint with the food. I really recommend you to try the food before you decide the catering. We are not local, so we never got a chance to try their food. Anyway, don't get me wrong, this place is a very good place!

Sent on 24/10/2018

Annapolis Basin Conference Centre's reply:

Hi Ella:

Thank you very much for taking time to leave us a review. We value the feedback of our clients and very much appreciate you sharing your thoughts.

We're sorry to hear that you weren't happy with the food and do always recommend a food tasting prior to the event whenever possible. I know in your circumstance that this wasn't possible though.

We wish you and Steve a lifetime of love, happiness and adventures!

-Annapolis Basin Conference Centre

Emma G. · Married on 07/07/2018

Love the venue

This venue was super accommodating and flexible. They made our wedding day perfect! From the delicious food, to the areas to get ready. They were very efficient when rearranging the room for the dance floor as well.

Sent on 18/04/2019

Annapolis Basin Conference Centre's reply:

Thanks for your kind words, Emma! It was really fun to work with you, Cody and your families. Your joyful energy made for a wonderful wedding. May the years ahead be filled with lasting joy and adventure!