Reviews for 2nd Floor Events
Awards
14 User photos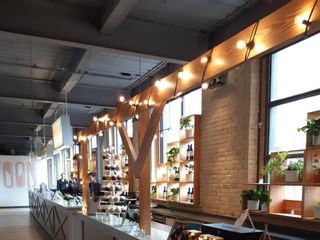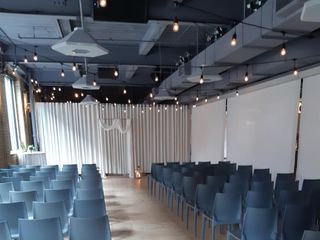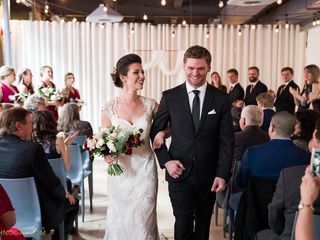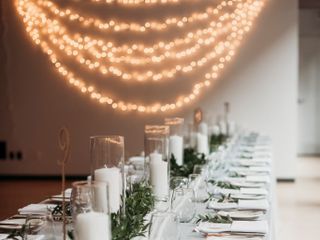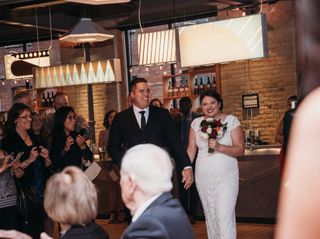 Ana Klimovic · Married on 19 of October of 2019

Amazing wedding venue

We are so happy we celebrated our wedding at 2nd floor events! The venue is beautiful and very functional for ceremony, cocktail hour, dinner and dancing all in one great space in the middle of downtown Toronto! The food was delicious, they have an in-house kitchen and chef. Amanda, the venue coordinator, is extremely helpful, responsive and a pleasure to work with. Everything worked out so well and we could not be happier! We also got lots of compliments on the venue from our guests. We highly recommend it!

Sent on 26/10/2019

Meghan Ruth · Married on 27 of April of 2019

Best. Day. Ever!

We just had our wedding at 2nd Floor Events this past Saturday and it was absolutely amazing! We really couldn't have done it without the help of our venue coordinator Amanda. She was so friendly and helpful throughout the entire process…on the day of the wedding I didn't have to worry about a single thing because she had it all taken care of. She is so enthusiastic and you can tell she loves what she does…she also shared my love of organization and lists haha She was prompt with responding to emails and had many great suggestions along the way. On the day of everything was perfect and flowed seamlessly throughout the ceremony, into the cocktail hour, on to dinner and the party after.
Planning was so easy because they have everything there in house…you don't have to search around for tables, linens, chairs, caterers, or the like.
The venue itself is absolutely stunning, you won't find anything else like it. Their in-house chef is incredibly talented, I was so excited about the food and he did not disappoint. Our guests were raving all night and even in the days to follow about how amazing the venue and food were. The bar is stocked with a great selection of alcohol, and all of the staff there are so friendly and professional. They think of every little detail right down to the co-ordinated servers (one of our guests called it synchronized serving) where each person at a table is served at exactly the same time…thoughtful and entertaining to watch! I cannot recommend this venue enough…it truly was the best day ever!!


Sent on 02/05/2019

Christine Griffiths · Married on 15 of February of 2019

2nd Floor Event

The space has everything you need. Cool hip vibe. The food is out of this world. Many things to choose from. Now the most important aspect is the event coordinator, she is not just a coordinator she is like a wedding planner. Super organized and accommodating. I have had several opportunities to go to site and they continually support and inspire me. So excited for my wedding in June. They have taken the stress off my shoulders. Thank You Julia, My event coordinator! You are the best :)

Sent on 19/03/2019

Ashley Van Herten · Married on 09 of November of 2018

2nd Floor Events is incredible!

2nd Floor Events was the perfect parter for our wedding! Our key contact, Julia, was a dream to work with. She was organized, quick to respond, and was always willing to go the extra mile. The day of, the staff was amazing and attentive to our every need. And the food is AMAZING!

Sent on 19/11/2018

agg moss · Married on 20 of October of 2018

Amazing contemporary loft style venue with the best staff!

This is the perfect downtown Toronto venue for any wedding! I had my wedding at 2nd floor events in October 2018. All of the staff are friendly and easy to work with. They are very transparent in their pricing and the services they offer. My coordinator, Amanda, share in my excitement and took the time to understand my vision and the feeling we wanted for our day. She was able to answer all my questions promptly and she always offered advice and suggestions based off of what has worked in the space before. The menu choices are creative, fresh and great quality food. We had a cocktail hour an 3 course meal and our guests said it was the perfect size portions and everything was hot, flavorful and cooked perfectly. The basic bar package includes mid grade to premium options that most venues charge extra for. We loved the open concept loft style with exposed brick and contemporary Scandinavian design. We were able to pull off a romantic look with a casual fun feeling. I would recommend working with 2nd Floor to anyone who is looking to host a seamless event in a venue you can transform into any vision with staff who want your event to just as perfect as you do.

Sent on 18/12/2018

Mik Mills · Married on 23 of July of 2018

Summer Wedding

My wedding at 2nd floor was amazing! The venue looked so romantic and pretty and the staff are incredible. Amanda is super respsonsive and helpful and helped me every step of the way! No question was too silly or annoying.

They help with so much all year round and then the day of and throughout the event.

We had such an amazing night and everyone was commenting on how lovely the space was.

Food and drink was incredible ( especially the cocktails!)

Highly recommend.

Sent on 23/07/2018

Emily Belvedere · Married on 01 of June of 2018

Perfect Day!

We had our wedding at 2nd Floor Events at the end of December and it was perfect! The staff are amazing, professional and extremely helpful- always quick to answer emails and answer all our questions. We had a food station lunch and our guests raved about the food for weeks afterward - it was amazing! Thank you to everyone at 2nd Floor!! -

Sent on 25/02/2019

Alexandra Mcchesney · Married on 11 of March of 2018

Fantastic Wedding Reception!

We had our wedding reception at 2nd Floor recently and it was just perfect. Many guests commented on the unique space, the fabulous food and great location. The staff at 2nd Floor were great to work with and very helpful throughout the planning process. Would highly recommend this venue!

Sent on 29/10/2018

Joyce Chu · Married on 27 of January of 2018

Thank you to the coordinators!

The space at 2nd Floor is absolutely gorgeous and versatile! Great for smaller to mid-size weddings. What made our experience so exceptional was the help and advice received from the very accommodating staff. Our wedding wouldn't have been so successful without them!

Sent on 04/12/2018

Derek Hodel · Married on 30 of August of 2014

We love, love, loved 2nd Floor Events. From the moment we saw the space and met Jessica -- in cold and wet December -- until our beautiful, beautiful, flower and candle filled wedding in August, the 2nd floor team was outstanding. Friendly, helpful, flexible, accommodating. Working with Rachael was like a dream. What more could you ask for? Plus, the space was EXACTLY what we were looking for -- a loft like space in a heritage building, not too fussy, with good design. That's 2nd floor. Plus, they have so much stuff on hand -- dishes, chairs, tables -- that we were able to get away with almost no rentals. And could you beat the location? If you book, be sure to take advantage of the light boxes above the bar -- we did, and they were a huge hit!

Sent on 19/09/2014

2nd Floor Events's reply:

Hello Derek (and Allan),

Thank you so much for taking the time to share your experience. We also loved working with you- what an intimate, romantic and stylish wedding. I can not wait to see pictures of your ceremony with the coloured streamers/ribbons. I have told a few other couples about your quirky light boxes 'the squirrels are mocking me' was my fav.

Our entire team was happy to be apart of the celebration. Thank you again for hosting at 2nd Floor Events. Hope to see you at another event sooner than later.

~Jessica and the 2FL team.