Reviews for Waterstone Estate and Farms
Awards


54 User photos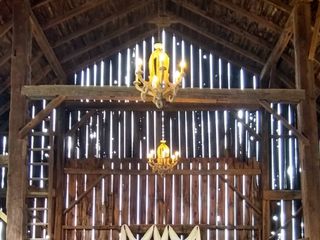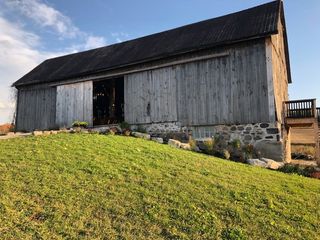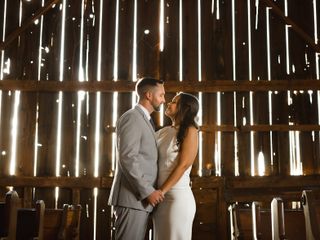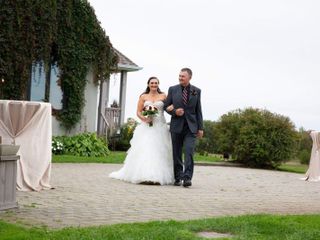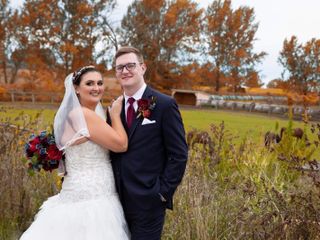 Megan · Married on 03/11/2018

Lovely, cozy venue

We were married in November 2018, and couldn't have chosen a better venue. Our ceremony was outside, and despite the cool weather, our guests were comfortable in the gazebo. The staff were great, the food was delicious, and the venue looked incredible. We supplied our own alcohol (which is a great cost saver), and the reception building is so naturally beautiful that our added decor was minimal and super manageable without a planner.

Sent on 06/02/2019

Waterstone Estate and Farms's reply:

Hi Megan and Jeremy, It was wonderful to work with you both towards creating your beautiful day! Your wedding was gorgeous and we thank you so much for this lovely review! Best wishes from everyone at WaterStone!

Hailey · Married on 27/10/2018

A perfect day at a perfect venue

Waterstone was everything we dreamed of for our wedding day! Devin was our wedding coordinator and she went above and beyond for our special day! They were very flexible and accommodating in every way! Even let us have our dog in the ceremony which was very important to us! We highly recommend them to everyone!

Sent on 26/02/2019

Waterstone Estate and Farms's reply:

Hi Hailey, It was great working with you and your dog is absolutely adorable. We loved your wedding - everything was so beautiful!

Vanesa Vidakovic · Married on 06/10/2018

Absolutely amazing

My husband and I got married at WaterStone Estate & Farms last year and it was absolutely the best decision we could've made! The staff was so friendly and helpful we loved working with Devin! The venue itself is absolutely gorgeous we have the most incredible photos thanks to the breathtaking scenery. We could not have imagined our wedding anywhere else. It was a dream come true!

Sent on 23/08/2019

Waterstone Estate and Farms's reply:

Thank you so much for your lovely words. It was an absolute pleasure to work with you to help create your stunning wedding. Your harpist was absolutely beautiful and we loved how you set up the room with the harvest tables. We hope we can see your photos and share them on instagram waterstoneweddings - especially the ones with Scout!!

Megan Woodrow · Married on 05/10/2018

Perfect Venue

We got married at Waterstone on October 5. We were so happy with the venue, the food, the staff, everything! I knew I wanted to book Waterstone when I saw it. Is a beautiful place with a gorgeous property. Devin was such a tremendous help through the whole process. She was always so friendly and professional, and always answered my many many emails and questions. I can't say enough nice things about her. Our guests are still talking about how beautiful the place was and how good the food was. Thank you to Waterstone and to Devin for making our day so great!

Sent on 24/10/2018

Waterstone Estate and Farms's reply:

Thank you so much for your kind words. Your wedding was truly beautiful in every way! It was an absolute pleasure to work with you and Mark and we wish you every happiness in the future.

KARLA · Married on 10/09/2018

Simply wondreful!

It has taken us some time to come up with the words that appropriately fit how much we loved working with the WaterStone Estate and Farms team as we fear anything we say will fall short, so we will briefly describe our experience and hope that our gratitude reaches their whole team.
From the moment we made our first visit to the beautiful grounds we fell in love with the rolling hills, gazebo, barn and the hall itself which we would call more of a cottage than a hall. We were looking for a barn-like setting as we went for a rustic theme. Although not a typical farm, WaterStone was perfect for us as it was very ellegant yet rustic and simply beautiful.
We received all of the information that we needed to make our decision on our first meeting and Devin was so kind and patient in answering all of our questions, no matter how silly they seemed.
Unless you have a specific must have colour scheme that they may not have as a choice, the venue has the linnens, cutlery and other basics that one looks for from a hall. They also have a variety of decor items and lawn games that you can rent. Some places that we looked at had a bridal room/suite, WaterStone had a full basement dedicated to the bride and her ladies. It is complete with a washroom a powder room and a large sitting room whith a huge mirror so you can take a long look at yourself before you go upstairs to make your debut.
We would recommend that you skip some meals when you go for your food tasting as they really pull out all of the stops so that you can make the best decision for your day. We must have changed our minds about our dinner choices at leat 6 times and not only was Devin super understanding she also replied to our emails within a very quick time frame making the whole process a breeze (at least for us).
We were also provided with a list of recommended vendors which made our lives so much easier as those vendors were already familiar with the venue and most were reasonably priced.
We were running behind schedule the day of the wedding and by the time we got there we were relieved to see that the staff had received our flowers for us.
The space is already so beautiful and in line with what we wanted that we really did not have to do much in terms of decor so we had more than enough time to set up the day of (unfortunately we were unable to set up the night before due to an event they were hosting, which is completely understandable). The space has many windows and a beautiful glass double door that look out onto the property. There are twinkle lights hanging from the ceiling.
Outside the grounds are simply a gorgeous background for photos, and there is plenty of parking for guests.
It rained on our wedding day and once again Devin and the rest of the team shone through, they whipped down the seats for our guests in the gazebo before the ceremony took place. They provided us with elegant umbrellas for the wedding party (which are now part of our wedding photos). The staff was so wonderful and friendly, there was not a single complaint from any of our guests at all. The staff was really thoughtful, they brought food and water down to the bridal area as we were drying off after the pictures to make sure we ate something and stayed hydrated. They were so good that we never saw an empty glass/ bottle or dirty plate on a table for long during and after dinner.
At the end of the night, we were told to leave everything and come back for our things the next morning (as there wasn't an event the next day). To be honest we had left the place downstairs a complete mess and dreading the clean up, so we were pleasently surprised when we came in and everything had been cleaned and packed neatly for us to just load up and go. I really do wish we had been able to give the staff a bigger tip than we did because they all did a magnificent job and we really cannot say enough good things about them or the venue.
We know this is a long review, but if you're on the fence about renting out this space for your event we hope that it will help with your decision making.

Best of luck,
Jason & Karla

P.S. If any of the WaterStone staff are reading this, thank you so much for having made our wedding day such a wonderful experience that we'll never forget.

Sent on 14/03/2019

Waterstone Estate and Farms's reply:

Hi Karla and Jason, Thank you so much for your kind words. You were absolutely wonderful to work with and your wedding was gorgeous! Please do send photos and we would love to post them on our instagram. You made our day!!!! Best wishes from everyone at WaterStone!

Melissa Everson · Married on 11/08/2018

Beautiful views

We had our wedding here last August. The venue is absolutely gorgeous. Our pictures were beautiful and we had a lot of compliments about this. The food was great. Everything was going well with planning leading up to our wedding. However, I felt like we were given a junior coordinator the day of our wedding. She told our photographer we were getting married outside when it was in the barn. She provided no assistance or guidance throughout the day. It felt like she had no idea what was going on (even though we provided an itinerary). Once the dinner was over I had to take over and start asking my guests to push tables out of the way for the dance. I asked the coordinator if she could organize this and she said okay, and then did nothing. Also, the barn was not cleaned until our florist asked them to start cleaning. They were not going to start this process until 3pm and we had guests starting to arrive at 330.

Sent on 22/10/2019

Alyssa Marconi · Married on 14/07/2018

Beautiful venue

We got married on July 14, 2018 and day was amazing! The venue is beautiful and was more then we could ask for on our special day! Devin and Angie were so helpful throughout the planning process! On the day we had some rain but the we got to have our ceremony outside and the setting was perfect! The staff were great, especially on the day of! Angie went above and beyond making sure our day was perfect and everything was going as planned! We would highly recommend this venue! Thank you for an amazing day we will never forget!

Sent on 18/01/2019

Waterstone Estate and Farms's reply:

Thank you so much for your lovely words. We loved working with you and it's particularly magic when the rain clouds clear just in time for an outdoor ceremony! Your wedding was stunning!

Rosie Langford · Married on 06/07/2018

A review for our wedding day

We absolutely loved our venue for our wedding! We got married at Waterstone estate & farms located in king, just outside of Newmarket,ON. Not only are the grounds absolutely beautiful but the staff is beyond amazing and very accommodating. They also provided us with a wedding coordinator included in the costs and she was phenomenal! Very welcoming from the beginning and helped us along our year long journey of planning our special day. Waterstone is perfect for that rustic country feel and is great for pictures with their beautiful land and their Barn! We got amazing pictures from both!! I highly recommend Waterstone to anyone!

Sent on 07/08/2018

Jennesa Makarenko · Married on 30/06/2018

Exactly what we were looking for!

Daniel and I got married June 1st 2018 at WaterStone Estate. At our first tour, it was an easy decision to have our wedding reception at WaterStone! It was everything we had ever wanted. I loved the size of main room, made it feel cozy and warm with all our friends and family. The property is beautiful and you have it all to yourself! Devin was our wedding planner, and she was AMAZING. So comfortable to be around and she really made Daniel and I feel valued before and during out special day. I highly recommend WaterStone to any of your couples looking for a unique and cozy location to share your special day with the most important people in your life! Lastly, one of our guests booked their wedding there for 2019 because she loved the place so much!

Sent on 12/11/2018

Samantha Milligan · Married on 28/04/2018

Magical Views and Service

I got married on April 28, 2018 and could not have been happier with the staff, venue, and food. I could not imagine a more beautiful venue to celebrate my new marriage. I highly recommend waterstone 10/10 if I did it over I would not change a thing!

Sent on 02/08/2018

Waterstone Estate and Farms's reply:

Thanks so much for your kind words. It was an absolute pleasure to work with you and Ryan! All the best in the future and please send us photos of your beautiful day!